"Take your broken heart and make it into art."
With these words, quoting Carrie Fisher, Golden Globe lifetime achievement winner Meryl Streep closed her much tweeted acceptance speech – a speech that criticized Donald Trump (provoking retaliatory tweets that surprised no one) and calling on artists and the press to stand vigilant against his pending alt-right (read: white supremacist), regressive presidency.
These are the times we live in, when entertainers are more educated about domestic and foreign policy than the president elect.
Yeesh.
The end of 2016 couldn't come fast enough. The mood was grim. We were sad, we were angry, we were beat. Gathering with friends, trying to pick out the year's accomplishments was akin to trying to salvage a shoebox of receipts from a dumpster fire – "'look, this one isn't so burnt! I can still write it off!".  When the clock struck midnight we cheered and drank and blew noisemakers defiantly into the darkness to keep it at bay.
So, what do we do now, 2017?
The good news is Solstice is past. And while most of the country has many months of polar vortex to survive, like the promise of the days getting longer, we hope this edition of CdnTimes is something to look forward to.
In this edition, we hear from writers who identify their own personal and particular darknesses and how they are working to move through that space. What keeps them going?
The first article is from newly minted SpiderWebShow Performance Artistic Director, Michael Wheeler, who writes of the responsibility we all share to transform our cultural institutions into more equitable places.
Our second article is from Jonathan Brower (a Calgarian now living in St. Catherines), who shares his perspective as a gay Christian theatre artist smack dab in the middle of a culture war.
We don't claim to be marooned in the darkest of times, but there are signs that we could be awfully close. So best to gather together, and keep tending the light of hope and change.
Laurel Green and Adrienne Wong
Co-Editors, CdnTimes
From this Edition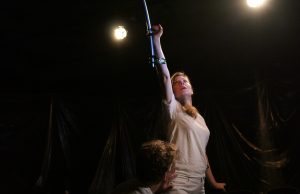 In 1999 I was diagnosed with multiple sclerosis. I knew a couple of people who had it and who showed no outward signs of...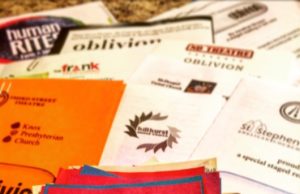 I am a gay Christian. You may have heard of us; we're mythological creatures that live outside the comfort of the church because of our queerness, while also living outside the comfort of the LGBT community because of our bent towards a faith that has so wounded non-heteronormative people. I am also a theatre artist.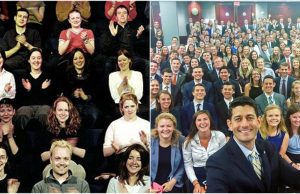 The election of Donald Trump is a confusing and chaotic time to be a culturally-engaged progressive Canadian. Given a dizzying array of off-the-cuff remarks...
Comments
comments