SWS was hired as consultants by a group of performing arts organizations in Toronto that calls itself the Digital Working Group. 
On this page you will find the results from public consultation and research process. These findings are brought together in two documents:
Final Report which outlines Key Observations and Prompts; and
An online resource of digital tools and platforms that can be used for art/performance creation.
Final Report
TODigitalFinalReport

Digital Tools and Platforms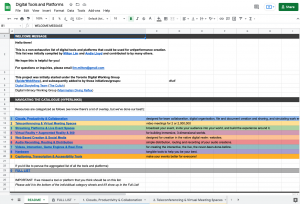 Who is TO Digital?
Toronto Digital Working Group Members:
SWS Consultation Team:
Adrienne Wong

– Artistic Director,

SWS Performance

 

Michael Wheeler –

Director of Artistic Research,

SWS Performance

& Assistant Professor in

The DAN School at Queen's University

Milton Lim – Researcher – also known as an interdisciplinary artist/independent researcher on for

culturecapital

,

videocan

,

Hong Kong Exile

,

Theatre Conspiracy

, and

The Cultch (Digital Storytelling Team)

Kristina Lemieux –

Community Consultation Producer – also known for

Generator

,

F-O-R-M

, independent

Arts & Culture Manager, Facilitator, and Producer

JD Derbyshire – Inclusion, Diversity, Equity and Accessibility Consultant

Tess Rederburg – Media Coordinator,

SWS Performance

Nathan Medd – Business Plan Consultant – also known as Managing Director, Performing Arts at Banff Centre for Arts and Creativity
Community Consultations Team:
Kanika Ambrose, Facilitator

Makram Ayache, Facilitator

Rogue Benjamin, ASL Interpreter

Pip Bradford, Facilitator

Rebecca Cuddy,

Facilitator

Mariah Horner, Tech Support

Teiya Kasahara 笠原 貞野,

Facilitator

Latasha Lennox, ASL Interpreter

Khadijah Roberts-Abdullah, Minute Taker

Neta Rose, Minute Taker

Adriano Sobretodo Jr., Facilitator

Emma Westray, Minute Taker
Digital Platforms and Resources Team
Funders:

Comments
comments