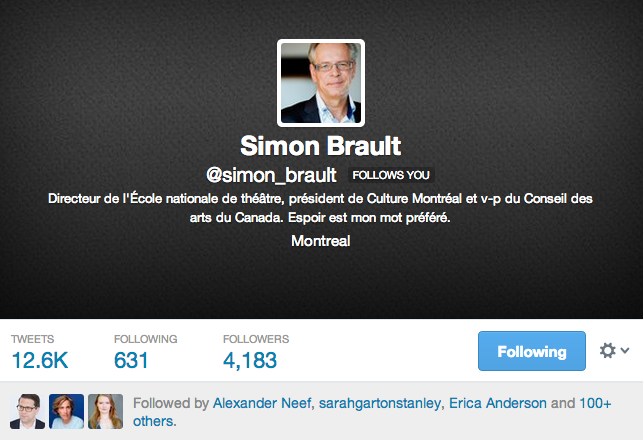 I started tweeting in 2010. The National Theatre School of Canada, of which I am CEO, was about to celebrate its 50
th
anniversary and our communications department thought it would be important for me to open a Twitter account for the occasion.
At the same time, my essay Le FACTEUR C – L'Avenir passe par la culture (Les Éditions Voix parallèles), and its English translation, No culture, No future (Cormorant Books), was getting much public and media attention. As a consequence, I was requested to speak on numerous occasions at international arts conferences and forums. I quickly realized that Twitter was a great way to exchange and to get ideas circulating within the arts community in Canada and abroad.
My Twitter account grew quickly. Some 12,500 tweets later, I now have over 4,000 followers and I make a habit of tweeting several times a day. I tweet almost exclusively on the state and future of the arts, its value and its place in society.
I see myself as a conduit for content – articles, essays, blog posts or conference notes – which I personally find significant. I tweet to disseminate the information which helps feed the global conversation about the state of the arts. I sometimes tweet content with which I may not entirely be in agreement, but I communicate it anyway because I consider it important to further the debate on certain innovative views and ideas.
My Twitter feed is a mix of both French and English. As a rule, I first tweet in the language of the content I am passing along. If the article is in English and I feel it's pertinent, I might then write another tweet in French on the subject for my Francophone followers. I find that it's only then that they tend to retweet it and vice versa for Anglophones. It also happens that my followers translate my tweets as they retweet them to their own community.
I would never limit myself to using one language on Twitter. I also don't translate my tweets systematically because I work in co-lingual organizations. The National Theatre School has both a French and an English section and for the past ten years, I have been vice chair of the Canada Council.
As far as translations go, I try to make sure that my own speeches are available in both English and French, i.e. on the Canada Council's website.
A few of my other tweeting rules include rarely talking about my personal life, with the exception of some weekend activities. And if I see a show or an exhibit, I will mention that I am there, but I never criticize it on Twitter afterwards. I also never engage in tweet fights: Twitter is not a place to argue. Because of my role at the Canada Council and at the National Theatre School, I have a duty to show some reserve, so I never engage in partisan politics on social media.
The tone of my tweets ranges from factual to philosophical and sociological. I never use sarcasm and rarely humour, but I do like to follow people who excel in those genres.
I myself follow about 650 people: journalists, columnists, researchers and influential decision makers. I choose to follow someone because I know I will learn something by doing so but I am weary of people who tweet too much. I think a ratio of three tweets per follower is good; ten tweets per follower or more turns me off: it's an indicator of lack of substance.
My first tweets are between 5:30 a.m. to 7:30 a.m. They are mostly news items from Europe – I'm a constant reader of The Guardian's Culture section and I follow, among others, the cultural policy watch Twitter account @cultureveille. My second round of tweets occurs around 7 p.m. with primarily Canadian content.
Twitter is an essential part of my day and of the way I connect to the world. I absolutely love it!
Comments
comments