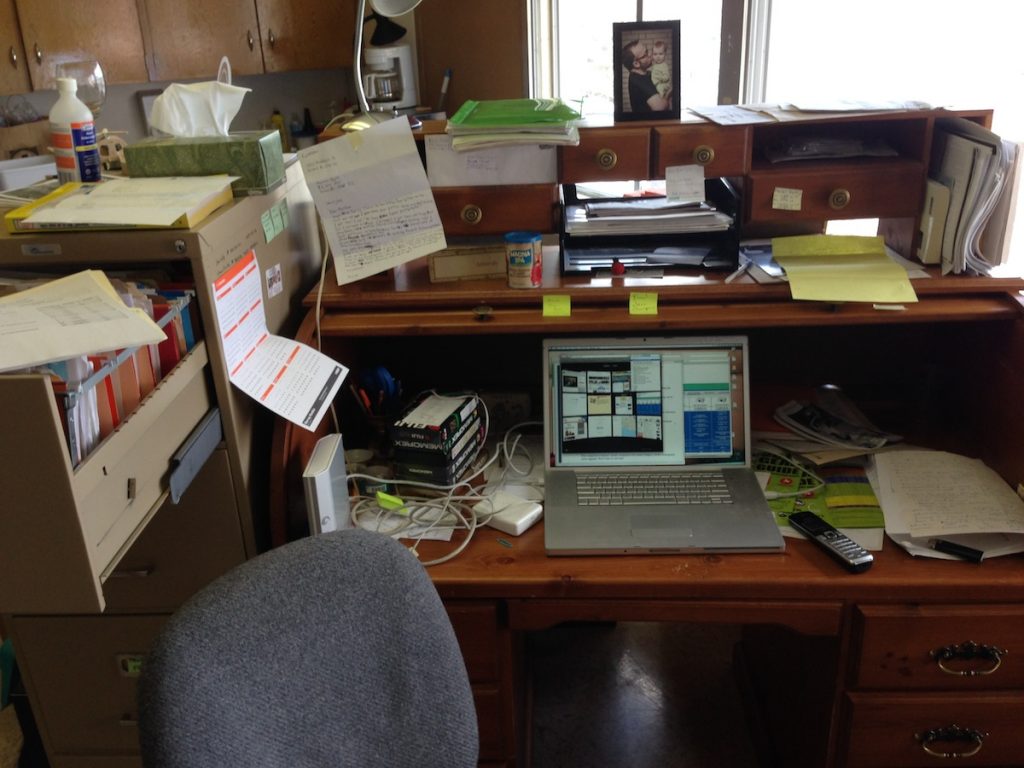 Matthew: How are you?
Laakkuluk: It's been a tough week, but we're managing. A teacher that has worked at our daycare since the day it opened died the other day.
Matthew: I am so sorry.
Amy: So sorry Laakkuluk. Was it sudden?
Laakkuluk: Thanks guys. We're holding up for the kids' sakes. She likely took her own life.
Amy: We had the suicide of a young man here in St. John's too.
Laakkuluk: Oh no.
Amy: Andy Jones' son. He was very sick. The entire community was in shock and grieving.
Matthew: How tragic.
Amy: Andy and Mary-Lynn are very public about it. We all need to speak about mental illness.
Laakkuluk: Yes we do, or it will never get better.
Matthew: This may seem like a poor segue, I was thinking about the creative space of the mind. We know a lot more about the mind now, but there is still mystery. Mental illness is part of that mystery.
Laakkuluk: You are absolutely right: the mind as a creative space that needs to be nurtured and respected.
Amy: Whatever that space has to offer the rest of the room, it has to be respected.
Matthew: And how do we engage with our minds?
Laakkuluk: It's the ultimate creative space…and maybe really the only one…
Amy: We have no creativity if we deny that space – our own mind, our own ideas. So, like any space, we must look at what we have in that space and use it in the creative process. We must entertain what is in the space and incorporate our assets into the piece. And our asses too, I spose! 🙂
Laakkuluk: The art is in stitching all these spaces together into a coherent and potent piece for everyone.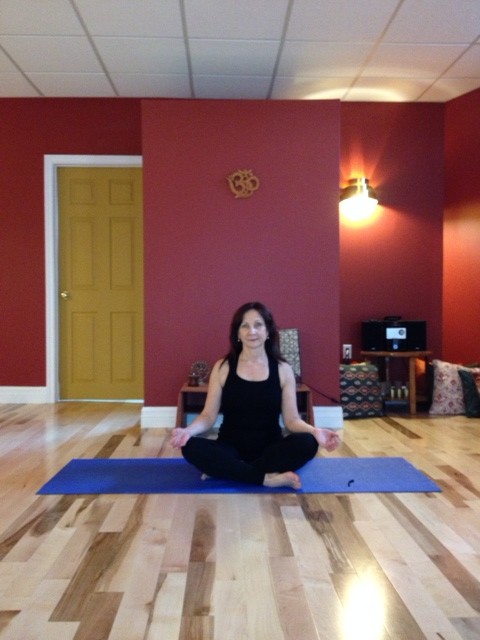 Amy: It's called a collective. From everyone, for everyone, everyone in the piece and the audience. So, if we start with our mind being the ultimate space, we use our mind to look at the physical space and use that in our creation. We use the physical space depending on what we are creating. We can very seldom, almost never create in the space that we perform. We create, and rehearse and then get 1.5 weeks in the space we are going to perform it, if we are lucky. We usually perform at the LSPU Hall, but we seldom get to just create there. It is expensive. If you are just creating, the box office makes no money.
Laakkuluk: It's the same at the Greenland national playhouse Amy. It doesn't have rehearsal or creation space and so when performers are in there, time is money.
Matthew: Laakkuluk we know from past columns you are working towards a regional space there. Right now you have no practical physical space?
Laakkuluk: That's right. Just after the last chat, we had Nunavut's first spoken word gathering. We cleared out the nursing students classroom for the workshops. Then we packed up again and cleared out the mezzanine at the high school for the performance.
Amy: How was it?
Laakkuluk: It was sublime.
Matthew: What made it sublime?
Laakkuluk: We had about 20 writers with us, of all different ages, genders, voices. We had 83-year-old elders collaborating with 14-year-old rappers in Inuktitut.
Amy: What was the performance aspect? Was it a reading?
Laakkuluk: It was a combination of readings, music and live performance. The styles of spoken word were quite different from elders' oral history and storytelling to poetry reading to rap.
Matthew: Sounds like the performers made the creative space important.
Laakkuluk: Yes, here it is all about the performers' perspectives and experience and never about the space. When we have a performance space, however, the performer's own mind space will be exponentially expanded.
Amy: Was there any technical aspect? Sound? Lights?
Laakkuluk: We have really great sound engineers that live here; they can make good sound in substandard space. And we have good lighting guys too. The high school has some basic lights and sound that we plug into.
Amy: How many people attended?
Laakkuluk: There were about 150 people there for the performance, which was great for our small city on Oscar's night Sunday.
Amy: Magical. What did you do?
Laakkuluk: I helped coordinate the whole thing, collaborated with the music makers and read my piece about how "the seal becomes the boy"
Matthew: Congrats on a great event.
Laakkuluk: Thank you! We're proud of it! I'll tell you about the finale – I think you'll like it. After our last song, we broke into a "throat-boxing" session – a mixture of throat singing and beat boxing and in the middle of it all, an elder got up and started calling out his dogsledding commands. All the kids went mad because it was rhythmic and it sounded like the elder was rapping…He was rapping!
Amy: That is amazing. How liberating.
Matthew: Joy! So, Amy, is LSPU Hall the major space in Newfoundland?
Amy: It is a 200-seat theatre. Intimate. It is where most new works are done.
Matthew: Can you articulate how you engage with it? Or how you should engage with it?
Amy: We collaborated on a project called Broken Accidents with Neighbourhood Dance Works. It was just when the hall was closing down for renos. We wanted to workshop in the space so we could use the tech, the stairs in the hall, audience, the back space: discovery in the space. Because of the hall closing down, the board allowed it, so we truly got to experiment, albeit for two weeks, but quite a gift. On the other hand, my friend and I created a play last year and rehearsed it in my office, in a heat wave, and directed it ourselves. Then we went to the Hall Second Space and did our dress rehearsal for staff and friends before hitting the road on tour. It's all relative. Depends on what you are trying to achieve.
Laakkuluk: You're pointing out there is a difference between performance space and creation space and you can't do the performance without some kind of creation space first.
Amy: Yes, because our creation space in the latter was the page.
Matthew: Article about Broken Accidents on the LSPU blog.
Matthew: One advantage to site specific work is sometimes you can rehearse in the space. Victoria Spoken Word Festival ran March 4-9. I saw a piece that combined Puppets and Poets called "Poeteers." The poets were taught basic puppeteering techniques.
Amy: Little puppets or life size?
Matthew: Mostly handheld. It was moderately successful. They really needed more time to master puppet skills. And the whole thing could have been better directed.
Amy: Sweet. What was the poetry like? Did the puppets make it funny or endearing?
Matthew: Mostly the puppets distracted from the poems, which were good.
Amy: that's hilarious. Did you mean it to be?
Laakkuluk: It was good that the puppets were distracting, or the poems were good?
Matthew: Ha ha emoticon. The poems were good. The puppets were distracting. The next night the poets did pieces where they showed their best ten minutes: much better. So the chance for them to experiment was great.
Amy: Interesting concept. Why did they think the puppets were a good idea? What were they trying to achieve?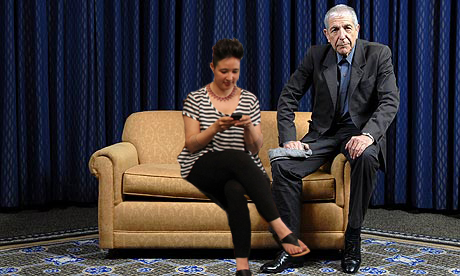 Matthew: I think that they are trying to show emerging performers what is possible. They succeeded in showing them a glimpse of that. Missie Peters organizes this festival and does a bang up job. There's an honorary poet every year and it's well put together. I am a big fan of this festival. http://victoriaspokenwordfestival.com/
Amy: Michael Enright, Rewind was amazing today: a young poet from a long time ago. Leonard Cohen! Look it up. Love him.
Matthew: Leonard who?
Amy: Hee hee. Profound stuff. And so young. I feel very frivolous now
Matthew: I was watching a video of him the other day  He is translating French in this video while sitting on his balcony. Un Canadien Errant.
Amy: He is the definition of romantic.
Laakkuluk: I like to read his poetry at night and have profound and…erhm…fantastic dreams
Amy: You are a devil Laakkuluk. Sweet though!
Matthew: There you go, back in the creative space of your mind with Leonard Cohen
Amy: How profound…
Laakkuluk: Nurturing that space, respecting it…
Amy: So, we think the creative space is ultimately the mind. Cuz we can't afford a physical space with lights and sound and stairs. So, as we say in Newfoundland we makes it up as we goes along.
Matthew: I see it more like even if you can afford the ideal space, the one you need to nurture is the mind
Laakkuluk: Yes – without an investment in the mind, the space is just a room
Matthew: Well, thanks again for a very soothing part of my week
Amy: Adieu
Matthew: Until then
Laakkuluk: Takuss!
Comments
comments