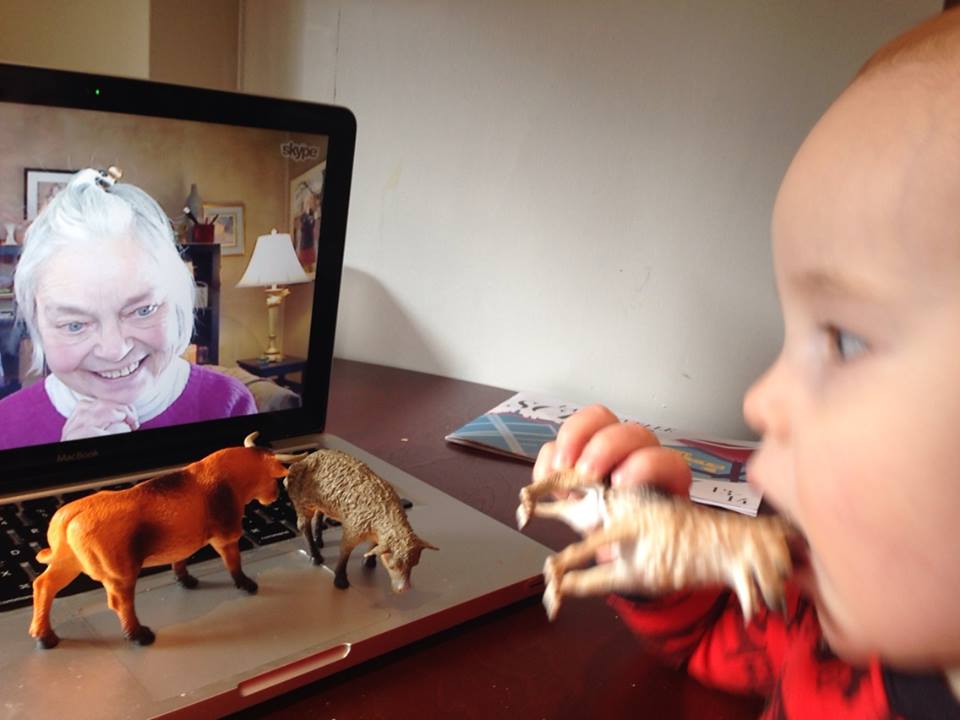 We live in wired times.
On the table as I write this there is one laptop, an iPad and an iPhone. Another laptop plays the NHL "outdoor" classic in the living room. Another iPhone lights up with banter from the westcoast via text message.
All this technology makes it possible for my son to know his grandparents. To hear their voices and play games of pee-a-boo and patty-cake. And as a freelancer from home with a small kid – the computers and wireless and video chats makes work possible. I have meetings every day with collaborators living all over the country from my kitchen. Family, friends and colleagues visit me every day and when they "leave" all I need to do is close the laptop. There are no dishes.
All this web-based technology collapses geographic space between people. It's not perfect. But it does trick my brain into thinking that I'm there with you – or you are here with me – or we are somewhere in the middle. Together. When my collaborator answers my video call and his image comes up, I feel as though I've opened the door to another room in my own house. The wall of framed photos behind his head are familiar and homey.
This, to me, is the great strength of online technology: to bring people together. Just like the theatre brings audience and artists into one space. Except that, online, the spaces we inhabit together are virtual spaces – quantum spaces – built of ones and zeros, and the intention of our consciousnesses reaching out towards each other. Inside the radically malleable black box of online theatre, anything can happen – so long as you know how to write the code.
The work we are doing in the Experiments wing of the SpiderWebShow just barely scratches the surface of what I sense is possible for theatrical storytelling online. Each piece of content is contemplating the question: what happens when theatre makers' sensibilities are expressed using online tools?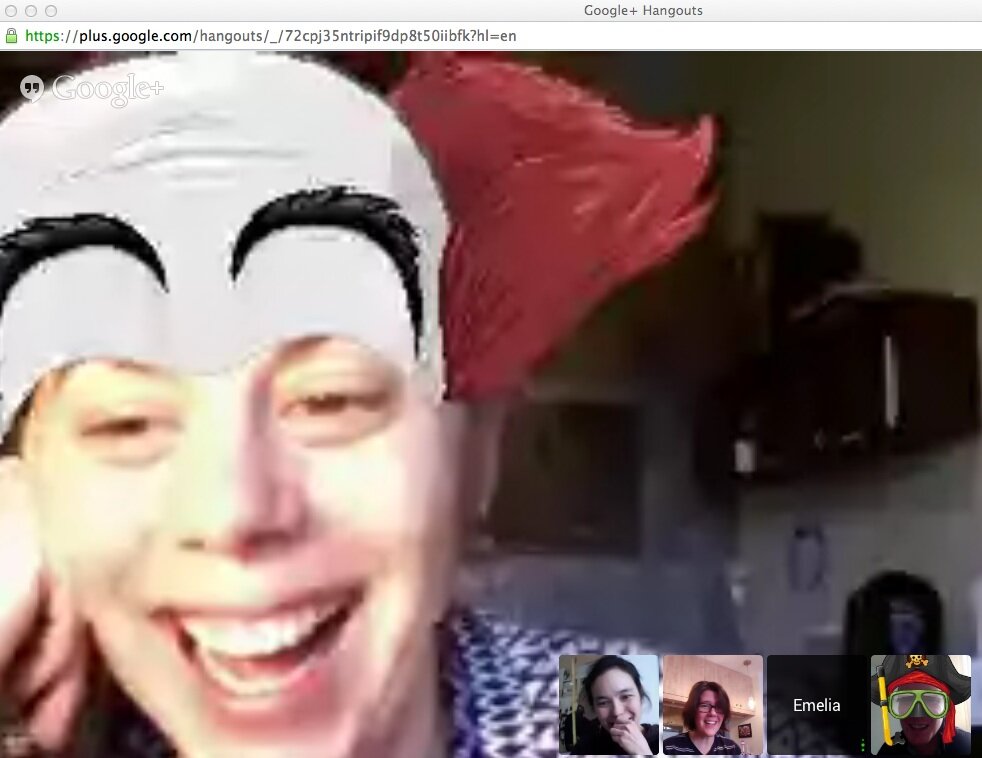 This weekend we are launching Stay At Home Theatre – an experiment in long-form improvisation performed on Twitter using the hashtag #SAHTheatre.
Anyone who tweets knows that, at it's best, Twitter is ideal for short, pithy stories – windows into an individual's every day life. It's also a format that lends itself to conversational exchange, small eddies of intimacy within an ocean of chatter. With collaborators Caitlin Murphy and Emelia Symington Fedy, we are trying to collect stories from Twitter users who are doing something very difficult, i.e. being artists raising children.
Mainstream media culture focuses on the "mommy wars", the tensions that exist between a range of different parenting philosophies. It would be easy to use this scenario to create conflict between our online characters (who are us, only pithier). Instead we want to reveal character and relationship through community, collaboration, and mutual support. How intimate the revelations are will depend on each artist (Emelia has already set the bar high with this photo of her breastfeeding a baby goat). We invite other parents to join the conversation using #SAHTheatre.
The SWS Podcast continues, hosted by me and Jacob Zimmer from Small Wooden Shoe. Once a week, Jacob and I hook up microphones to our laptops, meet up on Skype and talk about what we're thinking about, which often turns out to be theatre, and the theatre community in Canada. We've talked about original practices Shakespeare, design-based thinking, contemporary dance in Brooklyn, using surveillance on ourselves, our audiences, our children, and what we think is wrong with the way theatre is practiced in Canada right now. We try to come up with some strategies to make things, if not perfect, then at least better.
The experiment: is anybody listening? (Answer: yes, a few. Maybe more each week? Hard to say.)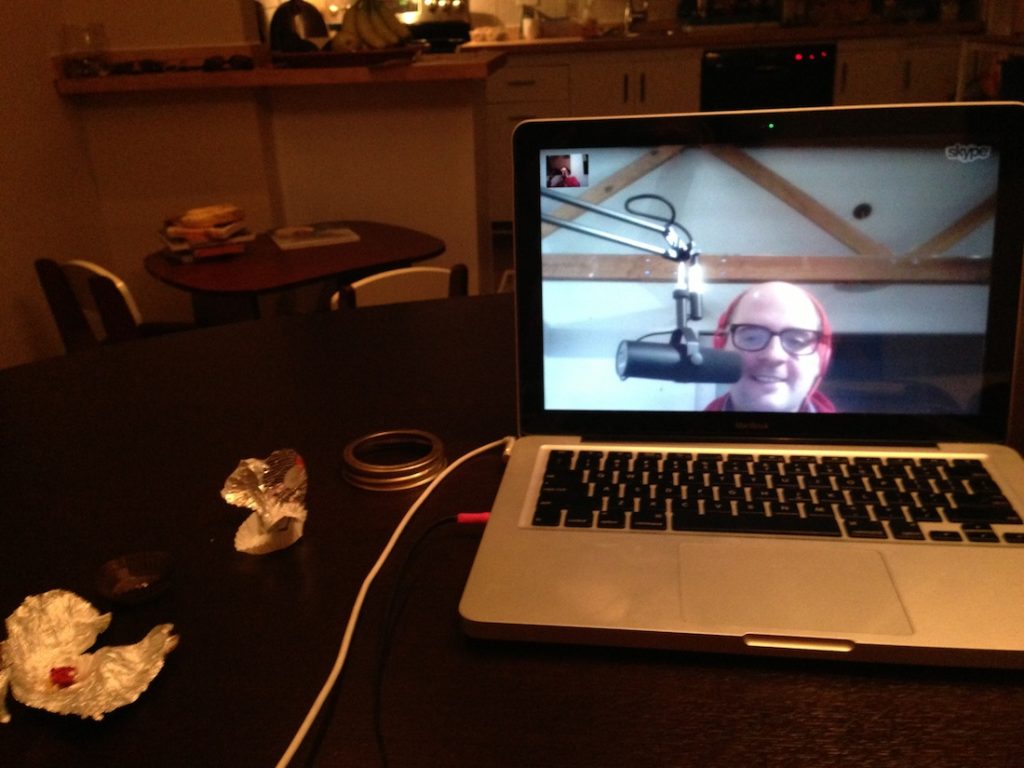 Jacob and I are interested in cultivating critical dialogue within our community of theatre-makes. Yes, about the work, but also about larger topics like how resources are allocated and who feels silenced and how can we meet ideals for guaranteed minimum wages? We hope the SWS Podcast can play a part in increasing dialogue and deepening the thoughtfulness of what's being said. We are hoping that, like this guy, if we just start dancing with our shirts off everyone will join in because it just looks like so. much. fun.
And then there are the Sonic Postcards – a collaboration between myself and sound designer/composer Troy Slocum. I recently moved to Ottawa from Vancouver. I send something I miss about Vancouver to Troy, he makes a audio field recording and then I write some narrative and hopefully link everything together. We can send you a sonic postcard, too. Let us know what you miss and where it is. We welcome your input, because frankly, I'm beginning to feel self-conscious about how much of me there is on the Experiments page.
This where you come in.
I invite you to browse our Experiments. Listen to the podcasts and the sonic theatre, read through the twitter feeds. Google "twitter theatre" and "digital art". Perhaps you'd like to try your hand at one of these forms. Or perhaps your hand is reaching towards a form that hasn't been named yet.
We have space in the Experiments wing of the SpiderWebShow. We can connect you with Graham Scott, a digital dramaturg / web designer, who can help turn your idea into ones and zeros. We have an established (and growing) network of makers, supporters and readers with whom to share your work. We will only understand how theatre and technology work together by making things and letting them fail or succeed. Join us in these experiments.
Email proposals to me at spiderwebshow@gmail.com, and put "experiment" in the subject line.
I look forward to hearing from you.
—Adrienne
Comments
comments