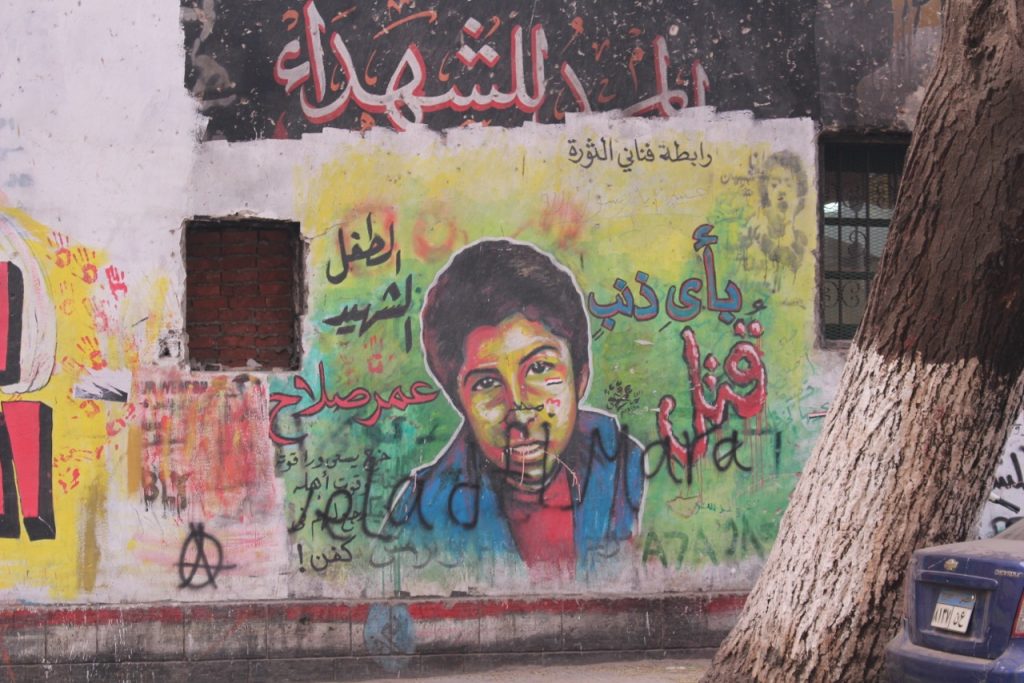 On January 12 I flew to Cairo, Egypt, as part of the Theatre Centre's Tracy Wright Global Archive commissioning project. The project was dreamt up by artistic director Franco Boni and artistic director in residence Ravi Jain, and inspired in part by a bequest from long-time Theatre Centre-based artist, and all round avant-garde superstar, the late, and much revered creator/performer Tracy Wright. Apparently Tracy believed deeply in the importance of artists traveling other places, and investigating what they don't know, especially when they're in that great big chasm of mid-career, which I think for many of us means: successful enough to keep making work, and almost never having enough time to think a step back and consider the track that's gotten you onto that particular work.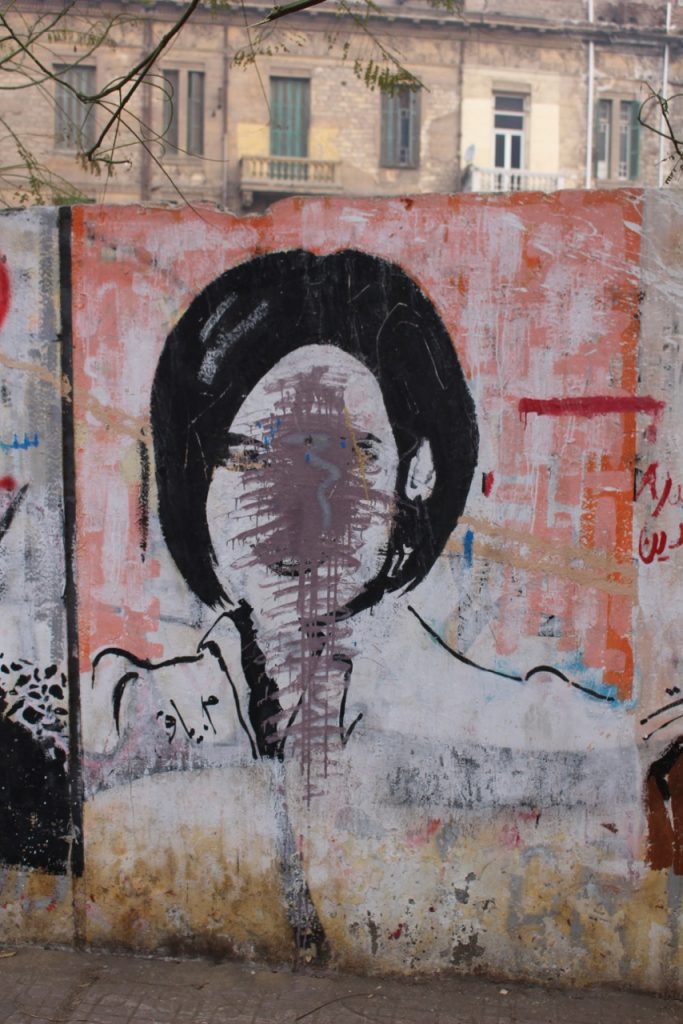 I never knew Tracy, but pretty much every artist I love up close or admire from a distance speaks about her in the awed tone that we tend to reserve for folks we consider an actual genius. In honour of that genius, the Theatre Centre asked five us of (myself, Jani Lauzon, Nadia Ross, Daniel Brooks and Denise Fujwara) to each propose a place in the world we'd like to go, and a question we'd like to investigate while there, in whatever terms we might set for that investigation. I chose Egypt, where my father was born and raised, and where I'd previously been once in my life, in December, 2011, when my wife and two sons and I met my Egyptian family for the first time.
My question: what is a revolution? Or, what does it mean, to have had one, three years after the fact? Or six months after the fact, if you ask some people, who consider the toppling of Muslim Brotherhood president Mohamed Morsi – generally accepted to be the country's first democratically elected leader – in June, 2013, as the real revolution.
When I arrived in Egypt – on the eve of a national referendum on a new constitution, the country's third such referendum (and seventh national vote) in 3 years – I had my family, who had agreed to speak to me, both about my dad, and their feelings about the revolution. I also, through a young filmmaker cousin and a friend in Vancouver had potential, but vague, connections to a series of Egyptian intellectuals and artists.
By the time I left, on the day after the third anniversary of the January 25 revolution – and having just witnessed my first car bomb – I had interviewed about a dozen people: April 6 Revolutionary Movement affiliated female journalists who have started their own online news site, in the face of real danger that the government will arrest or shut them down;  a famous Egyptian painter who sat on the committee of 50 who wrote the most recent constitution; a theatre artist who goes into villages and writes songs with groups of villagers about whatever they want to write songs about; the artistic director of the Downtown Cairo Arts Festival; my aunt, who is 80 years old and has seen my dad, her brother, once in the last 54 years, for about five days, in 1997, the one time he's been back to Egypt since 1959, and several others.
I won't pretend those interviews make it possible for me to understand much about what's going on in Egypt. I will say, though, that it's a lot more complicated than any of us in Canada or the west are able to understand. Of course it is – that's obvious. But it was also a real reminder to me how absurd it is for any of us to read any news about another place and think that somehow that means we could know enough to pronounce about what is actually occurring. That in and of itself might be a colonial impulse , which I'd argue is a very natural and human impulse. But over and over again, with a couple of exceptions, people I talked to asked me to tell my compatriots in America (yeah, whatever) to PLEASE LEAVE US ALONE. "We are poor," my Coptic cousin priest Marcus told me, "But it is our poverty. And we are ok with this."
Many also expressed real concern about my safety, as a Canadian, in Canada, because of this winter's "polar vortex".
I'm not yet in a position to coherently summarize my experience yet. I don't have a ton of time to write this, or a ton of room on this blog. What I can maybe do is show you some pictures, to try to give you a sense of the territory that currently interests me.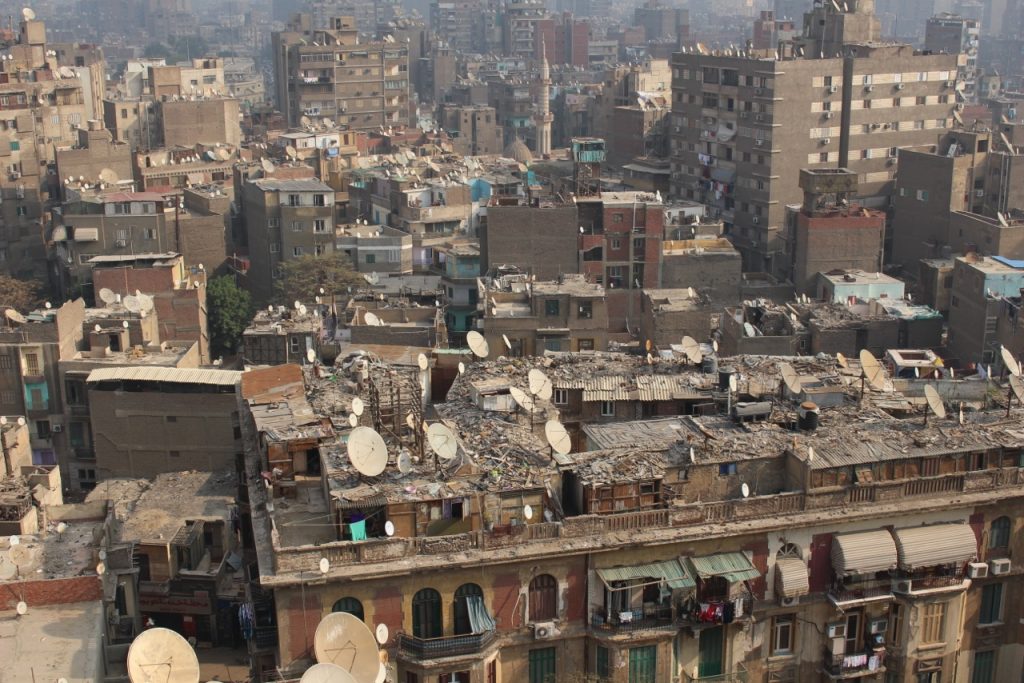 Cairo rooftops. Understanding Cairo: Logic of a City Out of Control, a terrific book by a Cairo-based urban planner David Sims, charts the miracle of urban growth in Cairo, in which 80% of new development happens outside official government sanction, and yet still manages to provide safe accommodation for millions, and connect to municipal water and electricity. But my relatives and many other westernized Egyptians bemoan the degree to which the city has decayed over the last 30 years. Though the building decay (and ubiquitous piles of garbage) in the city feel typical for an early 21st century developing country with a exploding population, when my Dad left in the early 60's, downtown Cairo was definitely much tidier. In1959 the country's population was approx. 27 million. Today it's close to 80 million, and is growing by a million every 10 months.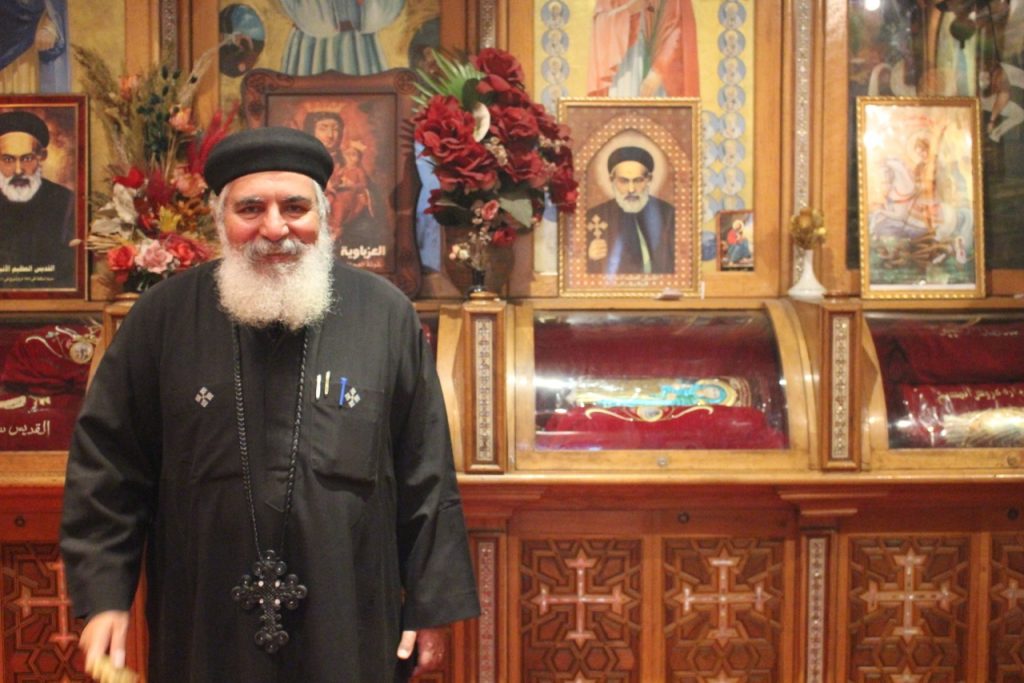 My cousin Marcus "the priest", also named after our mutual grandfather at his Coptic Church in Garden City, the embassy district in the western section of downtown, bordering the Nile river. While interviewing Marcus, I was able to tell him the story of my sister, who was put up for adoption by my parents in the early 1960's, and then came back into our family in the mid-1990's, when she contacted my mum. Though he was vaguely aware of the story, no-one had ever sat down and talked him through it. His reaction was moving and hilarious. "It is something different!" he said, half-laughing, half-stammering. "I tell Souraya (my aunt), in the west they do things very different! But here, this is not something we would usually understand." I told him that the story had a happy ending, which it does – that my sister and I are now unquestionably family. "This is good," he said, beaming. "This is very good."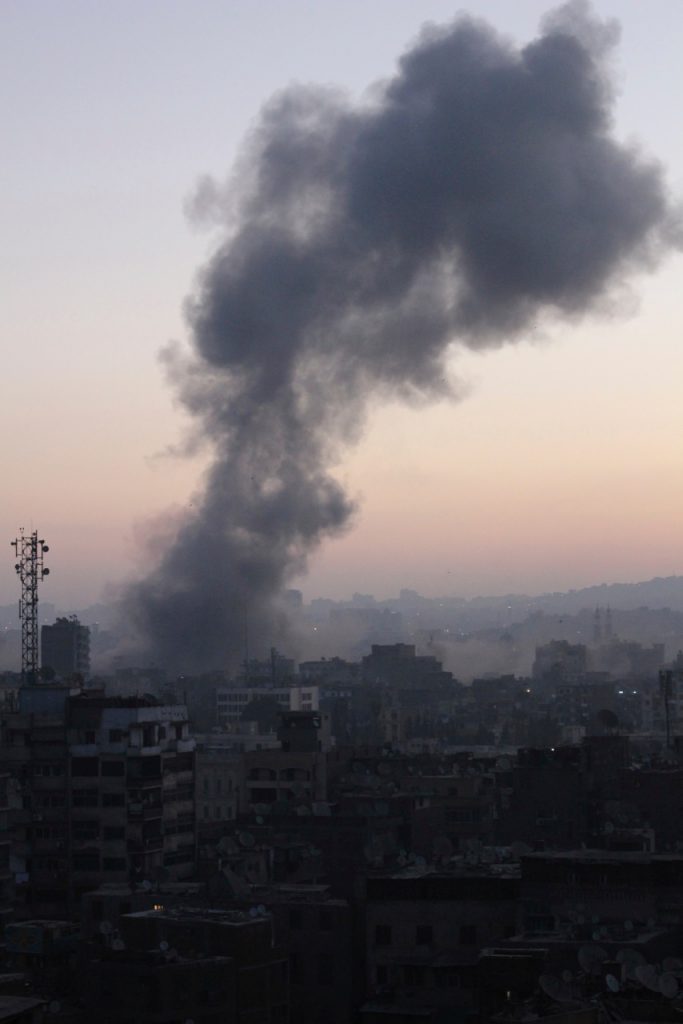 The aftermath of a car bomb outside the Cairo Police Directorate on January 24, which killed 5 and injured dozens. I was up early to go out and take pictures of Cairo street art, which, like all picture taking, was a little risky and better done at dawn, before the streets filled up. Even a kilometer away, the bomb shook the foundations of our hotel, and almost knocked me over in shock. Like all recent bomb attacks (almost all of which target police/military), an unknown, Sinai-based Islamist group claimed responsibility. A large number of Egyptians, maybe a majority, believe the Muslim Brotherhood is behind them, and uses fronts to stage the attacks, in order to preserve their image as a non-violent organization in the west. Is that true? Your guess is as good as mine.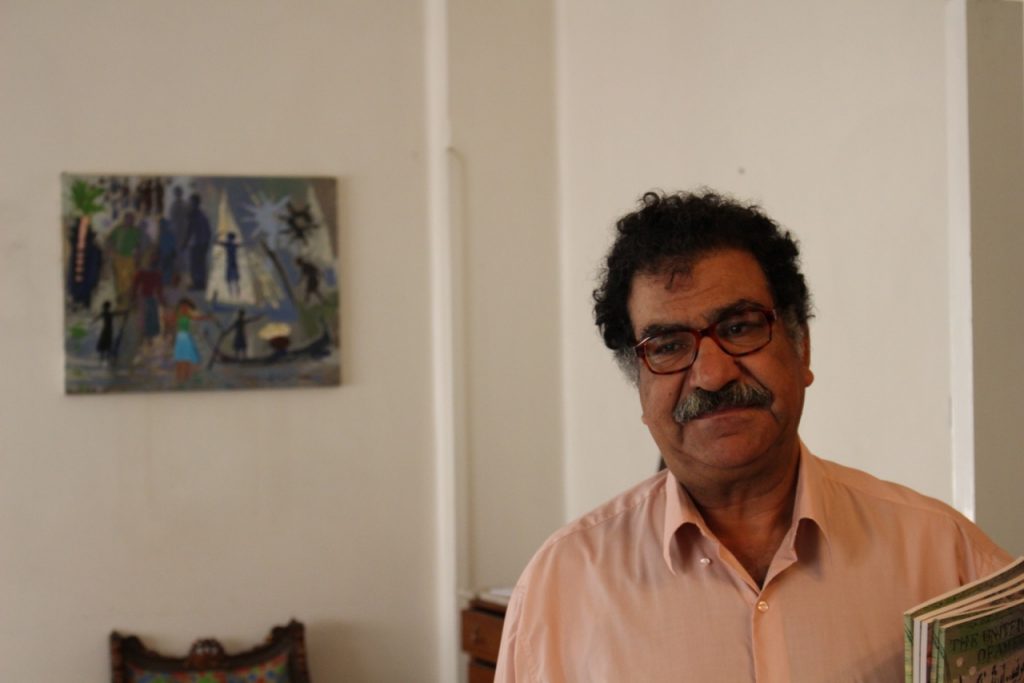 Well-known activist and painter Mohamed Abla, who sat on the committee of 50 that wrote the new constitution. He was a 2011 revolutionary with lots of street cred tapped by the military-backed government to work on the constitution. It passed by an overwhelming majority, but less than 40% of Egyptians voted. Low turnout was attributed to both the Muslim Brotherhood boycott and the decision of young people who led the 2011 revolution not to participate. Abla agrees that young people are alienated from the process. He attributes this partly to the profound generational stasis that affects both of the country's dominant poles of power, military and religious, both of which are led almost exclusively by men in their 60's, 70's and 80's. He also blames the young, secular revolutionaries naïveté, and petulance about no longer being the in the international media spotlight. Abla is also absolutely convinced that the Muslim Brotherhood is behind all recent bomb attacks. As a teenager he was a member of a radical Islamic group responsible for waves of terror in the 70's, 80's and 90's. "It was an open secret," he says, "That they were directed by the Brotherhood."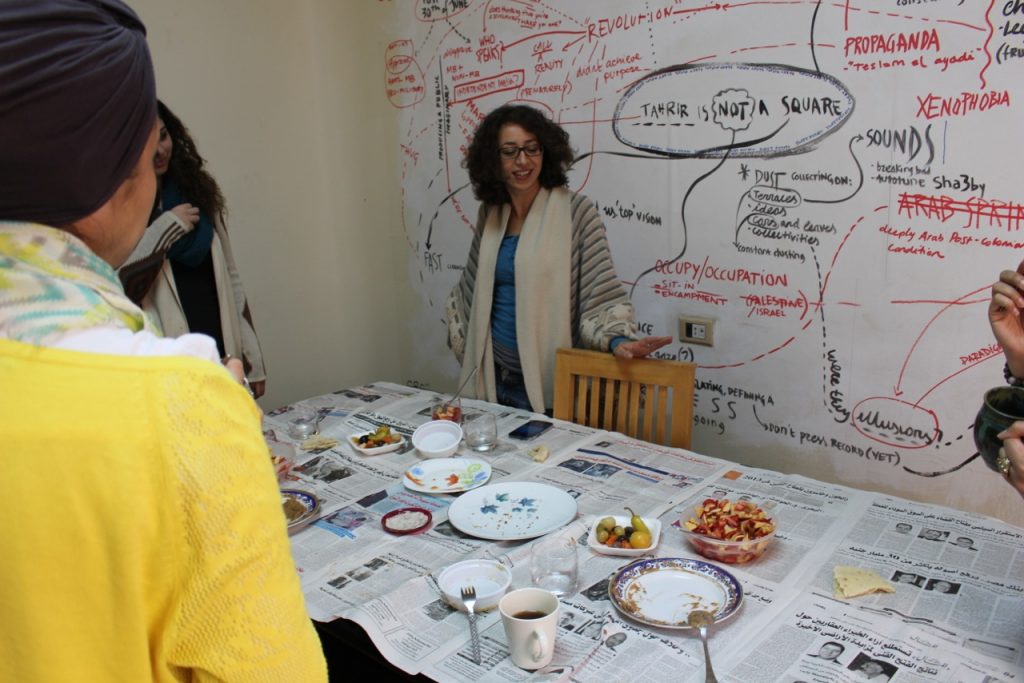 Story meeting at madamasr.com, an English-language daily news website financed by western NGO's and run by 25 journalists who became disaffected with the ossified sycophancy of Egyptian state-run and private media (for whom they ran English language media) after the revolution. Of those 25, 90% are women under the age of 35. They are directly connected to the secular April 6 revolutionaries, dozens of whom are now in jail for protesting against military prompted laws that forbid protests of more than 10 people and allow for civilians to be tried in military courts, a long-standing, and much-resented feature of the Mubarak regime. Like most Egyptians, they supported the June 30, 2013 protests against Mohamed Morsi's Muslim Brotherhood government, which seems universally recognized to have been a disaster, and applauded the military when it deposed Morsi and his government. Now they are depressed, and sure that the country has returned to military rule.
The Nile Corniche next to Tahrir Square. Normally these boats would be rented by tourists. Now they sit mostly empty. My hotel was Lonely Planet's top rated mid-range hotel in downtown Cairo. Over two weeks I was its only guest. The Egyptair Airbus 330 I flew into Cairo on (from Heathrow) had about 30 people on it, 25 of whom were Egyptian. Of the five or so westerners on the plane, 3 were rumpled, corduroy-wearing American University professor types and two – sitting close to me – were a single pair of middle-age, female tourists. One of them was reading The Kite Runner. Before 2011 tourism represented about 11% of the Egyptian economy. Now it's next to nothing.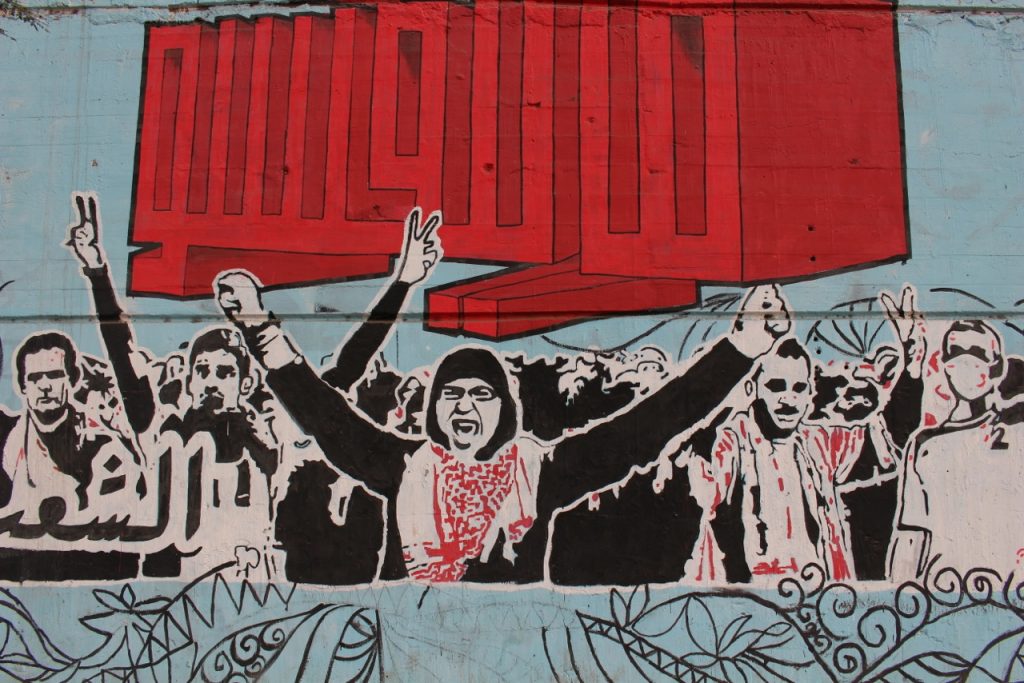 Cairo street art. The graffiti downtown is beautiful, and ubiquitous. Artists like Ganzeer have developed international reputations since the revolution, a kind of Egyptian revolutionary street-art chic. Much of it commemorates people who died, and much – like everything occurring there — remains contested. Pieces are regularly defaced or scraped away, and painted over and the repainted numerous times.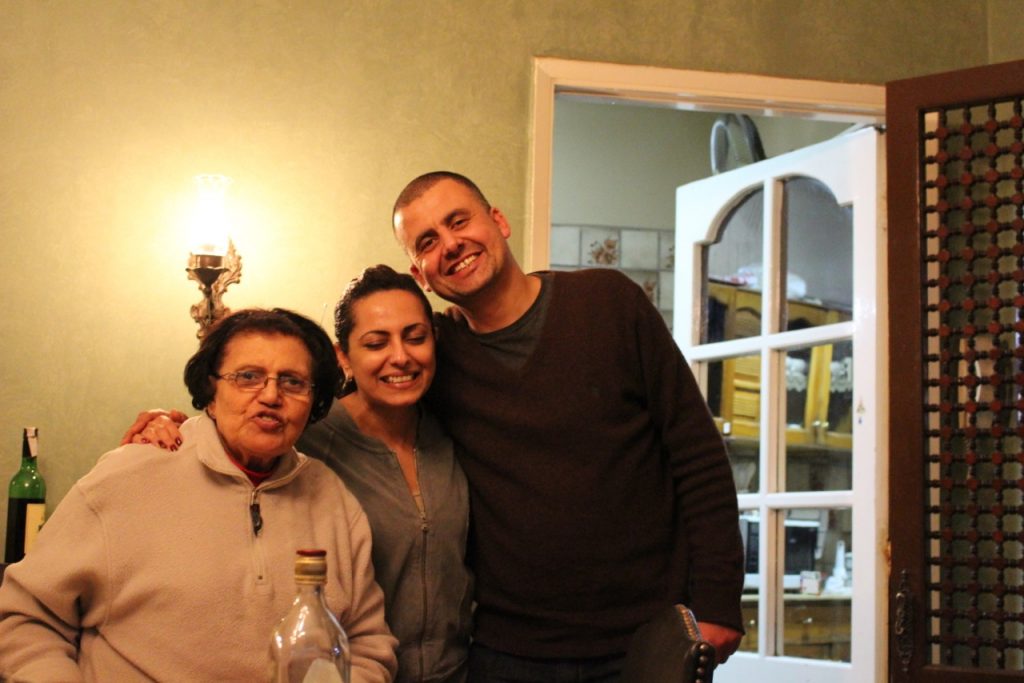 Me, with my Aunt Souraya and my first cousin Sally. This was the second time I'd met them in my life. On my second last day in Egypt, Souraya agreed to talk to me about my dad. She spoke for 75 minutes straight in Arabic, and when I tried to get her to pause, so my cousin could translate, she waved me off, saying, "Your father will understand, your father will understand." All my relatives – men and women – are professionals, and Christian. All, in my generation and older, are also absolutely convinced that the military's resumption of control was totally necessary in order to secure the country, and protect it from the real danger of Egypt becoming part of an expanding Islamic caliphate that they argue the US has made inevitable in Iraq and Libya, and may very well sweep through Egypt next. They are truly flabbergasted by the west's current behaviour toward Egypt. "Do you want terrorists to take over the Middle East?" they demand. "Ask them," they told me, speaking directly into my iphone mic. "Ask your people in America (sic). Is that what they want?"
Comments
comments