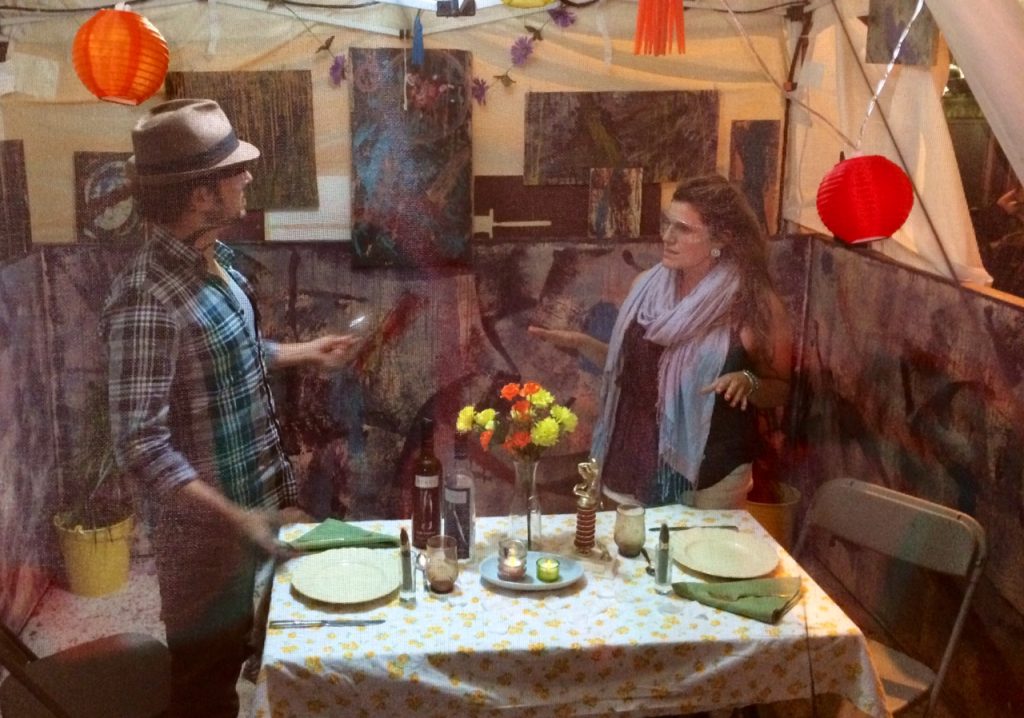 Fringe Theatre is a disruption of the delicate theatre ecology that threatens the stability and livelihoods of the establishment.
Fringe Theatre is the only viable path to production for a large majority of theatre creators.
Fringe Theatre is a populist low art form.
Fringe Theatre is the only place where the truly weird, risky, original, and unsafe work can get to the stage and find an audience.
Fringe Theatre is no way to make a living.
Fringe Theatre is the only way for some creators to make a living, and my 2010 Fringe tour provided a big chunk of my down payment on my condo.
All of the above contradictory statements, unfortunately, are true in 2014.
**
I started touring the Fringe circuit in 2007 and stopped in 2012, hitting 30 festivals with 5 original shows in those six summers.
In 2008, I toured my first play, Balls, to six festivals. My partner and I walked home with about $4000 each for our summer's work. Not bad for two 22-year-olds who weren't paying rent.
I had had some delusions that artistic directors would be scouting Fringes across the country for hit new plays to mount in their seasons, but despite favourable reviews, none responded to my personal invitations. Maybe it was something about being an unproven 22-year-old. It was, putting it mildly, a bit of a letdown to pack up the show in Vancouver and realise, that was it.
I tried mounting the show on my own in Toronto the following spring, knowing less than nothing about what it takes to produce a show from scratch. I lost more than double my earnings the previous summer. I realised the Fringe is a great training ground for producing on the Fringe, but finding your audience without a festival backing is hard.
**
The Fringe is basically the only time of the year you'll see straight theatre, stand-up comics, sketch comedy, improv, live music, dance, musicals, even opera sharing spaces and audiences. These are all integral parts of a healthy performance ecology, and yet the practice in Canada is to keep them far, far, apart – different venues, different time slots, different audiences, different pages in the shrinking Arts sections of newspapers.
It's always struck me that this mingling is one of the keys to the Fringe's success. It encourages audiences to break out of their expectations and try something they're not used to. It can make a star out of a Scottish performance poet or an aging lesbian sketch comedy duo. Let's see Tarragon do that in its regular season.
**
Of course, some of the mainstage companies are now trying to do just that, by unearthing that rare gem at the Fringe or SummerWorks, and putting it on their stage as a finished product. And that can be even more problematic.
While The Globe's Kelly Nestruck worries that the flood of cheap shows of varying quality that are found at Fringes across the country has reduced the appetite for professional theatre at the majors, my worry is instead that the majors are coming to see the Fringe (and similar emerging works festivals) as a scouting ground – a way to skip the expensive work of developing shows (and talent).
And so, with shrinking paths to development in the mainstream, many of us creators go off, unguided, into the Fringe, taking on huge financial risks in the vain hope that maybe, maybe, this will be the show that captures Andy McKim's attention. And then maybe it will get a poorly promoted and weakly attended two-week run in TPM's backspace in a couple years, which you will be expected to fundraise half the costs for anyway.
And good luck getting production grants from the Arts Councils, which are now seeing more and more applications for productions in festivals, which crowd out the grants for indie productions outside of festivals.
**
"There's a generation of artists out there who are saying, 'I don't have aspirations beyond this. I want to reach this audience. I want to have a great Fringe run.' That's fine with me," Toronto Fringe executive director Kelly Straughan told Toronto Star reporter Richard Ouzounian.
It's a surprising statement coming from a Festival that is proud to tout the spinoff successes of past shows like Kim's Convenience, Da Kink In My Hair, and, especially, The Drowsy Chaperone.
And yet, it's absolutely true. Perhaps recognizing the absurdity of playing for long-term "mainstream" "success," creators are setting new goals. Playing to full houses across Canada. Earning a living through the summer without waiting tables. Getting real reviews in newspapers (when was the last time you felt certain you'd get a review of your indie show in Toronto?). Building a body of work and a fanbase that comes to your shows year after year.
I'm looking at Vancouver's Monster Theatre. London's Jayson MacDonald. TJ Dawe. Edmonton's Ken Brown. Boston's Cameryn Moore. The UK's Jem Rolls. And dozens of others who are plying their talents on the boards across Canada every summer.
And the funny thing is, they're making it work. They may not be rich, but they're making a living. And they're finding an audience.
And sure, some Fringe shows are mindless, populist, disposable trash. But there's also some rich, interesting, unique work there. Where else but the Fringe could you find a hit show about an overweight, sex-positive, self-described phone whore in a relationship with a trans man? Or a literary puppet show? Or an anarchist slam poet?
That's not to say Fringe is devoid of challenges. The demand for slots in the Fringe rises every year, but the available audience is not growing at the same pace. The ticket prices and artist revenues have been steadily eroded by inflation. The technical limitations can compromise artistic choices. But the completely unprogrammed nature of the Fringe still offers some creators the most viable path for a livelihood in personal expression on the stage.
Comments
comments