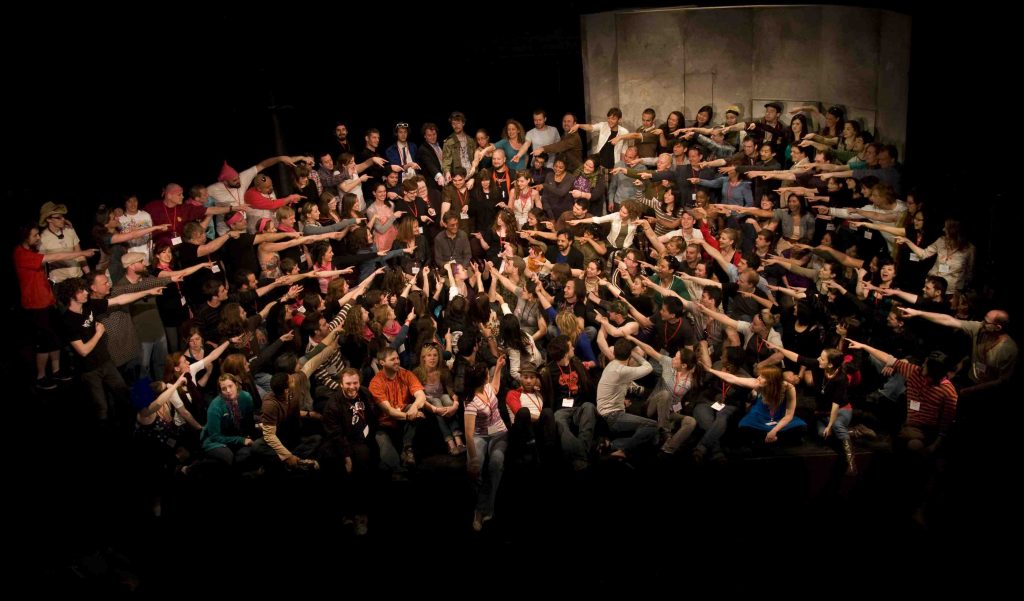 Theatres in Canada like small ideas.
Those can be potent, of course, and Nightswimming doesn't shy away from a small powerful idea; they are absolutely worth embracing and pursuing. But the big idea, and even more the huge idea, has the potential power to galvanize a community of individuals, artists and spectators alike, in ways that even the most beautiful perfect small idea never can. They are fundamentally different.
Here's a huge idea and how we got there.
In 1997, Nightswimming commissioned playwright Ned Dickens to write a 'prequel' called Jocasta to his version of Oedipus, famously produced in 1994 by Die in Debt under the Gardiner Expressway, directed by Sarah Stanley in a stunning production created by a team of more than 50 artists.
A year later we commissioned a 'sequel' to that Oedipus called Creon, exploring the impact of Antigone's actions on the citizens of Thebes. By 2000, we had a trilogy of plays; that was the big idea, and we struggled to find ways to continue the development of the project. So we partnered with the University of Alberta, York University and Humber College and then with a major classical festival to work on the plays.
We found the resources, over time, a long time, to commission Ned, hold workshops, set up student productions, do public readings. We believed in Ned, that he needed to write these large scale, large cast plays even if they seemed beyond our ability to develop, let alone produce. And that he must do so. And then, as Ned wrote, he began to conceive of the full seven-play cycle called City of Wine.
City of Wine tells the story of the Greek city of Thebes – best known as the home of Oedipus. Beginning with the founding of Thebes by Cadmus and Harmonia, and ending in the city's demise seven generations later on the battlefield of Troy, the cycle is a smart, sexy, and visceral commentary on leadership and civic life told through the lens of a community's evolution. Seven plays with a total of 96 roles: that's an even bigger idea.
The work, not surprisingly, was slow. Then we realized that in order to make this big project happen, we had to make it huge. When we talked about it as a big project, people felt it was impossible; when we talked about it as a huge enterprise, potential partners saw opportunities to participate in something remarkable. Huge became key to moving Ned's vision toward completion, so we made huge our mantra.
Nightswimming assembled a partnership with theatre training programs across the country, from Memorial in Newfoundland to Studio 58 and Simon Fraser in BC. Over the course of three years, seven schools participated in the development and workshopping of the seven plays. In the third year, the schools each produced one of the seven plays in their school seasons with directors including Craig Hall, Eda Holmes, Jillian Keiley, DD Kugler and Sarah Stanley. Ned and I and producer Naomi Campbell, traveled to the schools to lead workshops and bring the 160-plus student actors, designers and other artists into this epic world. But even that wasn't enough. Dramaturgically, we realized that it would be necessary for us to see all the school productions together.
The goal of all this was to design a machine, a structure, to finish the plays and test them on stage… for isn't the point of any and all play development processes to give birth to the show? And also that it would be a shame to not bring all the productions together so that everyone – students, faculty and the public – could see the cycle in its entirety. That is when big became truly huge. The City of Wine Festival took place in May 2009, bringing together almost 200 artists for two complete runs of the cycle at Theatre Passe Muraille in Toronto. Its hugeness made it possible.
A community came together to make these plays; the size of the community and the scale of the vision were key to our collective ability to make this happen. There's more: Ned has now incorporated lessons gleaned from those productions into new drafts of all seven scripts, a process that took more than two years. Playwright and translator Michel Ouellette was commissioned and worked with translation dramaturg Maureen Labonté to create a French translation of Harmonia.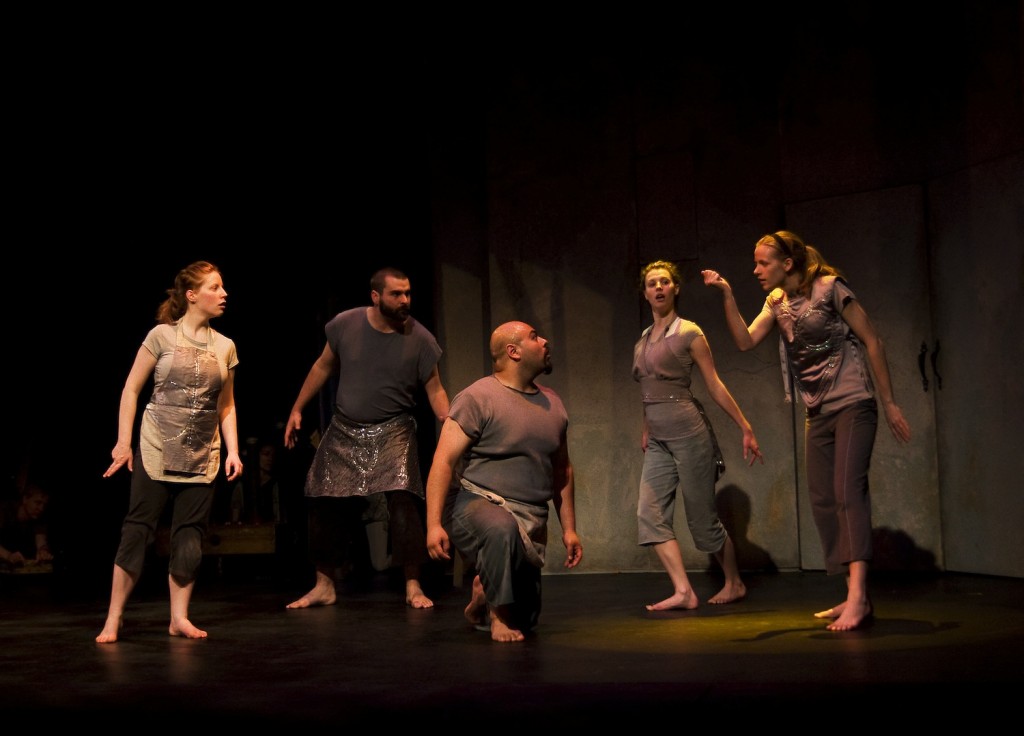 Throughout all of this, Nightswimming's commitment to faith and patience was central to our ability to attract partners and convince them that the huge idea could work. We had faith that Ned's storytelling would find thrilling new ways to explore these elemental characters; that the seven schools would secure the resources to participate in this unprecedented national partnership; that Nightswimming would be able to leverage the scale of the project to attract funding far beyond what we had ever previously required in order to develop a new work.
Is City of Wine now too big to ever be produced in Canada? The hugeness that attracted partners during the creation and development process is now a huge hurdle. The large casts required for these plays, one of the very aspects that demands that a community be created to bring them to life, are now a huge challenge. One of the frustrations of our love of the small idea is that big plays that investigate the dynamics of communities are beyond the means of most theatres, and as a result we aren't tackling some of the big issues that communities face as a whole.
Another truth we collided with is that big projects can more easily attract support, funding and partners during the development/creation process and/or if they involve an educational component. Everyone likes to be in on the creation portion, and education is often fundable from other sources.
Any producing scenario for seven plays demands a lot of actors (even an ensemble approach would require at least 24 or more) and a very long rehearsal period, yet  we believe that community is still the way forward: a community of producers working in partnership to achieve something none of them could working alone.
The greatest challenge to such a partnership is a willingness to truly risk a collaboration that demands that multiple partners put their own interests lower than that of a collaboration that, for example, asks seven theatres to each produce one of the plays and asks each to seek resources to make the scale of the project manageable for all.
It may come down to money in the end, and a theatrical world that can only afford small ideas, but I truly believe that community is the solution to bringing a big idea to fruition.
Brian Quirt is Artistic Director of Nightswimming and Director of the Banff Playwrights Colony. Follow Nightswimming on Twitter and Facebook.
Comments
comments