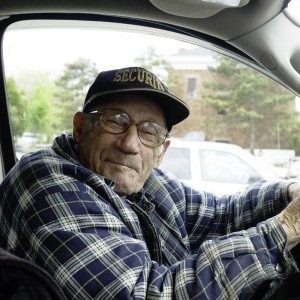 Painting of Jack Sherriff
We came into Wolfville, Nova Scotia unexpected.  We called the Mayor's office and plant ourselves downtown on the Main St. in our storymobile. Shortly there after a man in a blaze orange safety jacket comes from the parking lot of a Shoppers across the street.
Him: "I heard your looking for stories…"
Us:  Yes .. about this street.
Him: "Well you should talk with Laurence Smith he's got keys to half the buildings on this here strip.  He comes by at 10, 12 and 2 o'clock everyday and parks right over there in the lot."
Us:  Great
When I got into an old pickup with a guy who was 80+ in overalls I expected to learn about the way life used to be on Main Street Wolfville, NS.  I did not expect to learn about Jack Sherriff a legendary theatre maker and educator located in downtown Wolfville.  When we included this in our recent play for Magnetic North more than one person within the industry came up afterwards and commented on the influence Jack had on their lives.
Laurence Smith is a beautiful old man with a big heart and a voice I am so happy to have captured for preservation.  I'm sure Jack was as well.
Comments
comments