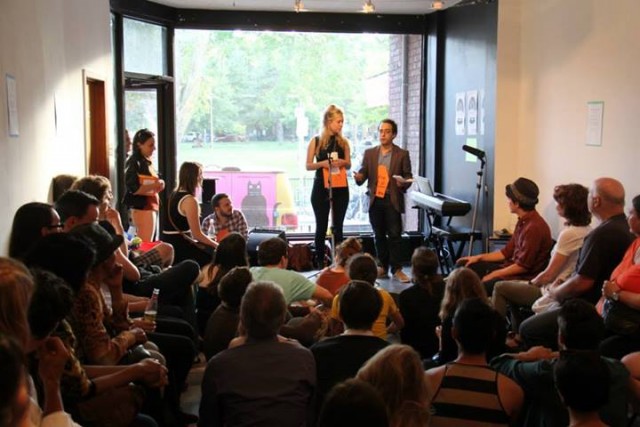 The most 2014 thing I did in 2014 was Twitter-view Monologist Mike Daisey using #DaiseyTO – while sitting across from him at the same Dark Horse Café.
Having written about Daisey and his ideas about independent art creation on praxistheatre.com several times, it was a great opportunity to take a discussion about how the North American theatre ecology has evolved to an increasingly influential Twittersphere. The most salient piece of advice he had was:
+ 100 MT @mdaisey: .@sommerau Make your own shit. Always. Own the means of production. Always. Every theater maker must know this. #DaiseyTO
— Michael Wheeler (@michaelcwheeler) May 20, 2014
Since this twitterview, it has been a busy time during which I became Executive Director and Transformation Designer of Small Theatre Administrative Facility, which is in the midst of large-scale changes. (Also it seems Daisey has quit all social media, with even his website becoming private.)
At STAF, We announced what these would be in a broad sense through a letter to the community this November, and the aim is to maximize the impact the organization can have on independent theatre by shifting from a fees-for-services model to a capacity-building organization for the sector. The letter lays out the structural factors underlying these changes, but the point made by Daisey above crystallizes philosophically what this transformation represents:
Currently, independent theatre favours entrepreneurial self-producing artists who own the means of production. I like this language because it is clear, concise, and I think an accurate reflection of the zeitgeist. It also defuses a major tension in this discussion between neoliberal arguments for culture as an economic driver and quality of life arguments as well as more esoteric rhetoric about art, life and meaning.
We can all agree that artists are being more entrepreneurial and this is a good thing.
For profit-conscious advocates, theatre artists are finally accepting their role in a market-based economy. Meanwhile those of us that are skeptical of restricting art to what is profitable (or profitable for real estate) can understand the entrepreneurial shift as a way to throw off some of the chains that have kept cultural production in the hands of a well-insulated elite.
Owning the means of production in theatre is an extremely difficult proposition however. Mirvish-fare aside – theatre in Toronto can't pay its costs through earned revenue. Even a (very rare) sold out box office doesn't usually generate a living wage for the artists involved, without other contributions through grants or donations. In fact, a question being asked right now is, "Can we all just admit there is no such thing as nonprofit sustainability?"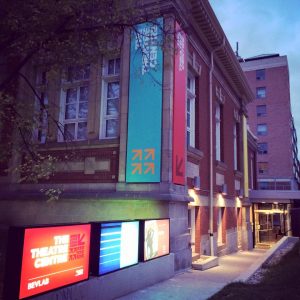 So there is a certain amount of 'green-lighting' that has to happen by peers and/or those with money before you can mount work that achieves professional standards. So "owning" the means of production in this context is a tricky proposition – and the question of what is "professional" becomes even more muddied.
This is the situation we now find ourselves faced with adapting to at STAF. As an indie theatre artist running an organization dedicated to improving the capacity of independent theatre artists, it is my hope we can make this shift in a manner consistent with open source philosophies:
We hope to maintain a high degree of transparency, seek collaboration and feedback, and make the results of our work available to the community. The first step in this open source transformation is an Open Source Feedback session taking place at Theatre Centre on January 26 from 630 – 930PM, (which will likely continue more informally across the street at The Dog and Bear afterwards).
It will begin with what we know: Here's our situation, here's what we do and don't plan so far. Then we will break into moderated groups that require brainstorming and discussion to generate new ideas and genuine feedback about what indie theatre artists need to succeed in 2015. A summary of these results will be available on our website shortly after the event which we will livetweet, and I'm hoping we hear ideas we haven't even thought of yet.
This is not to say we don't have some very specific notions about what we can do moving forwards. I'm excited to announce some of these plans in our initial presentation at the session. Yet there are some Big Ticket Items not yet resolved. These run the gamut from: "Should we provide co-working Hot Desks?" to "What should the new name of the organization be?"
97,100 cultural workers in TO = 7.2% of labour force. ON artists median income $23,200, 41% < workers in ON. http://t.co/7eTaR2C7MX #cdncult — Michael Wheeler (@michaelcwheeler) January 4, 2015
There is a big shift underway in how theatre is created. There is an even bigger shift needed in how it is produced and supported.
We exist as theatre creators at a moment where the infrastructure is adapting much slower than the art and artists are.  Faced with the choice of lamenting a system resistant to change or inventing a new one, lets choose the latter. Looking forwards to beginning to take control of the means of cultural production in 2015.
If you are interested in coming to the open source feedback session –shoot us an email to info@theatreadmin.com or tweet @STAF_TO.
Comments
comments