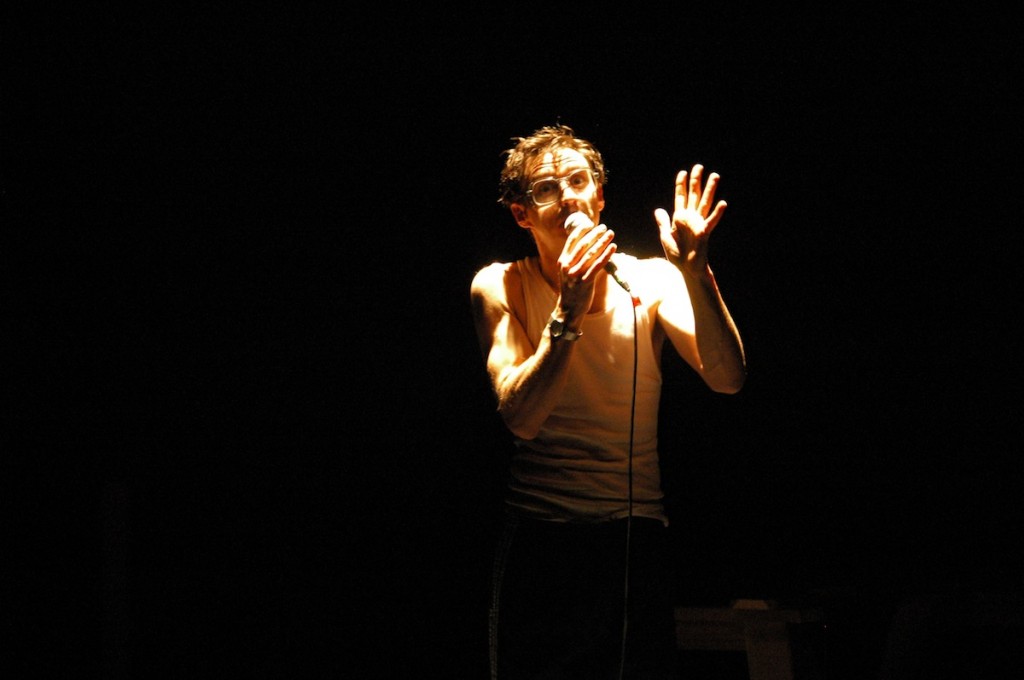 My career trajectory looked good.  A BFA in theatre, three years at the National Theatre School, then the stint doing children's theatre and then crazy, fantastic, alternative theatre in back alleys and bars.  I had just started to get more high profile jobs, a big musical at the downtown theatre, a show with a critically acclaimed collaborative ensemble.
Everything was pointing to a successful career as a theatre artist, an Actor with capitol A…so what was I doing this past Friday night, May 29, at the ripe age of 41?: Changing into my costume in the basement of an art gallery cum café in Invermere, a tiny town deep in the interior of BC, while a mere 15 patrons awaited the start of my show.  How did I get here?
Why This, Why Now?
The reason I willingly abandoned a successful acting career in 2006 and moved to Nelson, BC was for children. When my wife got pregnant, my vague plan to move to Vancouver to pursue theatre, TV and film work was kyboshed in favor of heading back to the homeland to start a family. I grew up in Nelson and knew that if I ever had children of my own I would want to raise them there. Fortunately, my wife also grew up there and we knew we had a support network for when the babies started arriving. Nelson is a rare small town in that it has the requisite natural splendor, but it also has a high level of cultural activity, plus an artistically savvy population that will attend and appreciate an absurdist, neo-Vaudeville act without question.
How To Achieve Success in Theatre Outside of the Bustle? or How I Hit the Small Time.
None of this could have been possible without the infinite patience and support of my wife. A performer in her own right, she accepted her fate being married to a theatre addict and has continued to amaze me with what she allows me to get away with. Years earlier, I had performed a couple of one man shows in Nelson (she came to see one, it's how we met) and they had proved successful, so when we bought a house and a car and started to settle in, I thought that I would be able to make it work.
I did two major theatre gigs in Calgary and Victoria when Frances, our first daughter, was young, but spending two months away while she was busily turning into a person was too wrenching and I decided that I had to become a self-sufficient theatre entrepreneur so I could see my children grow up.  In retrospect, I feel like this should have been terrifying, but something about the implacable reality of having to support a family inspired me to just get on with it. I started a theatre company, Pilotcopilot Theatre, and produced my one-person shows in Nelson and the surrounding area. I wrote shows about my own experiences, HELLO BABY, and DECK, about home renovations that I was actually doing. I had had the good fortune to work with a fearless alternative theatre company in Victoria, TheatreSKAM, where I had learned that theatre can be done almost anywhere and under any conditions.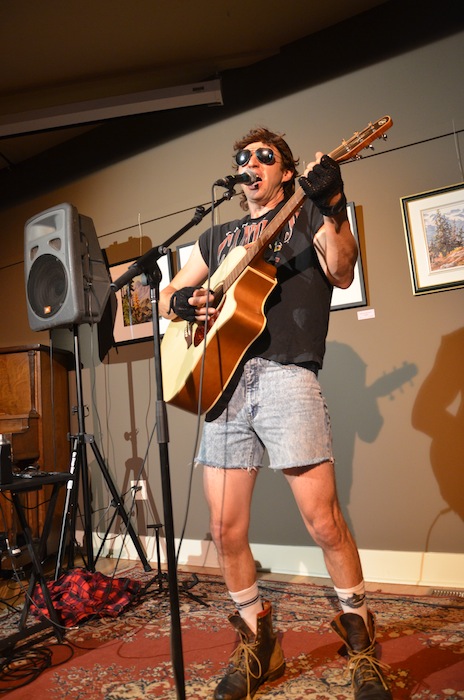 My first tour was of all of the tiny communities nearby. I followed the schedule that had proved successful in Nelson: Do a show to very small audiences the first time around, then return in six months to a bigger crowd, then return in another six months to full houses.  Granted full houses topped out at about 80 people in most venues, but with very little overhead, the money was enough to keep us afloat.
On those first tours, I quickly learned some important lessons.  Find a local theatre loving booster to help get the word out for your show, someone who will make sure you don't book at the same time the mayor has a birthday or the local high school is doing their year end musical. Your poster can be brilliant and you can have the best press release in the universe but nothing beats good old-fashioned word of mouth.
I slowly expanded the tour until I reached the point where I was booking shows through the performers trade show in BC, Pacific Contact. I was negotiating my own contracts, figuring out what rates to charge –  with the help of many, many angels – and discovered the joys of the guaranteed flat rate with accommodation included. I could get away on weekends without throwing the household schedule into total chaos. Mixing these paid shows in with my own tours created a balance of guaranteed income while maintaining an audience base in the smaller communities.
One of the challenges in choosing to work outside of an urban centre was coming to terms with the concept of success.  It had been ingrained in me that an acting career happened in the city, it happened with theatre companies and film and TV, and if you weren't doing that you were not successful.  During those first few years of living and working in Nelson, I would often have a crisis of faith, after hearing about this friend getting a gig on Afghanada, or that friend touring an amazing show across Canada to the big theatres, and I would really wonder: "Am I fulfilling my potential here?"
Three things helped dispel this sense of failure. 
1.  The People:  Doing a show for 45 locals in a log cabin in the middle of nowhere is awesome. I may sound like I am trying to justify my life choice in leaving the city but I'm not.  I actually feel like I am being self indulgent as a performer because it feels so good.  I know I won't be written up in any newspaper, I won't have artistic directors out to see me and consider me for their next season, and I won't get accolades from peers, and these are things I want, if I'm honest with myself.  But it doesn't matter because I am having a blast with a hugely appreciative crowd.
2. Master of My Own Domain:  As part of this life in Nelson, I am a stay at home dad to two young children.  This is a gift.  My wife is a full time teacher and since I am the only employee of Pilotcopilot Theatre, I set my own schedule and control how much work I take on.  This has been invaluable in maintaining the sanity of our family.
3. I Get to Make Theatre All The Time: This is the greatest benefit of this career move and the one I feel luckiest for. I get to consistently create my own work. If I was in the city, it would be easier and more profitable to be a gigging actor. In Nelson, creating my own work on my own schedule and then touring it is the best time to money equation possible.
I miss the community in Vancouver, which I get to visit on the odd trip to the city and which, thankfully, hasn't totally forgotten me as I still get the odd job offer flung my way, which makes my heart sing. I miss doing runs as my touring schedule is usually erratic and consists of only one or two shows in any given theatre.
Back in the basement of the art gallery, I put on the acid washed shorts and sleeveless Canucks t-shirt of my redneck character Randy, a character that has been around since the very first one man show I wrote 15 years ago, with this latest lesson firmly learned that, yes, May is too late to be doing shows in these communities, where people go outside at the first glimpse of spring and don't come indoors for three months.  I head upstairs to entertain those 15 people and feel comforted by the fact that I am, in fact, living the dream.
Comments
comments