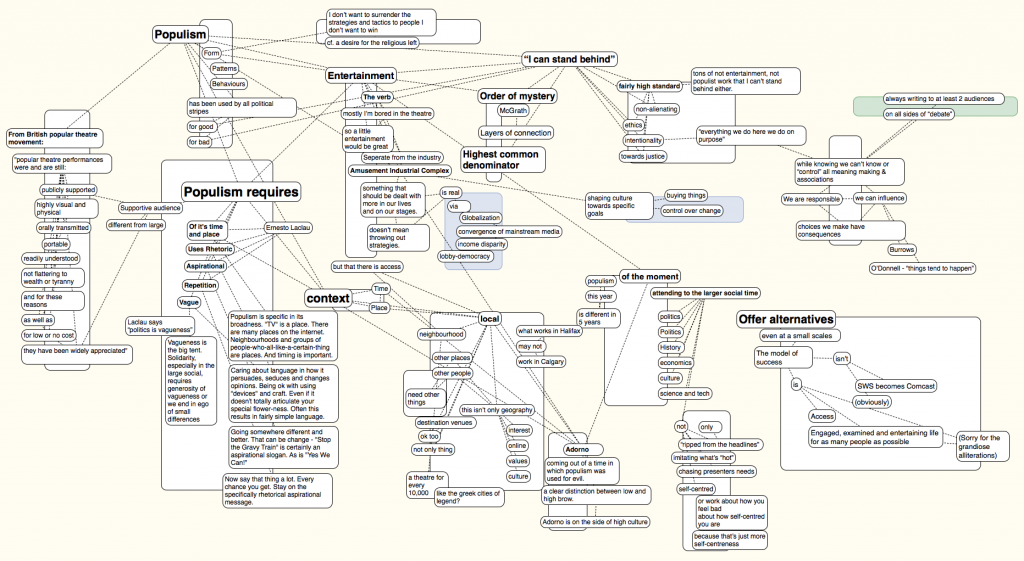 For a while now I've been thinking and working from a question of finding "A populism I can stand behind." [1]
These are hard days for populism – it's getting called out for a lot. Specifically, a combination of the Fords (who are totally populist), Andrea Horwath's campaign for the NDP and in "what's wrong with Canadian theatre" conversations.
In the last two, the distinction between populist and middle-of-the-road is missing but very important. They are different – not necessarily mutually exclusive, but different. The malaise in both Horwath and the theatre feel more about middle-of-road-ness that populist.
I'm in favour of populism – or at least want to complicate and include it in my work making theatre and stuff.
The outline
Populism
is a form
a set of patterns
and behaviours
has been used

by all political stripes
for good
for bad
I don't want to surrender
strategies
tactics
to people I don't want to win

cf. a desire for the religious left
Populism requires:
Supportive audience
from Ernesto Laclau :

Argentine political thinker. 1935–2014

Of it's time and place.

Populism is specific in its broadness. "TV" is a place. There are many places on the internet. Neighbourhoods and groups of people-who-all-like-a-certain-thing are places. And timing is important.

Uses Rhetoric

Caring about language in how it persuades, seduces and changes opinions. Being ok with using "devices" and craft. Even if it doesn't totally articulate your special flower-ness. Often this results in fairly simple language.

Aspirational

Going somewhere different and better. That can be change – "Stop the Gravy Train" is certainly an aspirational slogan. As is "Yes We Can!"

Vague

Vagueness is the big tent.
Solidarity, especially in the large social, requires generosity of vagueness
or we end in ego of small differences
Laclau says "politics is vagueness"

Repetition

Now say that thing a lot.
Every chance you get.
Stay on the specifically rhetorical aspirational message.
From British popular theatre movement:
"popular theatre performances were and are still:

publicly supported,
highly visual and physical,
portable,
orally transmitted
readily understood
not flattering to wealth or tyranny
and for these reasons, as well as
for low or no cost,
they have been widely appreciated"
There's also been some "entertainment" bashing – which is related.
Entertainment
(mostly I'm bored in the theatre
so a little f*ing entertainment would be great.)
but seriously.
Interested in
The verb: to entertain
"Good night out"
Separate from the industry
Amusement Industrial Complex is real.
via

Globalization
convergence of mainstream media
income disparity
lobby-democracy

we're moving towards specific goals[2]
something that should be dealt with more in our lives and on our stages.
doesn't mean throwing out strategies.
A common response is that populism and entertainment = lowest common denominator.
Why not
Highest common denominator

Orders of mystery
A whole other map writing thing.

Layers of connection and meaning
That different people get different things
By working in Context
of the moment
populism
this year`
is different in 5 years
attending to the larger social time
politics
Politics
History
economics
culture
science and tech
etc…
not
only / always
imitating what's "hot"
"ripped from the headlines"
chasing presenters needs
self-centred

or work about how you feel bad about how self centred you are
because that's just more self centredness
Local:
neighbourhood
destination venues
this isn't only geography
interest
online
values
culture
other places
other people
need other things

what works in Halifax
may not
work in Calgary
perhaps

a theatre for every 10,000
like the greek cities of legend?
Offer alternatives
even at a small scales

the model of success
isn't
is:

Access,
Engaged, examined and entertaining life for as many people as possible (Sorry for the grandiose alliterations)
If populism is not an ideological position [3], then "I can stand behind" becomes the ideological content. [4]
"I can stand behind"
Means:

away from alienation [5]
towards justice
ethics, both in the making and the doing.
intentionality

while knowing we can't know or "control" all meaning making & associations. [6]
We can influence perception
We are responsible
Choices we make have consequences

(There is tons of not-entertainment, not-populist work that I can't stand behind either. See SWS podcast re: checking your gender politics at the door of Canadian theatre.)
Again, my desire is to offer alternatives – I hope that in these offers I can find something more hopeful and possible in these dark times.
Comments
comments