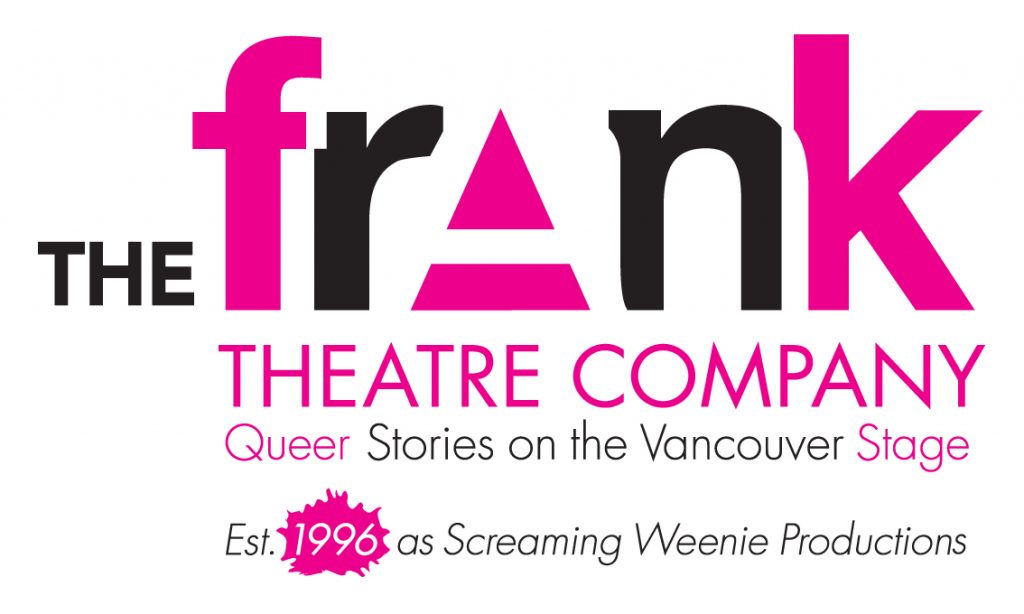 What's in a name?
Everything and nothing.
As the Buddhists have taught us, nothing has inherent meaning. Everything that attaches us to an object, any object, is caused by the narratives and meanings we weave around it.
That said, meanings are often all we have. Therefore, the melee over the recent name change of Vancouver's queer theatre company was both completely understandable and wholly necessary.
It was, in short, a battle of values, not between good and bad and certainly not between right and wrong, but between two equally legitimate conceptions of the company's place in the theatre ecology.
It was time to have it out and clear the air.
As many of you know, Vancouver's queer theatre company used to be called Screaming Weenie Productions (and, as far as our society name goes, it's still called that). In January of this year the Board approved a motion to change the company's operating name, and on opening night of our show Unstuck in March, Screaming Weenie officially became the frank theatre company.
The overwhelming majority of people we've heard from have lauded the name change, with many saying they disliked our previous moniker, calling it "amateurish," "juvenile" and "attention-seeking." The tiny but passionate faction that opposed it say that we've divorced ourselves from our own history of playful irreverence, and that the old name was right and proper for a queer theatre company.
As a staunch backer of the name change, I initially wrote the dissenters off as regressive, reactionary, myopic and lacking in foresight. But now that the war-wounds have started to heal, I'm able to concede that their point of view is just as legitimate—and compelling—as mine is.
When Screaming Weenie relocated to Vancouver in 2000—it was founded by Ilena Lee Cramer in Alaska in 1996—it was very much a project-based company that produced shows every two to three years. Back then, most of our shows were collective creations with a funny, decidedly subversive edge, done in non-traditional venues like nightclubs and lounges. The company was founded in a much less queer-friendly time (and, for that matter, a much less queer-friendly locale)—so the name "Screaming Weenie" had an admirably defiant, go-fuck-yerself quality that was probably right and appropriately confrontational for the times.
When Seán Cummings took over the helm of the company in 2008, the company switched to a more text-based, playwright-driven aesthetic; while the content of our work was as explosive and explicit as ever, the venues became more traditional, and, correspondingly, the audiences larger and more mainstream. Furthermore, we quickly morphed from a company doing one show every two years to one—thanks to funders that became more responsive to us than in years past—doing work on a regular, year-long basis. But that wasn't all: in conjunction with these developments we became almost as much of a social justice organization as we were a theatre company, creating a program arm focused on building bridges across ethnic, sexual, gender and ability differences via theatre arts (All the World's A Stage) and, more recently, a writing workshop for queer and questioning youth (Telling It Bent).
With the company changing right before our eyes, I and the Board had to ask ourselves: did the brand "Screaming Weenie" still accurately reflect who and what we'd become? Or did medium and message need to be in greater alignment?
The decision was made to rebrand. It was a difficult, emotional discussion, but in the end the Board vote was unanimous, as we managed to convince even those who'd initially been resistant that rebranding was the right thing to do at this point in our life-cycle. We simply needed a name that better encompassed all the program arms we'd developed, everything that we'd become.
Not surprisingly, the company's founder was not happy about the decision, responding with an email that was nothing less than scathing.
But, as I said, the wounds have started to heal; and I am now able to see that her vision for the company is just as legitimate as mine, and that, were the company still what it was under her leadership, there would be no need for a name-change, as Screaming Weenie would indeed be the right and proper name for it.
But the company's not what it used to be. It's evolved into something different.
So why the frank theatre company? Because "frank" connotes honesty, candidness, truth. And, by connecting to the word "weenie," it still acknowledges and honours our history.
the frank is still the Weenie, but all grown up.
Comments
comments