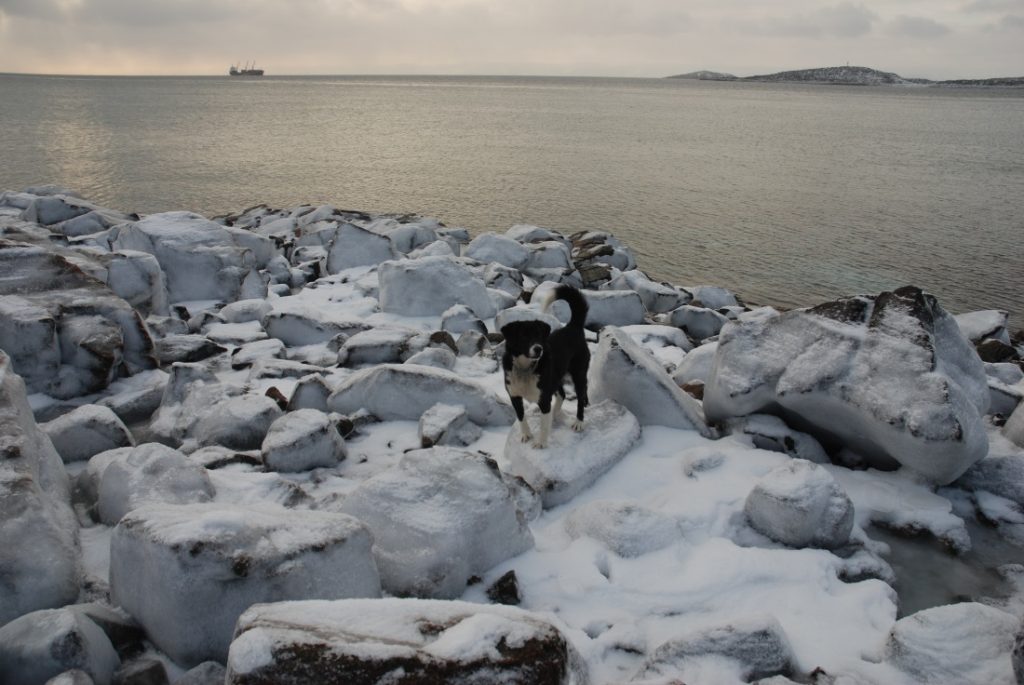 Matthew entered the room.
Amy entered the room.
Amy: Hi.
Matthew: Hello!
Laakkuluk entered the room.
Laakkuluk: Hello! You're back home Matthew – good show?
Matthew: Yes, went well. Folks showed up, so that was nice.
Laakkuluk: How's the weather? We're -15C with snow and wind – you guys?
Amy: Very erratic. 17c one day, 5c the next, snowed a little today, hail.
Matthew: Leaves falling, no rain, quite nice. Does that make your work erratic?
Amy: October I'm down and lethargic. But I'm pumped since November!
Laakkuluk: Summer makes my work more erratic – fishing, camping and kids running around. Winter I buckle down to writing better.
Amy: Booking a school show for our company. A new Newfoundland children's show: The Ogre's Purse.
Matthew: Winter is for writing and booking shows. Anytime is good for booking shows.
Laakkuluk: Ogre's Purse! Delightfully frightening! Do you like to scare children?
Amy: Get them excited is what we like!
Matthew: Fun to pop into a school, wind up 500 kids and leave.
Amy: I love to see children with eyes wide and pointing at the marvel!
Laakkuluk: Or their little hands making the movements of the story.
Matthew: My turn to edit this week, so let's cut to the chase.
Laakkuluk: I thought this was the chase.
Amy: I'm chasing as fast as I can!
How does the winter influence your practice?
Laakkuluk: The effect is meditative – the sunlight so short and shadows so long. I stare at the landscape and have poetic thoughts.
Amy: It's darker out, days are shorter.
Laakkuluk: My work incorporates the landscape and its changes.
Amy: I never thought about differentiating. I am more thoughtful in winter. I study things more: faces, reactions. In Fall I slow down and am tired, but I get out of it.
Laakkuluk: I'm the same – I need a bit of a lull after summer before I pick up again.
Matthew: Ditto
Amy: Summer is exhausting!
Laakkuluk: Summer is busy with festivals and travelling, when it's not fishing/camping/chasing kids.
Matthew: SKAM gets site specific in the summer. The work ramps up.
Laakkuluk: You stick close to your home base in the summer?
Matthew: No we often tour. We actually have to focus on creating more for indoors so we have winter projects.
Amy: Work for our company ramps down in summer, but ramps up for me personally.
Matthew: We've done outdoor work in winter; you have to keep the audience moving. Short scenes, etc.
Amy: I like the idea of outdoor work in winter… intimate scenes, huddled together, actors and audience.
Laakkuluk: The Summer festival here will soon be taking applications. You should both apply! alianait.ca
Amy: We already sent a proposal, now a reminder.
Laakkuluk: Excellent – I'll give them a nudge
Matthew: Congrats on your appointment to the board!
Laakkuluk: ha ha – you just looked. Thanks!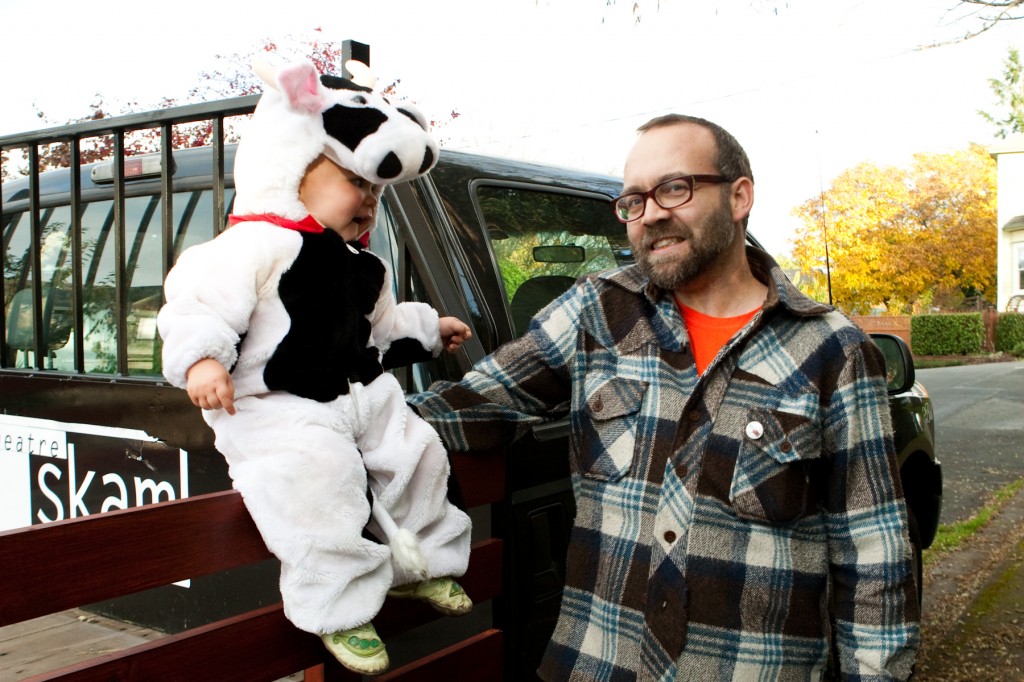 Amy: I just had a sealskin poppy sent to me- made by someone in Iqaluit. It's beautiful.
Matthew: How do I get me one?
Laakkuluk: On Facebook: Iqaluit sell/swap.
Matthew: I miss so much not being on Facebook.
Amy: Have you ever been?
Matthew: No. Well, over my staff's shoulder to the SKAM page. Or my partner's to see pictures of my nieces and nephews.
Laakkuluk: Maybe a new winter time activity to pick up…
Matthew: I like my friends live.
Amy: It's a good way to know what everyone is at, or what they had for dinner!
Matthew: What did you have for dinner last night?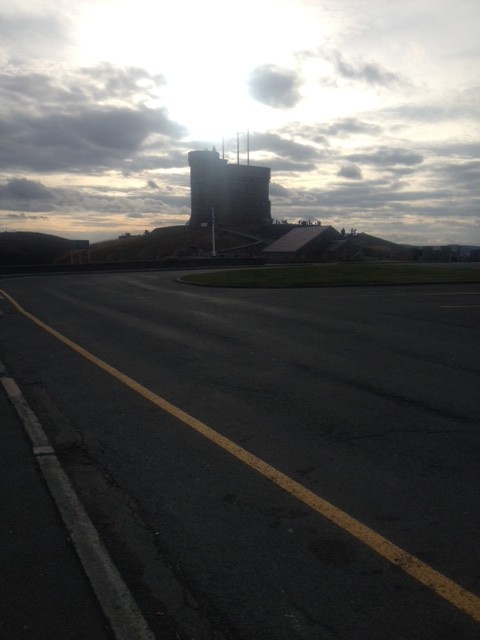 Amy: Baked ham, baked beans and dairy free scalloped potatoes~
Matthew: My fave! Laakkuluk?
Laakkuluk: Whale skin, seal meat, dried char, frozen caribou and fermented walrus. I was at a feast to celebrate Nunavut's youngest MLA!
Matthew: Holy moly. Puts my pot roast and veggies to shame.
Amy: That's something- in winter, we cook indoors more.
Laakkuluk: Both of you had delicious meals too!
Matthew: Lucky us. That's winter for you- Sunday dinners.
Amy: Whale skin? Is it tough? Like jerky?
Laakkuluk: No – it's rubbery on the outside, a hide in the middle. You score through the hide and dip it in soya sauce- frozen/fresh. It jumps around when you bbq it because of the fat. People like it with wasabi sauce too.
Matthew: Should have made this column about how food affects practice.
Amy: Was there costume, indigenous dress?
Laakkuluk: No – people wore everyday clothes, including parkas and amauti. Baby-carrying parkas – amauti. Best way to keep a baby warm and safe!
Amy: Beautiful.  I wore one in a fashion show last year by an Iqaluit designer. I must find the photo and the designer's name and send to you two.
Laakkuluk: You – how does food affect your practice?
Amy: I love to cook. It is part of my creativity. Easier than writing a play! Maybe not as rewarding, but it is for the moment! When you're starved!
Laakkuluk: I would like to hang out in your kitchen while we cook!
Amy: You bring the whale and char; I'll have moose pie.
Laakkuluk: Slurp!
Amy: Matthew, what do you cook?
Matthew: Stews and soups and slow cooking. Helps the work simmer too.
Amy: Always good this time of year. Soups, yum.
Laakkuluk: Work, cook, taste, work, taste…
Amy: The winter food feeds our work.
Laakkuluk: Helps us formulate deeper thoughts about our work.
Amy: The roots of our work.
Laakkuluk: The kitchen, the bubbling pots, the dark outside.
Amy: We formulate ideas in winter and they develop and spring forth for summer.
Matthew: What's for lunch?
Amy: Leftovers. Halibut for supper.
Matthew: Oh right, you've eaten lunch.
Laakkuluk: Arugula salad with fennel and feta.
Amy: Yum. It's 4:11 here now.
Matthew: Is it dark?
Laakkuluk: It's 2:42 here.
Amy: In 40 minutes or so
Laakkuluk: Getting dark here too.
Matthew: 11:43am here.
Amy: We set our clocks back this weekend.
Laakkuluk: Having spent formative years in Saskatchewan, I find the time changes confusing. One thing with practice in the winter here is that the camaraderie seems more intimate because of the dark and the wind.
Amy: Here too- more isolated, so more intimate.
Laakkuluk: And the difficulty in travelling here – flights get cancelled.
Amy: Same here. Storms come up fast.
Matthew: There is something about coming in from the cold to make work.
Laakkuluk: Your storms come to us after they finish with you Amy.
Matthew: Different feeling than coming in from the sun.
Amy: Yes. Winter is like nesting.
Matthew: By the time they get here those storms are entirely changed.
Amy: A lot happens in the universe and atmosphere between here and there.
Laakkuluk: A good note to end on chums! Looking forward to seeing your pictures!
Amy: Me too. Snuggle up, until next time…
Matthew: Stay warm and well fed.
Amy: No worries there.
Laakkuluk: Take care!
Matthew: O:
Amy left the room.
Matthew: I mean
Laakkuluk:  Until next time!
Laakkuluk left the room.
Matthew left the room.
Comments
comments