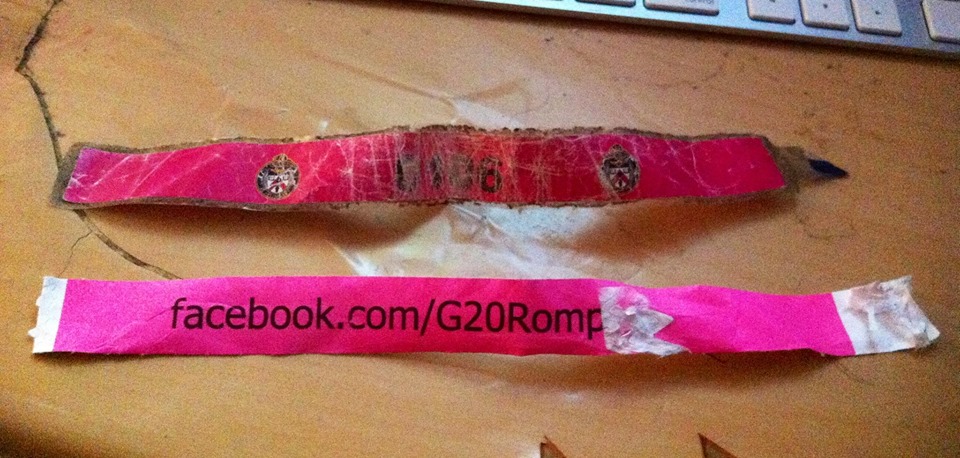 I only knew their first names – didn't learn they were The Wheeler Family until after they had left.
Jimmy and Zephyr Wheeler had driven from Dawson City to Whitehorse in a school bus on a family vacation with three somewhat-dressed children, homemade toothpaste and hand-rolled cigarettes in tow. Using the library to check email – they saw a call for participants to recreate the conditions in the detention centre at G20 Toronto and felt compelled to participate. With no cell phone, they used the library's phone to receive a call from The Yukon Arts Centre to discuss their proposal:
Could the entire family be in the show? This included their four and eight-year-olds.
The Wheelers are a few of the approximately three hundred Canadians we anticipate will have participated by the time we conclude our tour of You Should Have Stayed Home: A #G20Romp. Just like the 1000 + people swept up and detained that weekend – our cast has been all genders, ages, ethnicities and classes. Our tour of Whitehorse, Vancouver, Toronto and Montreal concludes at The Arts Court Theatre in Ottawa.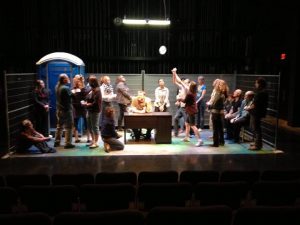 It is our hope that on our November 20th opening night in Ottawa, in a theatre that used to be a courtroom, Members of Parliament will also participate in a staging of "The most massive compromise of civil liberties in Canadian history." We really have no idea whether we will succeed at this goal. We have some leads, it is not impossible, but it is definitely a maybe.
The motivation for this approach to staging and touring a show about police actions at the G20 Summit in Toronto is to broaden the discussion of civil liberties and in particular, Charter rights, in an era when they are being whittled away. The problem isn't just that the state could declare for a weekend "You're not in Canada", when citizens asserted their rights. Because there were no consequences, a precedent has been set: We are primed for a repeat, or worse, in the future.
With this in mind, we have created a production that allows the communities we perform in to include anyone who lives there and shares these concerns. Joining the #G20Romp is not just telling the story of what happened to over 1000 people that weekend, 95% of whom were never charged with a crime; it's also standing up for the idea that this should never happen again. It is an art-based form of protest, that hopefully won't get you arrested, that advocates for the position that if you are peacefully protesting on the streets – you also shouldn't be arrested.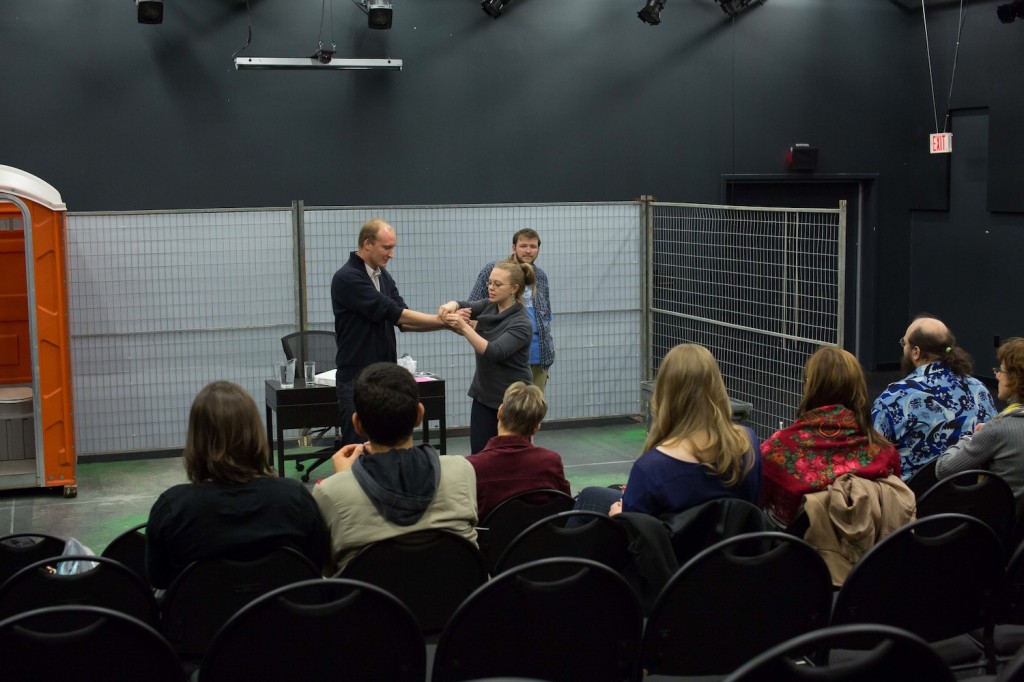 As a director, this approach has created particular challenges to presenting the work with a rotating cast that changes size on a daily basis. Throughout our run we have performed with anywhere between eight and thirty participant performers (we did one with 40 people at SummerWorks in 2011). To facilitate participation, we have created a system where anyone, regardless of experience, can learn their role by arriving at the theatre one hour before the performance.
We begin by introducing ourselves, our goals with the show, and demonstrating how to safely wear the zip ties that are were worn by prisoners in a cage in violation of The Geneva Convention. The set we perform on is introduced, which is an approximation of one of the 10 x 20 foot cages with open-door portapotties prisoners were detained in during The Summit. Some brief guidelines follow:
No one needs to invent a character to play. Participants play themselves if they were swept up in a mass arrest while writer/performer Tommy Taylor continues his monologue as the narrative arrives at The Detention Centre. In terms of position on the stage, there is no 'front' to the cage – it is possible to face any direction, not just the audience. The rehearsal moves through a series of 'living tableaus' that depict conditions in the cell. There is also a moment where having been denied water for many hours, the cage comes to life with a water riot. This moment is counterbalanced by a moment of levity when the entire cast plays a game of volleyball with an inflated (industrial) condom – a scene that happens somewhat differently every night.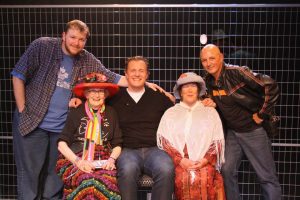 Bottom line is all of this, plus a curtain call rehearsal, has to take place over forty minutes for the audience to be admitted to the space on time. It means being organized and specific, but also open, friendly and willing to answer questions. For some it is the first time they have been on stage since high school. Rushing through isn't an option. It is an exciting challenge for a director though, to re-direct a scene for every performance. No piece of theatre is ever the same twice; this show had reinforced this inherent characteristic of live performance for me.
When the Wheeler Family performed in the show in Whitehorse, we arrived at an arrangement where their extremely well-behaved children were babysat while they were onstage. Four to eight-year-olds were probably the only kinds of humans not detained at G20 Toronto. As they were leaving the theatre after the show, I ran up to say goodbye and thank them for participating.
Jimmy looked me in the eye, shook my hand and said, "Anything we can do to help."
I responded, "Well, maybe we'll get somewhere with this. Or not, you never know."
He paused looking at the floor, "Well, if not, at least we'll leave some good looking corpses."
Then he turned and left. That's the last thing any of the Wheelers said to me.
Comments
comments