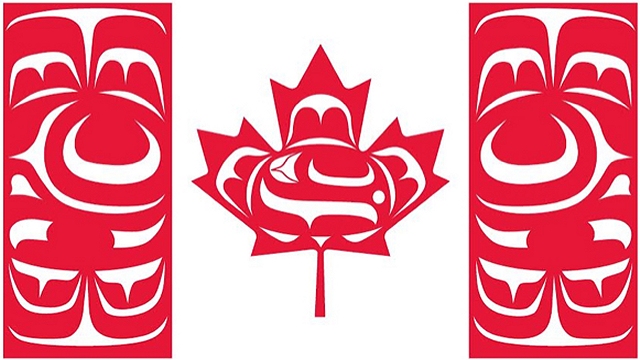 My wife and kids love Canada Day. My kids are the colour of Canada, all Red and White. Literally. My wife grew up in Kanata. Her family has settler roots in the Ottawa Valley. My little Indians have red hair. Blue eyes. And status cards. Well, they will… once I send the paperwork away.
For me, it's more complicated. I'm Nlakap'amux. Indigenous.
How are Indigenous people supposed to celebrate the birth of Canada? Most of what we call British Columbia is still un-ceded indigenous territory. Our people were never extinguished, conquered and our lands were never surrendered. That means Canada doesn't even own it. It's occupied territory.
My hometown is in the heart of un-ceded Nlakap'amux territory, in the province we now call British Columbia. The village I am from was called tlKumtcheen for over 10,000 years. In 1858, it was renamed after Sir Edward Bulwer Lytton the popular British novelist, poet and occultist famous for quotes like: "It was a dark and stormy night…" and "The pen is mightier than the sword". This last one is ironic on many levels, but the shared history between Canada and the First Nations adds another layer.
In 1858, my people, the Nlakap'amux, led an uprising against an American invasion of Gold Seekers who had flooded into the Fraser Canyon in search of the shiny, soft, yellow stones. For several months that summer we were attacked and we counter-attacked hordes of bloodthirsty Americans fresh from the brutal, genocidal Indian wars in the States. We fought and eventually pushed them out of the Fraser Canyon that summer.
The Nlakap'amux signed a peace accord with one of the militias invading our territory. A few weeks later James Douglas, the British Governor of Vancouver Island; having no army or jurisdiction on the mainland at all, took advantage of our rebuttal against the invading Americans. Hoping to discourage the Americans from annexing the territory, Douglas floated into the Fraser Canyon with a dozen Royal Engineers and declared all the mainland to be a crown colony of England.
There were no treaties and there was no discussion with the 198 distinct First Nations who had lived and thrived there. He then went about renaming important settlements in the region after familiar British icons. Like Sir Edward Bulwer-Lytton. The Canyon War was over, but the real war against our people had just begun.
In the following century, our populations were decimated. Disease wiped out entire villages. There are mass graves all along the Fraser Canyon, some just off the side of the Trans-Canada Highway. Forgotten by all except the Nlakap'amux Tribal Council genealogy department where my job as a student was to document them in case someone wanted to build a rest area on top of them. Successive gold rushes farther inland meant that the world ran through our territory repeatedly, renaming and reshaping it as they passed. Alcohol and the disasters that follow in its wake were introduced and to this day remain a continuing threat to our people.
We were resettled to smaller, inadequate, and in many cases arbitrary, reserves. Then we were forbidden to leave them without permission. We were told to be farmers, which we became. But when we started out-competing the white farmers, we were forbidden from selling our goods outside of the reserves. So, our farms went under. We were forbidden from selling salmon which for centuries had been our primary trade good.
We were told our children needed to be educated to live in this new reality and that we had to send our kids to Indian Residential Schools to learn. There we were taught by the priests that we were inferior to whites, that our language was the Devil's tongue, our culture the Devil's way, all the while the real devils preyed upon on our children in the night.
It is no wonder that the Nlakap'amux word for white person ShA-ma means White Devil. From our shared history, you can see why.
When I think of Canada 150 I think of the Indigenous soldiers who fought in every war this country was involved in, only to return home to social and legislative discrimination. I think of the Indigenous children who grow up in a hopeless world and form suicide pacts to find a common bond in despair. I think of the unending rage and hatred towards our people spouted on social media and the comments sections of news sites. The legislated inequities that are forced upon us by successive governments. And I think of the continued erosion of the natural world that we all depend upon for survival.
The truth is I want to celebrate Canada. I want to be able to join in and say, "hey, you know what? It's not so bad. All that history stuff doesn't matter. It happened a long time ago. It's all good now, right?"
Except it isn't. It's still happening. Today. Right now. In your hometown. My hometown.
I suppose we can celebrate our continued existence. Our resiliency. Our resistance against the government and corporate forces bent on environmental degradation. Our ability to find the humour in the darkest of moments. Our ingenuity. Our passion. Our love. For Mother Earth. For Turtle Island. For each other.
I think of the kind words of my wise friend Terry Aleck, one of the first people to bring charges against the church and the government for the abuses he suffered in the Residential School system. "Everything is a healing journey. We're all just learning together."
My grandmother, who was a British War Bride (and the source of my children's red locks), was recognized as an honorary elder of the N'lakap'amux people. Every year for the Remembrance Day pow wow she would proudly lead the Grand Entry in her Air Force uniform. She was honoured to do it, and the Nlakap'amux people were proud of her. Everyone called her Grandma Love because that was how she addressed everyone. "Hello love." And you knew she was talking to you.
When my Great Aunt Rita Haugen, our family's matriarch, met my daughter for the first time, she looked into her sparkling blue eyes and admired her red curly hair. She said to me, "Oh she's my sister's baby! Grandma Love would be so proud!"
That's the Canada I want to celebrate. The one that places us side by side, honours one another, our contributions, our sacrifices, our shared history, our families, unflinching, with respect for all.
We're all just learning. There is still a lot of history to unpack, a lot of tragedy ongoing, a lot of healing to be done. We're all just learning to be partners and allies, in the chorus of this land…
Comments
comments