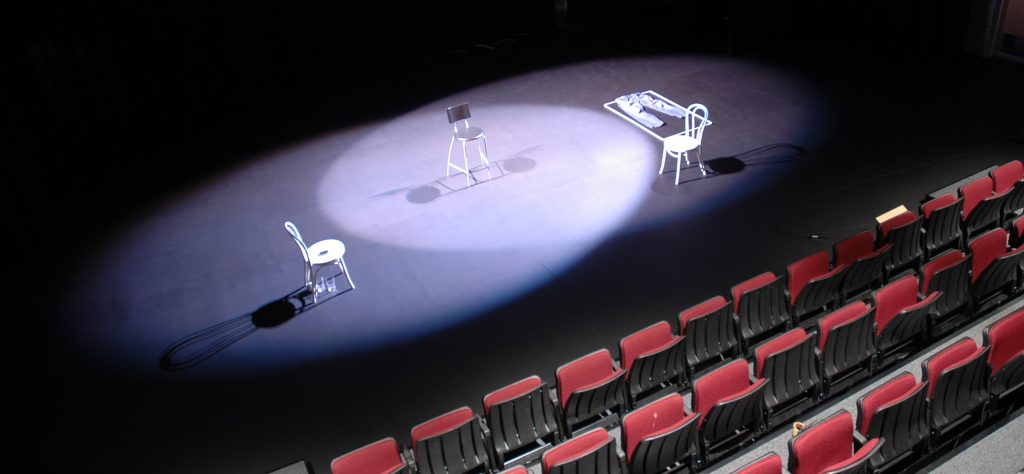 This year, the Professional Association of Canadian Theatres (PACT) undertook a big push for a celebration of World Theatre Day (March 27), with a Canadian message co-commissioned with Playwrights Guild of Canada and the Association des théâtres francophones du Canada – ATFC from theatre artist Mieko Ouchi. As the new Executive Director of PACT, I am heavily committed to the sharing of my passion for theatre with the general public and was so excited to have World Theatre Day Canada trend in social media!
Extra thrilling to me was that StatsCanada produced a Theatre by the Numbers piece about theatre in Canada – I even called to thank them. (Interestingly enough, the numbers included sales of cosmetics and wigs as relevant data). Hill Strategies recently promoted this information as part of an overall Arts Research Monitor, together with the data garnered as part of a PACT commissioned survey by Nanos Research last spring and Jane Marsland's very interesting Changing Landscape for Theatres.
Certainly, in advocating for the significance of the arts in Canada, numbers are often the thing – from numbers of attendees to the Canadian cultural spend or the GDP of the performing arts in Canada. (See Simon Brault's blog "Art if a Serious Business") But with these numbers, what do we actually know about Canadian theatre? Finding comprehensive and statistically valid data (please, contain your excitement) is almost impossible. The StatsCan information comes from formal reporting in HST, CRA payroll remittances and charitable information returns – but what about the information that is captured elsewhere, in CADAC for companies receiving operating funding from the granting agencies that use the financial and statistical reporting web application?
But, CADAC is self-entered and with the exception of the financials – which must match audit data – prone to inconsistency, over-aggregation and some (perhaps) inflation by the organizations who use it. And there are many theatre companies, on project grants or outside the incorporated/charitable paradigm, who are not represented at all. Fringe anyone?
When I moved to PACT as the new Executive Director last September, I wanted to know who, if anyone, knew how many professional theatre companies there were in Canada? I mean, Anglophone, Francophone, Aboriginal, diverse, large, tiny, venue-based, fringe-based, and informal collectives. And do you know, no one knows. There are 295 who receive operating funding identified in CADAC. PACT certainly collects information about around 400 or so in its Theatre Listing, but keeping it up to date is constant work and every six months a new revision is essential. I called Jane Marsland to see if she had any ideas about it. She agreed; no one has the big picture.
Every year, hundreds of theatre productions happen across Canada, mounted by PACT member and other professional companies, touring productions, Fringe shows, independent productions in store front theatres and pop-up venues. (I can't even begin to conceive of the number of community and amateur performances.) So there must be thousands of individual performances. And, given the limitations of our data collection and the underfunded nature of the sector, we simply lose the information. Whole seasons of theatre are lost (unless you are a company that can afford to keep archive pages on your website), except for random hits in Google searches. For me it is heartbreaking.
True, one of the exciting things about live theatre as an art form is its very ephemeral nature. Miss that show and the one the next night will be different again, miss the production and you may regret it – many Canadian shows that are worth a second or third run or a national tour simply disappear. I truly regret having a headache and missing not being able to make Vitals by Rosamund Small in 2014. I had read the script and was really excited. But a migraine… wait, I have gotten off topic….
What would we do with valid data about Canadian theatre? We certainly use what we have in advocacy work – explaining to elected officials and senior public servants that indeed, Canadians go to theatre, and spend so much, and volunteer so much, and stable funding can extend not only the intrinsic value of the work but also the economic benefits. But wouldn't it be wonderful if we could say, on this night in 2014 there were so many performances with potential audiences of this many thousands of people (I think capturing actual attendance would be unfeasible but we could count seats). That there were this many plays by this many playwrights, how many were women, how many artists of colour…oh, the things we could learn!
What to do with it? More effective government advocacy certainly. But what about quarterly or monthly press releases celebrating the number or an online searchable database of productions – statistical information could go out to international media (why keep that kind of information to ourselves?), generating attention for the volume and diversity of work that is clearly not captured in the ever-decreasing space allotted to theatre in regular media in Canada. Theatre tourism in Canada – book your trip on VIA and explore the theatre and the geography of Canada!
When Kelly Nestruck reposts (again) his 2009 article about the pathetic-ness of World Theatre Day, I want to have the numbers to celebrate. To prove that we are championing a form that is experienced, loved and sought out by more people than are captured by StatsCanada or CADAC? That employs so many people. That (if we even knew) is even bigger than the $1.4 billion dollars we spend on live performing arts according to a recent CAPACOA study. To prove that we are not whistling in the dark.
Now, I recognize that in addition to having a passion for live theatre, I have become a bit of a data nerd. But seriously, what would we do with the information if we had the big picture about Canadian theatre?
(And I haven't even mentioned how we no longer have detail about our audiences – demographically, psycho-graphically – unless you are large enough for a major software solution that… wait, I think that is another 1,000 words entirely…)
Comments
comments