Here's a perfect example of the issue: I am a straight white man writing about women's equity in theatre.
A recent study shows that women represent less than 30% of Artistic Directors, Directors, and Writers. This is in spite of the fact that over 50% of graduates from theatre schools across Canada are women. This study doesn't even take into consideration women of colour who make up an even smaller percentage within those stats. Why are artists allowing this to happen? What is at the root of this profound failure? It starts with the fact that I am writing this article.
After a recent symposium discussing the issue of Equity in Theatre, I left riled up. I was raised by a strong feminist lesbian mother who instilled in her three boys a powerful sense of justice and gender equity. I grew up around fiercely independent, outspoken, intelligent female companions who excelled at everything they did. Naively, I thought that equity was dealt with and when casting, directing and auditioning, gender was not at the forefront of my mind. I'm now amazed at how I could have pretended we were in an equal world when these statistics were reflected in the productions of my own company, Shakespeare In The Ruff. But I just supposed other companies were addressing the issue. Until I saw these numbers.
The symposium had breakout discussion groups, one of which centred on the issue of engaging men in Equity in Theatre. (There were only a handful of men at the symposium, only a few of them artistic directors, and mostly of smaller or independent companies.). One of the fundamental problems is that men continue to be the gatekeepers. Even the male AD's who seem to be attune to issues of equity in theatre, cannot help but program seasons from their perspective as men.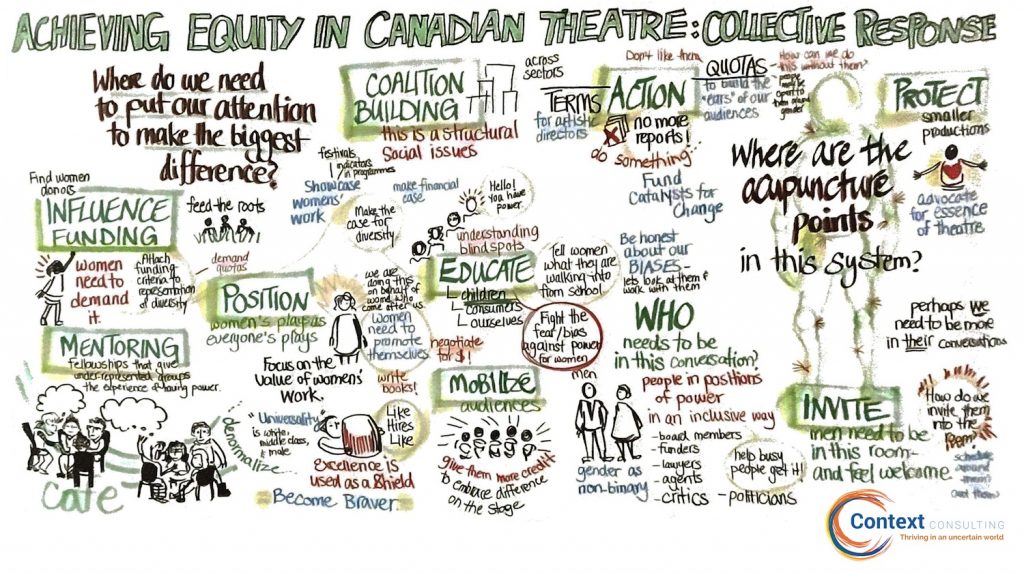 I spoke up in the discussion group and suggested that as a man, I need to start taking less. If there is only one pie being served at the dinner party (and I don't see another pie full of money being baked for theatre artists any time soon) – women are being served one piece, and men are getting two, the only logical way for the women to have more pie is for men to put some back. I was kindly told, no, the problem is not me. But it is.
As a man, I have easier access to donors, to mobilizing artists, to media coverage, and people are more willing to believe me when I overstate my abilities and experience (something we men do ALL the time). To qualify this, "easier" does not mean easy. Theatre is very hard to make and even harder to generate the resources required. This was my blind spot. In the world of theatre, it doesn't seem like anybody is getting heard by the public these days. I worked my tail off to establish Shakespeare In The Ruff, but in the frenetic pace of indie theatre, I never stopped to think that maybe I was able to create this company out of an arts ecosystem that favours me – the straight white male.
The notion of someone like me stepping back from self-created opportunities is counter-intuitive. But as Erin Brubacher articulates in this open letter, every piece that we as a community put out into the air, no matter the scope of the project or size of the budget, has an impact and takes up space – space in venues, festivals, media coverage, people's wallet, and people's brains. That space that can no longer be occupied by someone else.
Despite polite disagreement, I was congratulated for speaking up on my selfless progressive views at the symposium – I was getting the attention, when I was attempting to do the opposite. Frustrated I posted my views on Facebook when I got home. The result was a whole lot of congratulatory re-postings by women. And again I, a straight white male, was getting the attention for writing about gender equity. I was taking up space.
When I was then asked by SpiderWebShow if I would write an article about the report on Equity in Theatre, I was feeling more than a little self-conscious, so I asked my partner who also works in theatre to write it with me. 500 words a piece and we could split the $50. She would be the token female perspective in the article I was asked to write. Despite an attempt at being enlightened, I was still the gatekeeper on an issue that she lived everyday of her career. She told me to write it myself.
I was finally beginning to understand. As a man, being vocal about gender equity is not the hard part – I am enabled by society to speak my mind on any issue without much fear of the consequences. I'm not viewed as bitter, or a complainer, and I don't run the risk of offending any artistic directors who might hire me. In fact I'm viewed as a gracious hero and given the spotlight. Regardless of how good that feels, it is not what is needed from me on an issue that is all about who occupies the spotlight. What is needed, and inevitably harder to do, is get out of the way.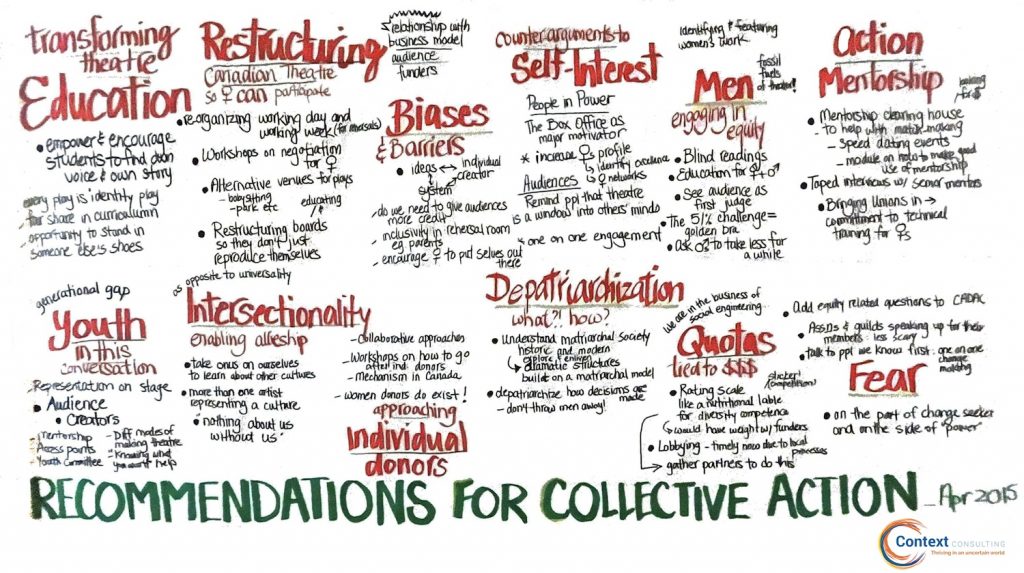 I started trying to find out what 'getting out of the way' would actually look like. Here are some ideas generated from the symposium and through other conversations I've had since.
If an article is being written about the show you're producing, make sure that it is a woman from the production who goes for the interview.
Cross gender casting (especially in the classics).
Succession planning – If you are an artistic director, or in a leadership position on any scale, when it is time for you to move on, make sure that discussions of Equity in Theatre are front and centre in succession planning.
Applying for a job – In application for a job ie. artistic director, director, etc. take the space to acknowledge that you are a white male, and that you support Equity in Theatre even if that means not getting the job.
Be vocal on the issue – all genders need to bring this into public and private conversations.
The Kilroys List – D'Janet Sears and Karen Hines are spearheading a Canadian version of The Kilroys List, which is a list of the most recommended plays by women for AD's, producers and literary managers as a way to counter the idea that there aren't good plays by women.
Quotas – We need to start seeing quotas tied to public funding. I believe this would be the fastest way of seeing change on this issue. The stats have barely changed since the 80's and I don't think it will be possible without quotas leading the charge of systemic change, – the arts are too competitive, too individualistic to be able to address this issue on through its artists alone. Those of us with privilege will continue to take advantage of it because unemployment is grim and always nipping at our heels as artists no matter our gender or cultural background.
For my part, I've made sure that this summer's production by my own company, Shakespeare In The Ruff, has a 50/50 gender split – the first time in our 4-year existence. This is something I will continue to strive for. I am looking to bring more women into leadership roles. I want to address a deficit of cultural diversity within the company. I want to invite other companies to make their own actions around equity known, and if they don't have a policy (personal or organizational) to address equity, I believe their art will suffer; their organization will suffer.
May there be an article on Equity in Theatre written by one of the formidable female artists who attended the symposium. For my part, I'm going to shut up, (As soon as this article is done) stop taking up so much space and try (And fail and try again) to find ways that my inherited privilege can be used behind the scenes to give space to the voices that we need to hear more from.
Comments
comments