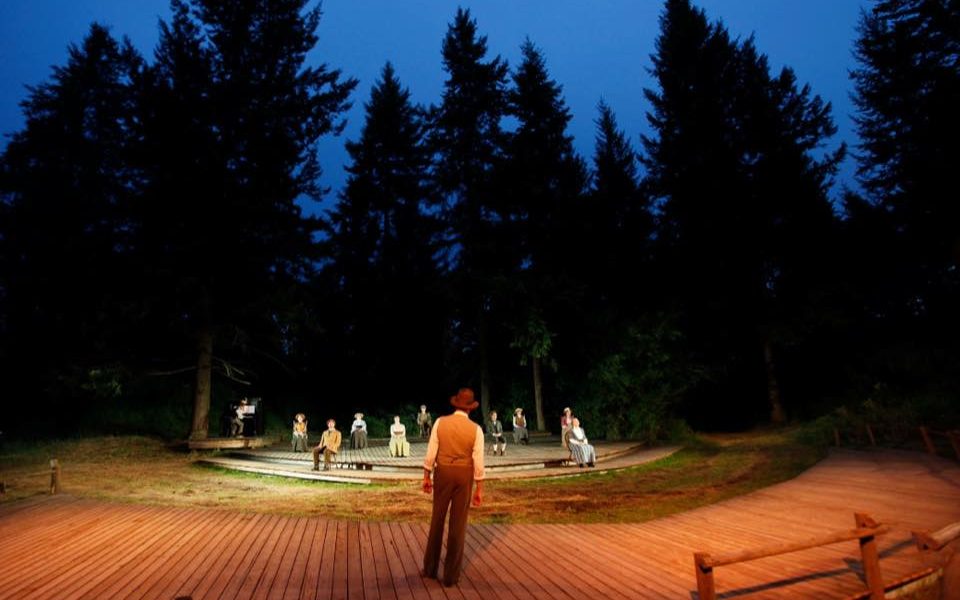 Caravan Farm Theatre is a 38 year old professional outdoor theatre company based on an 80-acre farm, 11 kilometers northwest of Armstrong BC. As a family-centric theatre company, our audience spans the age spectrum, and is comprised of residents of the communities in the Central and Southern Interior of British Columbia.
The Caravan experience is unlike any other; our 80 acres of land is our theatre – the ground our stage, the starry sky our backdrop, and our Clydesdale horses are used as stage machinery and character. Throughout its history, Caravan Farm Theatre has strived to present work that exposes our rural audiences to new, dynamic, and innovative outdoor theatre practices indicative of the rural experience, one they can call their own. Our audiences have become accustomed to Caravan productions exploring such themes or stories that culturally define this region such as the renegade freedom of dusty cowboys, or a homespun tale of a family's struggles, or populist musicals and epic myths.
The majority of our shows are new play commissions. I typically come up with the idea, whether it be inspired from an existing story or I'm interested in exploring a certain theme or concept. I then pitch the playwright with a couple of different options and they bite on one. The concepts I present stem from my desire to provide our audiences with work that, in one form or another, reflects our surrounding rural environment. And they must be geared towards family audiences. You'd think this would be a challenge to find such stories, but it isn't. It is incredibly creatively stimulating to think of shows/ideas that can lend themselves to such universality. The seed of the idea can grow into a cowgirl musical or a dreamlike winter myth realized on stage against the towering pines of our eighty acres. My artistic motivation and approach is always guided by the land; how can a story match, domineer, or be in antithesis to the natural landscape on which it is performed? How can it lend itself to the grandeur of the cinematic landscape to provide the audience a sense of wonder and magic? The idea, the characters, the themes of the piece must coincide with the majesty of its surroundings. It is the basis for everything. This is why we typically commission new work; it can be written specifically with an outdoor performance space in mind. At times though, we must take a break from the rigor of developing new work and program a classic. To that end, I look for work that has room for the natural to play a part.
Caravan has produced Brecht and Shakespeare before, and I wanted to find something different for our 2016 summer show. A modern classic. I was interested in Oscar Wilde as I believed his wicked humor and complex narratives could suit our audience's tastes; witty, humorous, with huge potential for grand design. I asked some of the cast members of our 2015 summer production, The Night's Mare by Kevin Kerr – a commissioned, beautiful, and very successful show for Caravan – to read a scene from The Importance of Being Ernest. I love this play and thought since a majority of the piece takes place outside in an English garden, it could be a nice fit for us. The actors, stage management, and myself took to the fields of Caravan and read the scene aloud. And it was an epic fail – the language was too heady and dense and the humor too wrapped in wordplay to resonate in a large, uncontrolled outdoor space. It was a worthy experiment and spoke to my suspicions that not all plays, especially classics, are suited to be performed outdoors.
I was eager to find something that spoke to Caravan audiences; something that could elegantly incorporate the natural environment and was significant and beautiful. I phoned my friend, former teacher, and Artistic Director of Studio 58, Kathryn Shaw. She said right away, "What about Our Town?" I hesitated. I first saw Our Town when I was an acting student at Studio seventeen years ago. The piece was directed by Jane Heyman and starred my talented fellow theatre students. As I was in my early years of training, I was the lighting board operator for the show so I watched the play every night, six performances a week. I studied the characters, the performances, the set, the direction, every detail of the show. I now felt, years later, that my relationship with the play, although important at the time, had grown stale and I was looking for something new. Kathryn mentioned another Pulitzer Prize winning play by Thornton Wilder called The Skin of Our Teeth. I was intrigued. So I checked out from the library a Thornton Wilder anthology that included The Skin of Our Teeth and Our Town.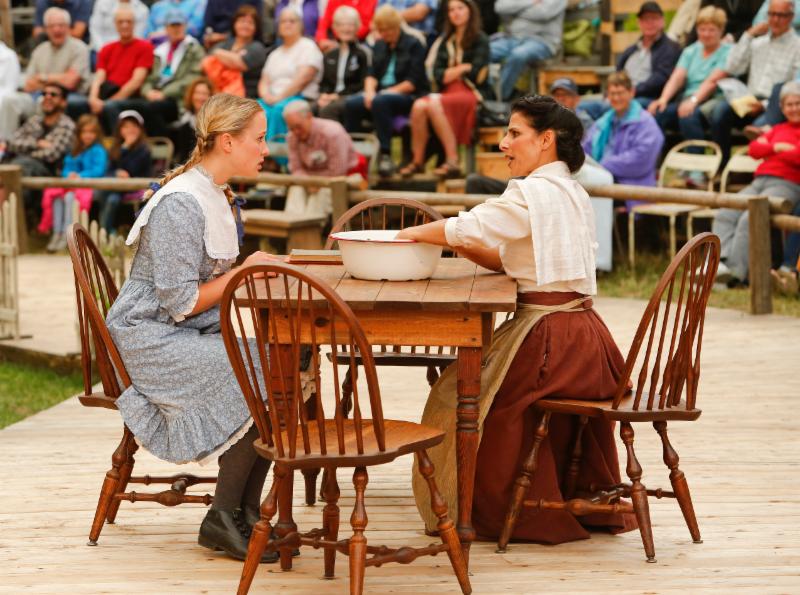 One night, after I had put my eighteen-month old daughter to sleep, I started to read The Skin of Our Teeth at her bedside while she slept. It is a masterfully written play, but it didn't feel like a fit for Caravan. It was too abstract and didn't have a family-centric feel. I casually flipped to the back of the anthology and began to read Our Town, just because. I thought: "Hey…I haven't read or even thought about this play for so long, I'll give it a quick breeze through". I couldn't stop reading it. I read it again. I wept. My heart grew bigger because of it. My understanding of humanity and our struggles, joys, and sacrifices was a little deeper for it. I peered over the side of my daughter's crib, watched the slow, steady breathing of this beautiful tiny human whom I love more than the world, and I thought: "This moment. This small, precious moment. Acknowledging this moment. This is what Our Town speaks to. This is perfect". The quiet appreciation of the miracle of life, illuminated by a child's night light at three o'clock in the morning is what made me fall in love with Our Town all over again.
That's the emotional reasoning behind choosing Our Town for Caravan. The technical reason is that Thornton Wilder asks the audience of the piece to use their imaginations in his 'no set, no props' approach to the storytelling. Caravan asks our audiences to do much the same with all our work. Part of the appeal of our outdoor productions lie in the ability of the audiences to accept that the natural environment is a palette on which the dramatic action is performed. An actor can come onto stage from behind a bush that is supposed to be the backdoor of a house; a car can be driven through a field and over a hill, that represents the road to heaven; a lone tree in the middle of a snow drift is the quiet refuge of hermit; or in the case of Our Town, a simple wooden platform that bends to the curve of the land can become a graveyard. There is the space in the places and text of Our Town for the natural environment to play a part, to be the setting itself, to have a direct impact on the story.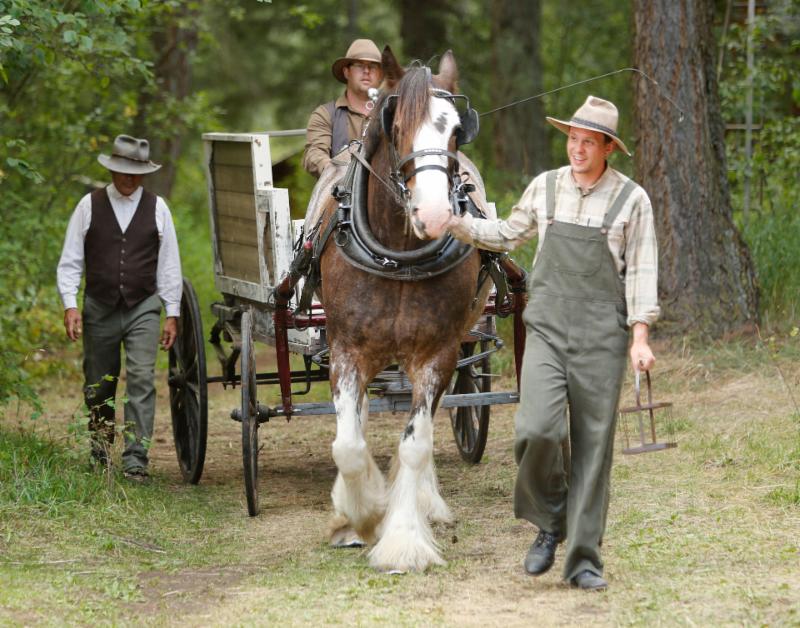 Another technical aspect of Our Town that had much appeal to me was the size of its cast. Typically, Caravan has eight or nine actors in our summer productions. Our Town boasts twenty three characters and then some. My idea in dealing with this was to include local community members playing the smaller roles and townspeople of the show; as in, our town performs Our Town. This was an excellent opportunity to form relationships with our local talent and community and have a broad range of people on stage from children to seniors. The final result is a true representation of the people of a town and it is indicative of the plays themes and the need of our audiences to see themselves represented on stage.
Ultimately, if the land can inform the art, always informs the art, and then guides it from artistic inception to final product, the play is right for Caravan Farm Theatre. And the audience will enjoy it. They may not be able to articulate why they do, but they feel in their bones that the dramatic action, the drive behind each and every character, is large enough to reach them across a fifty-foot outdoor space with no walls, roof, or floor. What they feel is alive in the air, literally, and hits them the same way a stunning mountain view of our landscape does; with awe, magnificence, and the feeling you are closer to something spiritually larger than yourself.
Comments
comments