Dear Canadian Colleagues:
Hello.
It is a Thursday morning in Oakland. It's California and it's raining, which means no one knows how to drive or take buses or in generally get anywhere, which means we are meeting up late at a shared co-working space downtown. After struggling with outlets, bathrooms, and checking in about life, artists, cultural workers, and big ole queermos Lisa Evans and SK Kerastas sit down to reflect on the morbidly hilarious state of the union.
Lisa: There is a particular type of comedy to the political moment we're living in. Watching the ridiculous (and frightening) antics coming from the White House feels akin to watching a poorly scripted dramatic sitcom: it's completely nonsensical but hilarious because you know someone was completely serious.
However, under the laughter is a legitimate fear.  As much as the U.S. has a reputation as a blusterous, gun-toting, violent country, it is important to name that we have not had a president like Donald Trump in our recent political history.
SK: Yeah. In the prompt for this letter, you all mentioned that you were riveted, reacting, and reeling watching us. And let me tell you, we are riveted, reacting, and reeling watching this administration. For many, it feels like a day-to-day escalation of danger and risk.
For folks who've been doing movement-building work for years, there's this sentiment of, like, continuing that work, building the movements, and keeping steady. However, there are millions of people in this country who are JUST NOW becoming activated and tuning into the systemic and daily threats and struggle of historically marginalized and oppressed folks. These are the folks I don't quite know what to do with. There are a lot of well-intentioned, reactionary impulses.
L: Right though! I feel like this moment is touching people in a very specific way. For folks who haven't been engaged there is a burgeoning awareness that the system has not been helping a lot of people. There is the realization that the whole "not talking politics" thing has actually just created an environment for bigotry to thrive.
For folks who have already been targeted, it feels like folks are figuring out how to try to survive, both physically and spiritually. Figuring out how not to lose hope.
Which brings up the question of what is the purpose of our art now. We are no longer in a moment that allows for navel gazing. We need art that depicts the world we live in. That bolsters our spirits and encourages action. I think we have to start reconsidering what are we are pushing to the forefront.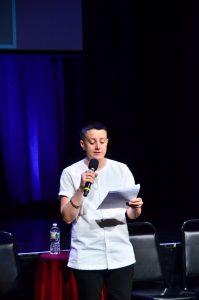 S: YES. I mean, Lisa and I were joking cause we were originally asked to comment on Lady Gaga's performance at the Super Bowl and, in my opinion, the statement she made was that this right wing current has suddenly reframed our more basic politics to be radical and making a statement. As artists, I think this is THE WORST thing we can do right now. Let this current take us with it. It is imperative at this moment that we actually fight for and create the radical world we want to see. Theatre is a perfect platform for this.
In a lot of on-the-ground social justice movements, there is a strong push to envision. What does a world without prisons look like? What does a world without cops look like? It is this imagination and world-building that we as artists — specifically theatre artists– have the capacity to put on stage and expand our cultural visioning.
To keep performing the same stories (of dominant culture) that we've been performing for years, and assume some how they've been radicalized because of the current political climate– now THAT is a missed opportunity.
L: I also feel like it's an opportunity to make space for voices who have not been centered previously. What would it mean to fund and support work for emerging artists whose identities have either been co-opted or used as a metaphor for more privileged communities to understand loss? What would it mean to center undocumented people, trans people of color, folks with physical and/or cognitive disabilities in creating and presenting theater? I think it would not only meaning changing what stories we tell but how we tell them.
I think there is also a crucial need to take our art outside of what we have determined to be "arts" spaces.
S: *SNAPS*
Yeah, we have been doing a lot of work with larger arts organizations in the US who are feeling this panic of needing to change. They're like, help us! And it's a great impulse. AND a lot of what we are working through with these institutions is how to restructure them, how to create pathways and accessibility for folks who've been strategically kept out. This means really changing our system of values — which is such a sensitive subject when it comes to art. Who gets to decide what is meaningful, what is good? Where it takes place?
It's about space, it's about structure, it's about the folks who've historically been in power and benefitted from these systems stepping back. Supporting from behind.
I mean, that's such a powerful move to make — stepping back. That's what alliance building is about.
I've had some experience living, studying in Canada — I went to McGill and worked a bit in Montreal and Vancouver, have done some exchanges with Buddies in Bad Times Theatre in Toronto. In my opinion, I think U.S. artists could learn a lot more about cultivating spaces of difference from Canadians. I also think that Canadian artists — specifically white Canadian artists — can learn from us about the ways U.S. artists are interrogating white supremacy right now.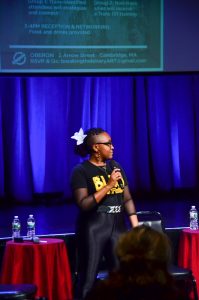 L: Yeah, I think interrogating power and privilege in the arts is still something folks are tip-toeing around a lot. Like, something I feel like we've been talking about with #BreakingtheBinary has been the need to have folks from systemically marginalized communities in positions of power, the subtext of which is that it means folks with more privilege moving out of those positions. And I think that this parallels with what's happening in our country right now.
You have people (primarily white folks if we're going to consider voter data as well as, you know, sense) who feel like they have either been left out of American "social progress" or who feel like they're being asked to give up something in order for other people to have their basic needs.  I feel like this is an affront to the belief of meritocracy that is so rampant in our culture.
S: Yup. So true.
So, #BreakingtheBinary is this programming that Lisa and I are working on, and being reached out to a ton about right now. Large organizations are reaching out to us because they want to do trans work or they're producing a play with trans characters in it, but have no structural support for this kind of content and/or to make work for audiences who share these identities.
Our strategy has been, when large companies with large resources reach out to us, to leverage that interest and power. To really ask ourselves how we can make this situation actually really benefit trans people — particularly the most marginalized trans folks: trans women and femmes of color. So, often what we'll do is say, yes, we'll do training and some workshops, but we also want you to produce work by local transPOC artists to accompany this show and we'll support you in doing this so we can model what ethical partnering looks like and also build some pathways for folks to get paid and to get their work seen!
L: Exactly!  I think the thing we are asking folks to reflect on is not just how to produce work that speaks to the moment we're in, but also to proactively interrogate what the purpose of the art is. It can no longer be just simply putting challenging narratives on our stages: we have to develop practices that help both our organizations and us as individuals to challenge systemic oppression and build to the equity we want to see in the world.
A discussion on how to end the article trails into a conversation about other community and artistic projects in the works. Lisa (who is, as always, behind on at least 7 different projects) immediately scrambles to throw all their stuff in a bag and run to pick up posters for an event before the printer closes. SK strategizes which location in the co-working space they are going to hole up in to finish invoices for some upcoming #BreakingtheBinary work. This marks the end of a moment for reflection and a transition back into action. They are, after all, cultural workers in Oakland, and the fight for change doesn't pause for an article.
"Building the World We Want" is the third article in CdnTimes Volume 8, Edition 6: Letters to Canadians. Other works in this edition are "New York Dispatch" by Tanya Marquardt, and "Irresistible Revolutions" by MJ Kaufman. Visit HowlRound.ca for its companion, Letters to Americans.
Comments
comments