At Downstage, we produce Canadian theatre that creates conversation around social issues. Since our 2011-12 season, we've been running nightly post-performance conversations with our audience, where the focus is placed on addressing the ideas in the work, rather than the artistic process of bringing the show to the stage.
Audiences tell us that these conversations have become a key part of their experience at a Downstage show, but for these discussions to be as meaningful as we want them to be, it's necessary for us to bring together an audience that represents a diverse range of ideas, perspectives, and backgrounds. This isn't easy, and it doesn't always happen, but when it does, an exciting kind of social bridging occurs, where people who likely wouldn't normally talk with each other can come together to discuss and debate important topics in a safe and respectful environment.
The potential for meaningful conversations are what led us to produce Jordan Tannahill's rihannaboi95. Part of his Governor General's Award winning trilogy Age of Minority, it is a powerful and moving play about a young man who is outcast by those in his school after videos he made of himself lip-synching to Rihanna songs go viral. The play deals candidly with questions around bullying, queer identity, and the process of self-discovery and is a pretty remarkable piece of writing.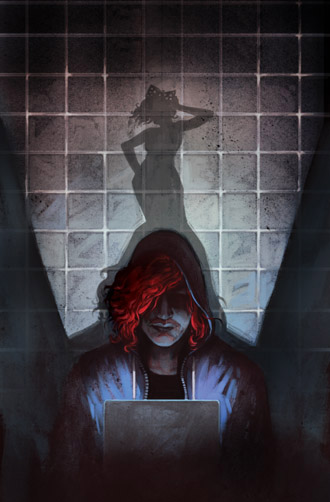 What's especially exciting about the piece is that it's written to be performed as a live web confessional, broadcast from a single computer in a bedroom to an audience seated in their homes, libraries, community centres or wherever else they connect to the internet. While the show is performed live nightly, there is no audience physically present with the performer, and no theatre in which to watch the show. That might make it seem a peculiar choice for a theatre company to produce, but for (Artistic Producer) Ellen and I at Downstage, the choice made perfect sense.
Developing an audience that reflects the diversity of our city is an ongoing priority of ours. In the 2011 Census, nearly one in three Calgarians was a visible minority, and that number has only continued to grow since. There's also tremendous diversity across lines of income, gender, ability, age, religion, sexual orientation…the list goes on. But looking around at most theatre audiences, including our own, we certainly didn't see that diversity being reflected. In the same season we introduced our post-performance conversations, we also began to survey audiences and members of our partner community organizations in order to identify barriers to access – what's preventing people from attending theatre in the city?
More recently, Ellen assembled focus groups in order to learn how we might go about trying to make it possible for a more diverse range of people to engage with the work we're doing. Some of the lessons we learned are simple tweaks – moving show times earlier to assist those who might have a long transit ride after the show, or an early start at work the next day – and some, such as providing child care during performances, are longer term challenges to tackle. However, it was clear that the two things that provided the biggest obstacles to attending were location and cost.
Calgary is the third most populous city in Canada, but is larger in land area than Toronto. With so much of the population located outside of the downtown core – often significantly outside – the challenges facing a downtown-centric theatre scene are clear. If someone working downtown leaves work at the end of the day and drives half an hour to have dinner at home, the chances of them wanting to make that drive again to see a show are, frankly, not great.
This is what made the idea of producing rihannaboi95 so appealing to us; there's no need to leave home in order to watch the show. Our partnership with the Calgary Public Library and other community groups and organizations will open up access further, organizing viewing events with facilitated discussions and providing access to viewing devices, the required internet connection and a safe space in which to view the show.
We're hoping that by bringing the work directly to Calgarians in every part of the city, we will be able to attract an engaged, diverse audience who can enter into a meaningful and productive electronic post-show conversation about the play's ideas and their relationship to our city. Jordan has further contributed toward helping us frame this discussion by adapting the script to be set in Calgary, rather than the Toronto setting of the original production. Being able to engage with community organizations throughout the city and have them promote the show to their members – without them having to navigate the challenge of getting downtown to see the show – is an opportunity that we hope can open doors to many who have not previously seen theatre in Calgary.
As for the barrier of ticket prices, access to the link for viewing the show will be provided without cost. In place of paid admissions, we're gathering support from individual and corporate donors who believe in the value of our programming. And it's our intention that rihannaboi95 is just the start of a new approach to paid admissions, so that with all our future work, nobody is prevented from seeing the show because of the price of a ticket.
We still have a number of elements to finalize prior to our run at the end of April, including how to best facilitate the post-performance conversations online, but our excitement over the production and its possibilities grow daily. And while our focus is on including more Calgarians in the discussion, it's also exciting that the show will be viewable far beyond our city limits, so we invite you to join us wherever you are – you can learn more about the show and get all of the details at downstage.ca.
Comments
comments