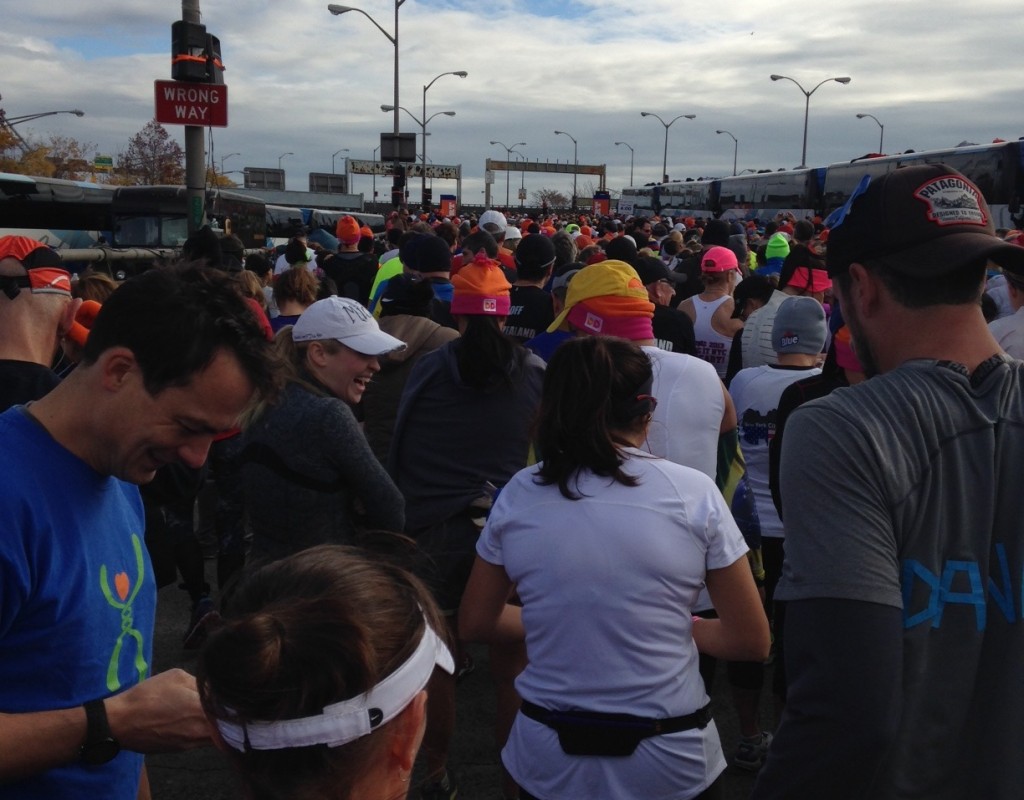 I have had the experience of watching an actress – who I think is very talented  – become extremely talented. Her capacities were always evident but her ability to employ them, to follow through, to fulfill her promise were somehow just out of reach. Then she became a runner and all that began to change. It was a mesmerizing transformation. At the moments where I had previously anticipated a flag, fearfulness, this actress now knew how to dig deep and make it to the next mile marker.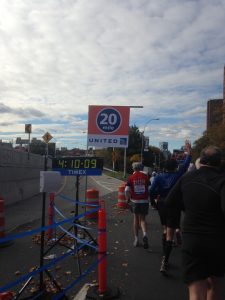 At mile 20 of the 2013 NYC ING Marathon, this was a good thing to remember.
I started running because of Mr. Lloyd. Now he was something. Blond hair thinning on top, double-jointed knees and elbows, a funny front tooth, and a plaid sports coat that lapped his tooth pick frame as he walked. I was in love with him. My gay  – completely non-flamboyant – teacher who was dying of a mysterious wasting disease that caused him to quietly leave the school and end up in an apartment just down the street from where I was living in Toronto. He had me over for tea. When I was in high school Mr. Lloyd was the first person to actually make me weak in my knees.  Mr. Lloyd was one of two drama teachers in my high school. The total population of the school was 296 and we had two drama teacher and two theatres! This captures: "those were the days my friend". That and privilege.
Yesterday I was surrounded by 50k plus similarly prepared runners making a start at Staten Island. It is amazing to find yourself enveloped by so many who have gotten up in the dark to lace up shoes, or who have headed out after sundown, all in an effort to prepare for one of the biggest community engaged shows on the planet. The respect and love I felt for each of the unknowable people who flanked me was sincere. And the question as to what made them choose to perform there, in New York, on a cold November morning will remain unanswered.
But for me the question takes me back to high-school drama. (Frank Zappa apparently said "the older you get the more life's like high school") Mr. Lloyd did the musicals. He also did the Broadway hits. David and Lisa, Butterflies are Free, The Pajama Game, and South Pacific. He was one of those stage-managing directors. He said very little to the actors: always watching, always respectful but never verbose. The other drama teacher, Mr. Lewis, was a lean-in close kind of guy. He would get in your grill, say things to make you mad, and then lean back with a small grin saying: "yeah, that's right, that's what I am talking about." Truth be told, Lewis' work was always superior.
But there was something about Mr. Lloyd that kept me coming back for more. He was gay. So there was that. I felt safe in his company. And maybe I sensed that his silence was more out of societal expectations than linked to his essential being. Regardless, he was unknowable and this attracted me.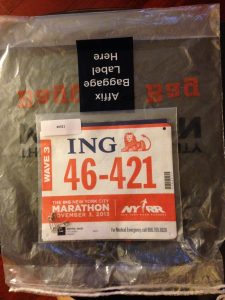 He was also a runner, and not a beautiful one at that. He wore tennis shoes, jeans and a great big blue ski jacket and he would run laps around the school every morning. I know this because these same laps were punishment for any and all indiscretions we in our adolescence got up to. I ran a fair number of laps: horrible, cold, quarter mile hellacious penance for our sins. But there was Mr Lloyd, all double jointed and knock kneed circling the school like someone whose life depended on it. I think of this dependency while I run.
I returned to running when my heart was hurting, my spirit was broken and my connection to the theatre was in tatters. I ran and I ran and I ran. It was a glorious reconnection because there was no finish line, and next to no belief that anything outside of the run itself would make anything feel any different. At the time I was directing a beautiful play by George Rideout called Michel and Ti-Jean. It was a one-night encounter in a Florida bar just after Michel Tremblay's massive success with Les Belles Soeurs, and days before Jack Kerouac's liver essentially exploded. I needed to go to Florida. How did this Petit Canadien from Lowell, Massachusetts and his maman, end up in Orlando, and then, finally St. Petersburg? While my need for research was beginning to take shape, so too were my first steps back into the running world. St. Petersburg launched the first women's half marathon, I signed up and two things, running and research, aligned as they have continued to do ever since.
Yesterday I ran the NYC Marathon. I had this goal in mind from the completion of the half in St. Petersburg. During the lead-up to the opening of Michel and Ti-Jean, I signed up for another half in Austin, Texas. It was to be held on Valentine's Day and this felt important to the state of my heart. On the mend, thinking about what shape my life and work would now take; it was a perfect thing to do. And now 4 years on, and 3 marathons under my very tired belt, I was given the opportunity to run over the Verrazano Bridge to Frank Sinatra's New York, New York. And at 20 miles, where the wall showed her face I remembered Mr. Lloyd, and that actress, and my life in the theatre.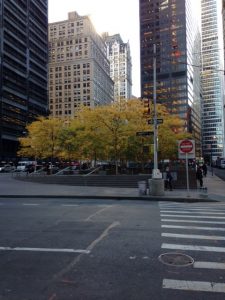 There is a spine running through this life. Sometimes I lead the charge and sometimes the charge leads me, but the spine, like the route remains. If we are lucky, it is long, with unforeseeable twists and turns, and loads of eccentricities. But it is always there if you are looking for something to follow. 4 years ago, I completed my first 20 mile run and it took me about 4.5 hours to do it. I was aware upon completion, that I had just done the longest consecutive thing (outside sleeping and breathing) in my life. It formed a particular link to the mis-attributed Gladwell 10,000 hour rule.
The link goes something like this: Enter the tunnel, keep moving forward, do the work, if you remain injury free, you line up at he start and you begin the show. Mr Lloyd taught me that 90% of life is rehearsal and 10% is the show. He did this mainly because I was only really ever witness to his attempts, never to his transformations. He was always working at it, and the longer the rehearsal, the better the show. (If you get to live – which he did not)  Length is a curious thing. A mile at 25.1 can last a lifetime while a mile at the start can finish before you or your body can grasp it. Mr Lloyd never gave up. He has me for tea, he allowed me entry into what must have been a harrowing last couple of moments in a life. All with an eye to finishing. The show is not over until the show is over. And as with the runner who becomes a runner by being a runner, the show can only end when the finisher makes it to the end. And that can only happen: "by getting up really early in the morning and working really hard all day"[1]
* Sarah completed the marathon in 4:30:09 and because of this she made it onto the top 32,820 list in The New York Times.
Comments
comments