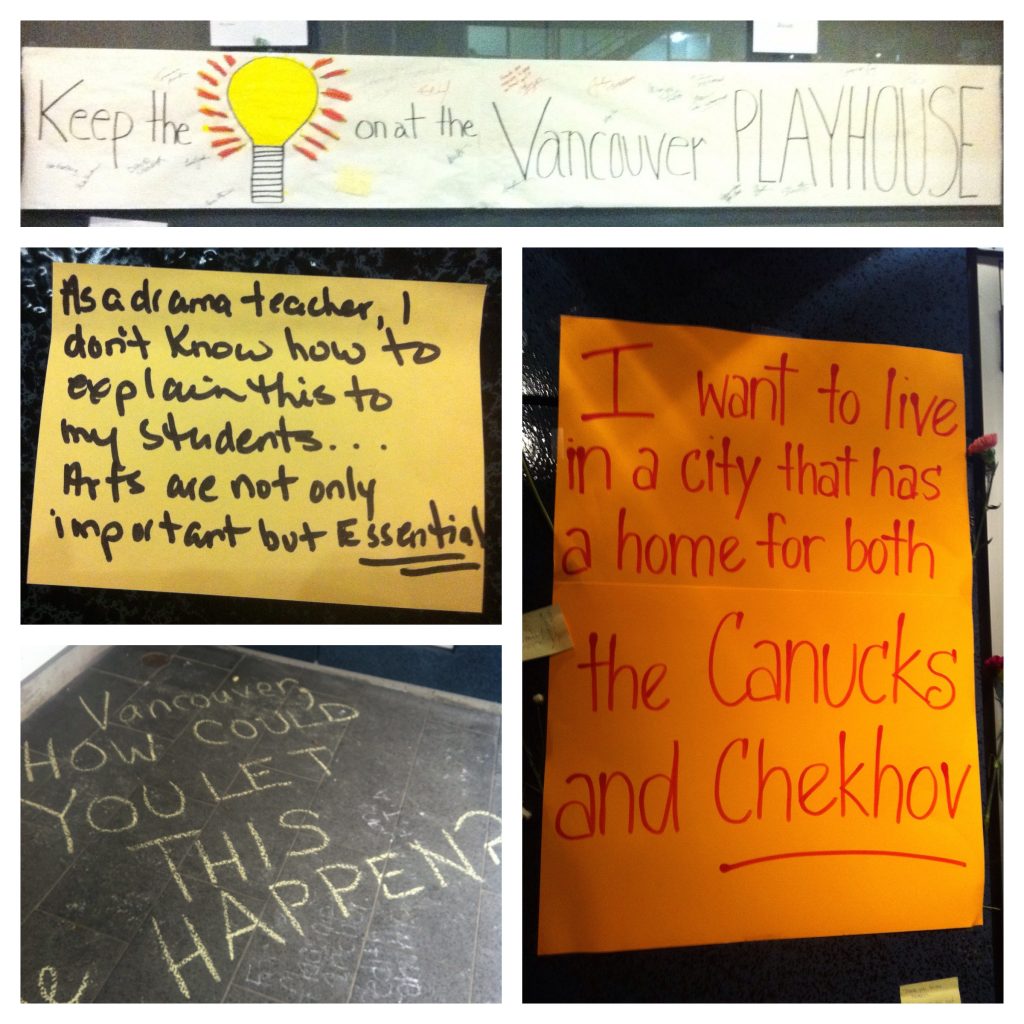 The night the Vancouver Playhouse announced that they were closing, I took to the internet in an attempt to put words to the shock, rage, grief, and – behind closed doors – optimism that something good might come of it all. That night I wrote, "I'm sure there are implications that I have not yet begun to consider and that we won't begin to see until it is too late." And here we are, more than three years later, and it is too late: the Vancouver Playhouse Theatre Company is gone, as is theatre's presence in Vancouver's downtown. And yet, for many artists in Vancouver and across the country, the fallout from the Playhouse's closure continues to not just linger, but be a present factor in their lives.
Like many of my peers, the Playhouse was a future goal for me, not a present reality. As Breanne Jackson, a Vancouver-based stage manager, said, "When I chose to make theatre my career, I had always factored the Playhouse into my career dreams."
More established artists, like actor Allan Morgan (The Overcoat, 1997) always looked with hope to working at the Playhouse as a possibility each season. "If an artist could put together a season including a Playhouse gig, it raised the yearly income level as so many other contracts in the city were much smaller houses and ergo less money," said Allan. "It was a definite boost, for all involved: actors, designers, directors, stage management."
When the Playhouse closed, designer Christopher Gauthier was more concerned about the loss of his day job in their box office than any potential impact on his future career. "I honestly didn't think that much about it," he said. But looking back, "Something I hadn't anticipated was that of course those designers who designed at the Playhouse, now were looking elsewhere. Jobs with smaller companies were sometimes being taken by those people. They were the bigger fish, now they too were swimming in a smaller pond."
Like Christopher, actor Greg Armstrong-Morris (La Cage aux Folles, 2011) worked in the call centre, box office, and group sales over the years. He describes being invited to be on stage at the Playhouse as "coming back to work with old friends" and "the completion of a very long journey" and was looking forward to more productions with the Playhouse at the time of its closure.
But the Playhouse's surprise closure had more impact than just taking away people's dreams: for others, especially the team involved with the final show – Catalyst Theatre's Hunchback – there was a sudden and real impact. Like everyone else, the Catalyst team heard about the closure via Twitter from the news conference.
"It was shocking and surreal," said Eva Cairns, Managing Producer at Catalyst. "We were given no heads up at all and there was virtually no communication afterwards from the Playhouse staff or board to those of us in Edmonton or our company of artists on the ground in Vancouver." In the end, the Playhouse defaulted on over $120,000 owing to Catalyst (approximately 20% of their anticipated season revenue) and the company only survived because they had an accumulated surplus.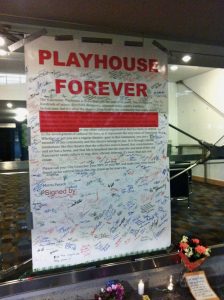 But worse for Catalyst than the financial loss was the sense of isolation. "I maybe should have cancelled the last performance as the Playhouse was in breach of contract with us and no one acknowledged anything. But I didn't because we believed that the Vancouver Theatre community needed the closure of that final performance. So although nobody from the Playhouse staff or board ever spoke or communicated with us or our artists, Jonathan [Christenson, Artistic Director] and I asked our company to do the show for the sake of the Vancouver community." Yet despite this, Catalyst never heard a word from the Vancouver Theatre community.
For Catalyst, the effects of the Playhouse closing are not lingering – they are very much present: budgets are still very tight as they attempt to recover financially and plans to grow the staff had to be put on hold. "There isn't a week when I don't think about how different it would be," Eva said.
With one of Vancouver's very few large theatres closed, a number of artists turned to other cities or other careers. "Well, I left Vancouver and BC, didn't I?" said playwright/actor/producer Sean Devine (Death of a Salesman, 2011), now based in Ottawa. "When the Playhouse was closing down, it was in the middle of what felt like a spate of closures. I've long worried that Vancouver is a risky locale for non-commercial culture, and this closure didn't help that regard." Allan Morgan has left theatre: "I wouldn't have thought that possible 3 years ago," he said.
In addition to being one of Vancouver's only "A" houses, the Playhouse was our regional theatre – committed to a level of excellence, to working collaboratively with companies across the country, and to doing shows that weren't guaranteed commercial successes. Now we are seeing more of what Allan describes as the "less" style: "Less income. Less artistry. Less opportunities to learn and advance. Less choices of types of theatre being seen. Less opportunities for Vancouver audiences to see work from other designers/actors/directors from across Canada."
Greg says, "It has also changed the nature of what is being produced in Vancouver, and not necessarily for the better. There are indeed smaller companies that are producing riskier theatre — and they may prove to be Vancouver's greatest hope of having a meaningful theatre culture. But there is an echelon of theatre patrons — the ones paying top-dollar and expecting first-rate productions — who continue to be trained to accept mediocrity as the best Vancouver has to offer."
These smaller, innovative companies are being recognized for their excellence, as evidenced by Itsazoo's Jessie Award wins (including Outstanding Production) in the 2013-2014 season for their site specific trailer park production of Killer Joe. There is a vibrant small theatre scene in Vancouver, producing more than 50 productions a year. As an audience member, this outpouring of options is exciting, but as an artist it present its own challenges.
"I am always inspired by the independent theatre companies that continue to pop up every year. These companies are built with big hearts and passion," said Breanne. "Sadly, many of these companies do not have the financial stability to pay their artists a living wage." Where in the past a contract at the Playhouse would have made it possible for an artist to work for next to nothing on an artistically fulfilling show, now there are less big contracts and more collectives, Indie 2.1 contracts paying the minimum fee ($290/week), and established artists turning to the Fringe festivals for opportunities to experiment without the security of a long, well paid contract to balance this out.
A healthy theatre ecology requires both the large regionals and a dynamic small theatre industry. While companies like the Playhouse bring in top dollar patrons for polished productions that showcase the best of what the city and the country have to offer, the small companies do artistically risky work, expanding audience base and vetting new talent. When the large and the small are able to thrive in a symbiotic relationship, both the audiences and the artists win.
The building the Playhouse operated out of still sits in its place at the corner of Hamilton and Dunsmuir, but without the Playhouse as the core tenant, the building sits empty for 4/5 of the month. "I feel disconnected from downtown," playwright Lucia Frangione said. "It's a bit heartless and cold as it was and now it is worse."
Yet this is one area that is starting to see new growth: earlier this year the PuSh Festival, Music on Main, Touchstone Theatre & DOXA Festival moved into a new space just blocks away from the Playhouse's former home and for the last two years PuSh has had programming in the theatre. Christopher Gauthier, who is now the Operations Manager for the PuSh Festival, said, "I feel both the city and the arts community have made it clear that the arts in downtown Vancouver are neither dead nor resting."
Rather than seeing this as an automatic failure and decline, I choose to see this as Vancouver in transition: we are still figuring out what our theatre ecology looks like without the Playhouse. It's scary and exciting in equal measure.
Comments
comments