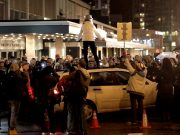 Perhaps the Playhouse had slowly drifted away from the ethos of Vancouver's theatre community. Most of the companies in the city are artist-driven, many still headed by founding artistic directors. The Arts Club Theatre Company (the second of three large-scale theatres in Vancouver, the third being Bard on the Beach – both of which have control over their venues) was founded and is still run by Bill Millerd. Founded only one year earlier, the Playhouse had a succession of 13 artistic directors, the longest term being 11 years, most averaging four. It's as if the organization grew up in foster care.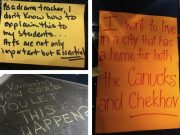 Like many of my peers, the Playhouse was a future goal for me, not a present reality. As Breanne Jackson, a Vancouver-based stage manager, said, "When I chose to make theatre my career, I had always factored the Playhouse into my career dreams." More established artists, like actor Allan Morgan (The Overcoat, 1997) always looked with hope to working at the Playhouse as a possibility each season. "If an artist could put together a season including a Playhouse gig, it raised the yearly income level as so many other contracts in the city were much smaller houses and ergo less money," said Allan. "It was a definite boost, for all involved: actors, designers, directors, stage management."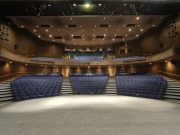 Somewhat more interesting than the public funding was the distribution of private funding after the closure. My notes from a PACT region one meeting months after the closure had both Pacific Theatre (no record of the individual) and Howard Jang of the Arts Club report increases in patrons, patron donations, not to mention the eventual transfer of the Wine Festival contributions to Bard. The Arts Club reported capturing some of the Playhouse subscribers (as did Pacific Theatre to a much lesser extent) as those patrons sought alternatives for their theatre experiences.