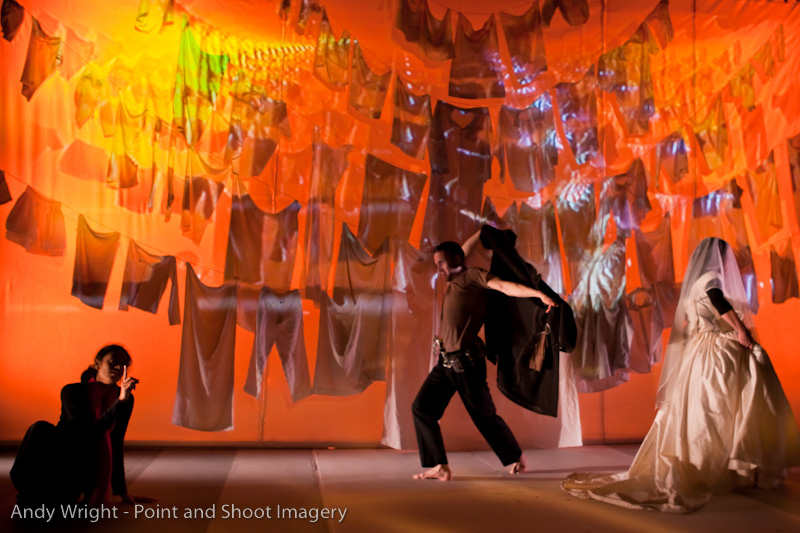 I cannot help but ask myself often these days: Is theatre relevant in the times of ISIS, global warming, and the current refugee crisis?
I wonder as I drive myself to work every morning if the energy I am spending on raising funds for, creating, and administering 'art,' would be better spent on saving people's lives, feeding and sheltering the children and helping refugees escape and settle in safer places (like Canada).
MT Space – the theatre company I work for – has recently completed with great success a crowdfunding campaign on Indiegogo titled: Together We Make IMPACT. The campaign that launched a few days before the opening of IMPACT, MT Space's biennial international theatre festival, and lasted for forty-eight days closing on October 31st, had its goal set at $20,000 to support the programming and the activities of the festival. With the hard work of our passionate and dedicated team of staff, board, artists and volunteers, the campaign managed to reach and exceed its goal. We raised just over $23,000 – the amount needed to sponsor a refugee family of 3 to come to Canada.
Throughout the duration of the campaign, I had to work day after day on composing and sending letters and emails asking my friends, colleagues, MT Space patrons and the wider community to contribute to our cause. This time, asking for money was particularly more difficult than ever before. I personally felt a lot of unease, and struggled when writing such letters. This feeling prompted me sometimes to start my messages to some people as follows: "Dear friend, I know you are probably spending most of your donation budget these days on supporting Syrian refugees, but I am writing today to ask for your support for our new campaign…"
Does this even make sense?!!
Earlier in February, I posted to my status on Facebook the following sentence: "In the times of ISIS, theatre fades into the unnecessary backgrounds." Very few people liked what I said, and another few commented with words of encouragement and support. They said things like: "That's what they want. Don't let them win;" "True theatre becomes even more vital;" "We need you to keep bringing the stories out. We will become numb if we don't have theatre in our lives and then, they win;" "Theatre is most important at times like this."
Is theatre most important in times like this? Is it really?
Back in 2011, I received a call from the local Reception House. The Reception House Waterloo Region is a temporary home for government-assisted refugees. Refugee families arrive there and stay until permanent accommodation becomes available to them. The call was about Dakhel Faraj, a theatre artist who escaped Iraq after two of his children, Ehab (16) and Karam (8), were killed by American soldiers along with his father, his daughter-in-law and other members of his extended family. Faraj himself was shot multiple times in his legs.
When I received the call, Faraj had just arrived in Kitchener with the remaining members of his family. I immediately drove to meet him. He told me that as a theatre artist living in a refugee camp in Syria waiting for his turn to be admitted by a refugee-accepting country, he was connected to other local theatre artists in Damascus. There, someone told him about a theatre group located in a Canadian city named Kitchener. He was told that the group recently presented a play about a suicide bomber at the Qabani Theatre in Damascus, and that they had Arab artists amongst them.
This was of course MT Space's 2010 tour of our production The Last 15 Seconds where we performed in Amman, Damascus and Beirut. When his turn came and Dakhel was asked if there is any particular city in Canada he prefers to go to, he immediately answered: Kitchener!
While writing this article today, I received another phone call from a local agency that works on refugee applications and sponsorships. They told me about a Syrian theatre artist who is currently living in Egypt. He escaped Syria and is seeking refuge in Canada. I was asked if MT Space will be able to help in providing sponsorship to bring him to Kitchener. Yes, we could do that!
I guess theatre could be relevant in response to global crises after all. It could be relevant once we start looking at our organizations as community support agencies in the first place; once we start seeing that our primary function is making community and art is the result; once we understand that art is only valuable when it is done in the service of people and not the other way around.
This way of thinking allows me and my team to open up to different practices than the ones traditionally expected of us as a theatre company. It gives me the motivation to invent programs and methods of creation and dissemination that organically respond to, and acknowledge the political, social and humanitarian contexts within which we exist. In the times of ISIS, global warming and the current refugee crisis, I cannot simply wake up every morning and go to work to make theatre. I have to wake up in the morning and resist.
Comments
comments