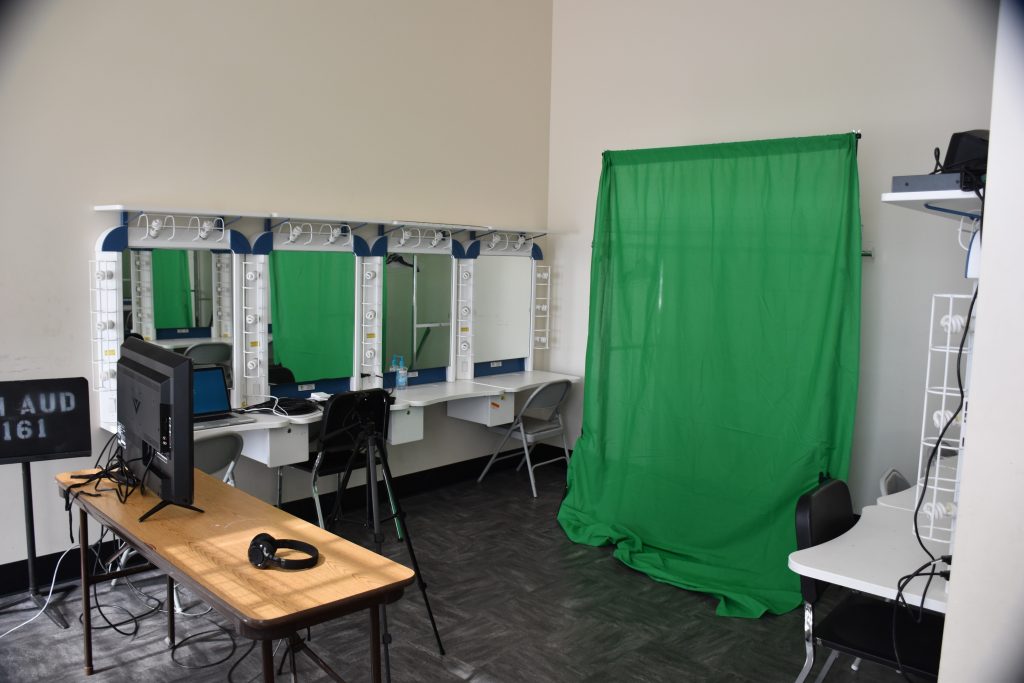 All photos by Alison Bowie
SLACK CONVO 1
Michael and Sarah

mcwheeler
[8:15 PM] So can you remind me again how you came up with this idea?

sarah
[8:26 PM] I have been dreaming about this project for the better part of two years. The balance of the time was spent trying to find terms of reference to explain my dream to my colleagues. At several points along the path I abandoned hope. My desires far outstripped my technical acumen and it was only through a kind of patience, that has been a major part of SpiderWebShow's success, that I was able to hold on.
The project began to coalesce over a meal at Aux Vivres in Montreal where I drew on a bunch of napkins with Alison Bowie and her partner Zac. From this conversation, they were able to think about some of the basic tech specs that could move us forward to granting requests.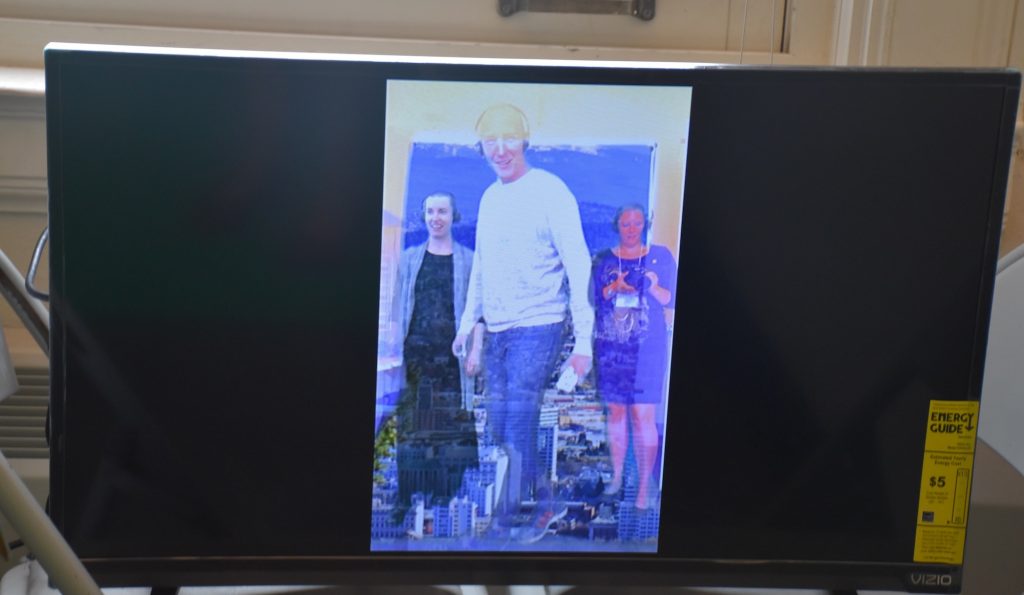 mcwheeler
[8:33 PM] So once you had a basic understanding of what it would involv e- what were the steps you took, (dare i call it praxis?) that made it come into being?

sarah
[8:26 PM] In practical terms, #CdnStudio took root when I was able to find enough prose to put the concept into place for my colleagues and financial supporters, most notably CIRA. This exercise, which traveled through a series of steps, finally landed me in a conversation with Joel Adria, who shared a set of experiences which allowed he and I to speak with a kind of shorthand. Joel is the glue.
Putting together the fundraising video for the project with Camila Diaz-Varela and you began to more fully clarify the concept. It is really gratifying to note that all who have seen the video really see what we are creating and get how important it is for a country like ours.

mcwheeler
[8:33 PM] So given all of this – it was a bummer you couldn't come to Portland for #LMDA16 with us to test it out for the first time. I feel like directing the World Premiere of a Hannah Moscovitch play at Stratford is a legit excuse tho.  Were you nervous sending it off without you?

sarah
[9:03 PM] LMDA was one of our first financial contributors. They helped us through the Bly Creative Fellowships. If you are dramaturgically minded I suggest you check out the organization and see what support there might be for your dreams.
I'm excited the first test of #CdnStudio was a success. I think of it as one of my brain children. I am really proud of its first steps into the world. I am also fiercely grateful to my colleagues for keeping their ears and minds open as I worked to make this project clear.
For a generation of performance creators suffering from FOMO, #CdnStudio is going to be a big part of the solution.
**********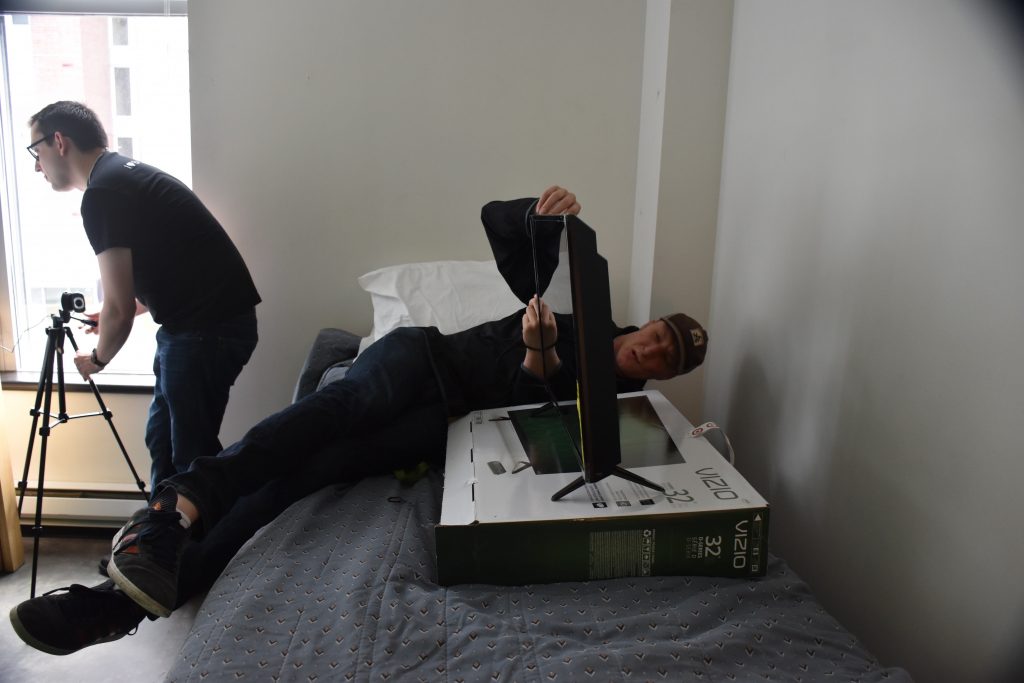 SLACK CONVO 2
Michael, Joel, and Alison

mcwheeler
[8:12 AM] Oh hey guys. My 1st day off in a million years and i forgot to start this convo we promised to have on Slack about how everything went last week.
1 week ago we met in Portland, Oregon and presented the 1st prototype of the Digital Creation Studio to #lmda2016 . What are your thoughts on what the heck happened there? Did I imagine it-  there are photos so I guess not.
One of the most interesting things to me was the irony of two truths that emerged:
1 That we were there to demonstrate the capabilities and potential of a new technology that would allow artists to collaborate with each other on performance over long distances over in a virtual shared space.
2 The three of us, who had never occupied the same physical space before  had to travel across North America to come together physically for the first time to make it happen.

abowie84
[12:56 PM] Nice! A day off! I am on lunch break from the Circus and Its Others conference at Concordia. Switching modes here.
Our presence together, and the continued collaboration of the entire SpiderWebShow team, demonstrates that it is possible to develop ideas and do a great deal of work without ever actually being physically together.
I am excited by the possibilities that this technology can bring to Canada and Canadian theatre.
Our meeting also emphasized the importance of relationships, particularly visceral, embodied relationships. We were able to hash out plans, instantly react to ideas or solve problems that arose quickly and together. Nothing is going to replace that experience. This technology, however, can enhance and continue relationships – and foster new ones.

joeladria
[7:27 PM] Sorry I'm late to the party. I worked with Sarah Stanley on Helen Lawrence as part of the video team, so when she started explaining her idea for a virtual rehearsal hall, I really understood where she was coming from. We explored space, virtual and physical in very unique ways on that show, and CdnStudio is a very similar exploration.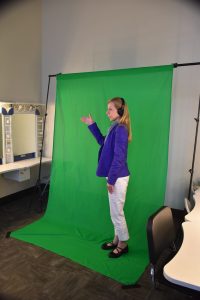 The goal with #CdnStudio is to create a digital creation studio, a virtual space online for theatre artists in geographically-diverse locations to meet and rehearse. The best way to describe it would be a high-tech Skype call or video conference, but instead of seeing an image of a person's face, you see a composite image of everyone who is participating in the same frame.
To achieve this, we use green screen or chromakeying technology. Just like a weatherman who points at a virtual weather map, CDNstudio composites the other members of your team onto your screen in real-time.
I had spent some time developing the prototype software using a tool called TouchDesigner, but this was the first physical deployment with all the pieces in place.
The prototype is not using the Internet to communicate quite yet, but we are routing all of the information in the studio call over a local network. Our goal is to scale the technology using a new open standard called WebRTC. In the future, this will allow you to join a CdnStudio session from any compliant web browser.
Once we've finished development of this web service, all you will need to join a studio is a high speed Internet connection, an inexpensive green screen kit, a webcam, and a set of headphones.
We setup three stations in separate rooms at LMDA, and were totally thrilled with the reaction. Delegates' lined up outside the dressing rooms where we were setup, eager to see how CdnStudio worked. It was wonderful to get everyone's gut reaction, to hear the casual expressions and comments as they first step into the virtual space. Friends and acquaintances were quickly shaking hands with their virtual partners, or making attempts at high-fives.
While we're still a ways away from creating a Holodeck for theatre artists to collaborate in, this first prototype is an exciting step on this path. Our goal is to continue to improve the experience as technology becomes available to make it as immersive as possible.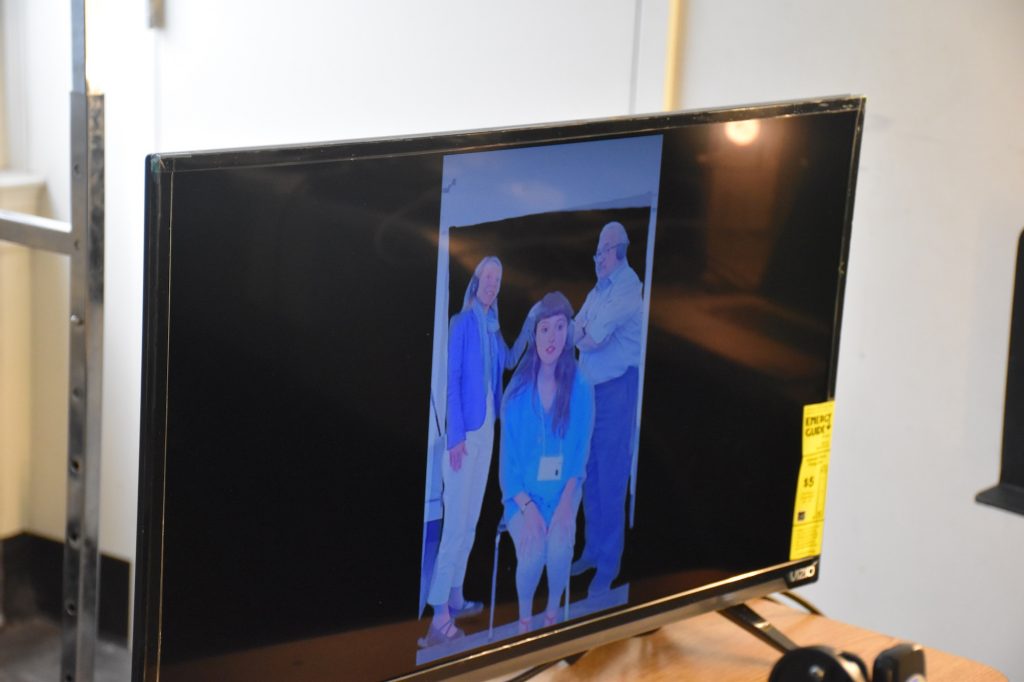 abowie84
[10:19 AM] When our artistic director Sarah Stanley first spoke with me about the CdnStudio project, the idea was not even fully formed — it was merely a seed that stemmed from Sarah's thoughts on the internet in general. She explained that the internet allows us to be whomever, or whatever, we want. It is a space of inclusion and possibility. The CdnStudio is exactly that: an inclusive and accessible space for the creation of art and identity.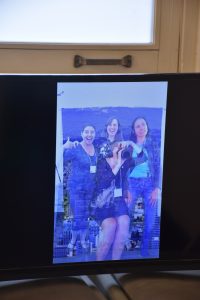 SpiderWebShow's mission is to engage with the conversations surrounding Canadian theatre identity and theatre's intersections with technology. Our work thus far has focussed on post-creation, on conversations about work that has already been on stage or seen a public, and on the people who have created that work. Now we have the opportunity to engage in the creation process and to foster the development of new Canadian dramaturgies.
One of the things that I said in our LMDA presentation last weekend in Portland, Oregon that seemed to resonate strongly with the dramaturgy community there and also theatre practitioners back home was, "If an artist from Nunavut can collaborate with an artist in Toronto, what stories can they tell?" Canadian theatre is very much produced locally right now, whether that be in larger city centres where artists tend to migrate towards, or in small communities where local artists live and work together. The reasons for this include: the expense of travel, time to travel, the connections and relationships that have not yet emerged, and more.
So what happens to the stories in our country, and our understanding of Canadian theatre, if we remove those barriers and if we make national storytelling possible? What will that look like, sound like, feel like? What will change? Another technology that we are currently using is a mapping tool that tracks entries on the PerformanceWiki to geolocate where artists live and where stories are being created.
One of the questions I will working on in the near future is how to visually map stories that are being created in multiple locations simultaneously – and how to track performances that may only exist in digital space. I am interested in finding ways to view the transformation of the map over time. In other words, being able to see it two months ago, one month ago, now, and in the future. This will allow us to see how CdnStudio is affecting the theatre geography in Canada.
CdnStudio is also going to bring up a lot of questions about embodiment and liveness, elements that are fundamental to our understanding of theatre right now. We've got a lot of work ahead of us, but what we've done already is amazing – so I can't wait to get started on the next phase!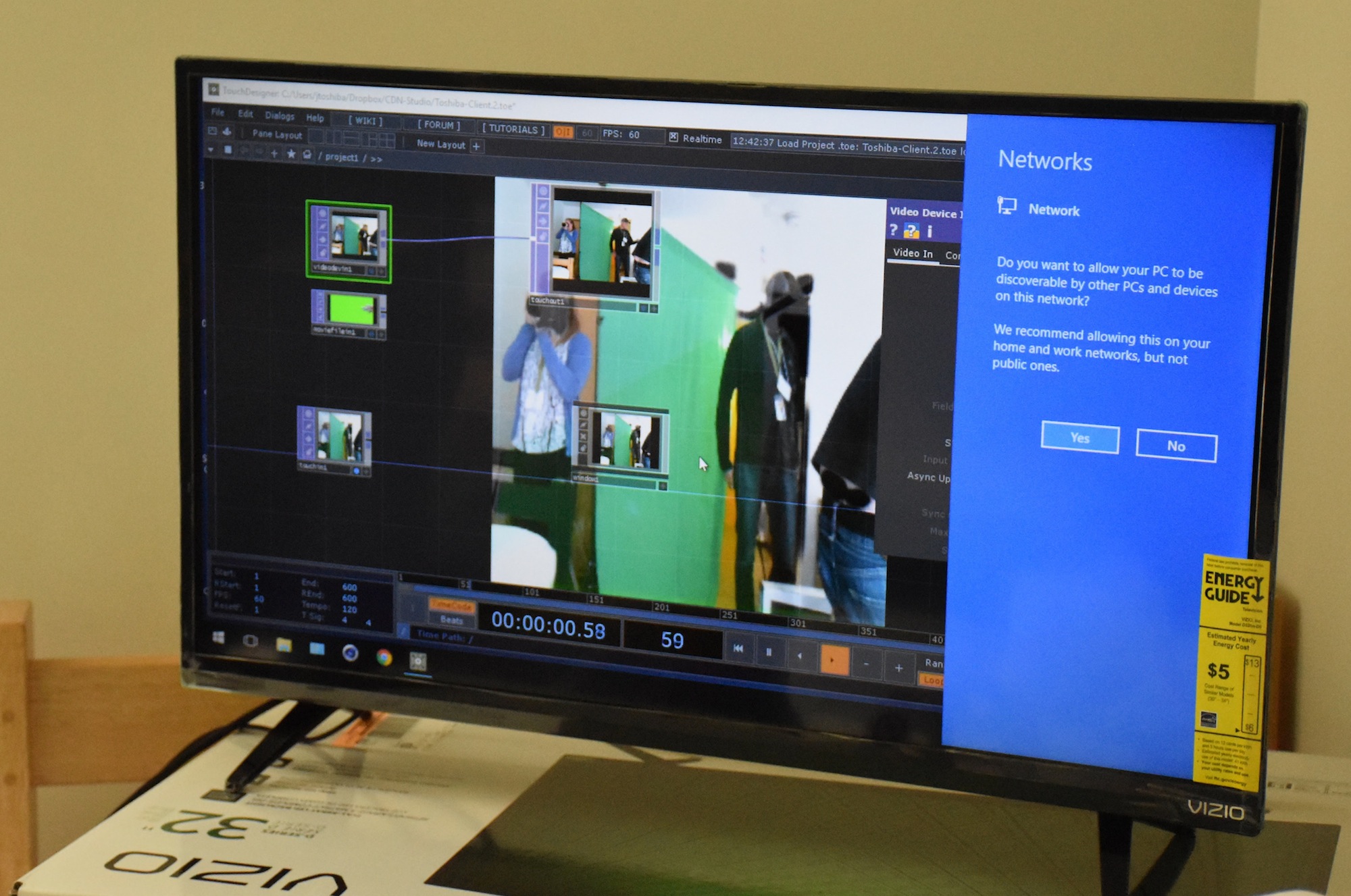 joeladria
[7:27 PM] I was astonished by the amount of excitement, attention and enthusiasm there was for the project. In getting the installation setup and "dialled in", it was really great to establish what worked and what didn't. For example, using cameras in portrait was effective to capture full bodies — this gave a sense of physical presence that a FaceTime called might not capture.
We learned that 4'x4' footprint that we were working with was a bit small, certainly in order to do any sort of real blocking or arrangement. There was some clear feedback regarding the distinct challenge of seeing yourself act, in addition to the challenges of having your eye line glued to the screen. The wireless headphones were by far the most effective technologically, but also in terms of their ability to immerse the participant in the experience.

mcwheeler
[10:42 AM] Yah, I have to say, and I rarely do say this, but it actually exceeded my expectations  –  the results of what we set out to do. At the final banquet of the conference, a theatre artist who had volunteered to man the doorway to the dressing rooms where we had set up stopped me to tell me:
"Wow – I have to tell you, everyone lining up to get in had a glum look on their face. But everyone who came out was lit up – like they had just been on a roller coaster or something! Great job. Congratulations."
So there are a lot of things to figure out still with the technology, but the experience really reassure me we are on to something we really need to keep pushing.
Comments
comments