Podcast: Play in new window | Download
Subscribe: Apple Podcasts | RSS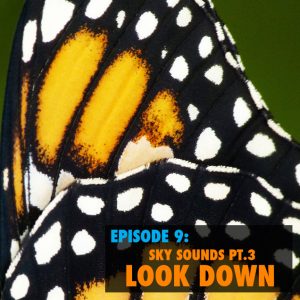 In our final episode of the Sky Sounds series, we thought we'd try something a little different. Based on an interview with Boyd Nave – the resident 'Butterfly Man' at the Calgary Zoo – we bring you an original story called "Look Down" by local artist Ellen Close. In it, one species reaches out across the void to another seeking little more than a bit of understanding.
This is the final episode of Season One of the Deep Field Podcast. We look forward to returning with new stories in the fall of 2015! Huge thanks to Spiderwebshow​ for hosting Season One as a part of Spiderweb Sound.
Also, big thanks to Arts Commons​ for partnering with us to create Sky Sounds. You can still hear all three episodes playing daily the +15 System at the Arts Commons building in downtown Calgary.
Lastly, thanks to all the people we've interviewed this season for sharing their time and stories, as well as the musicians who leant their music to our show.
Comments
comments