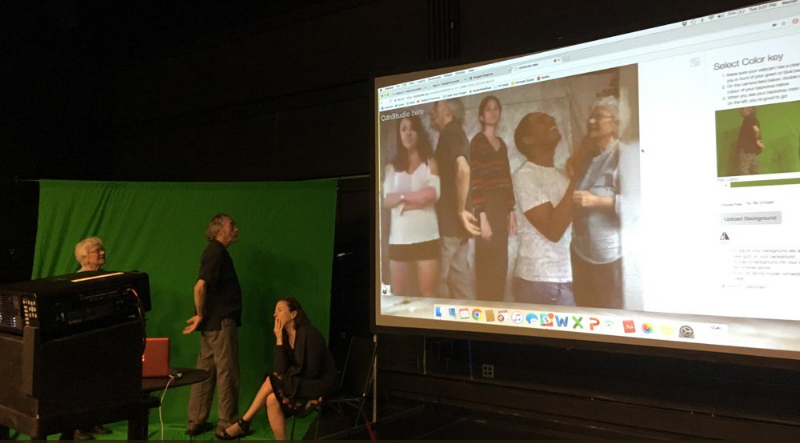 Today SpiderWebShow is two weeks into a hybrid digital live performance rehearsal process for The Revolutions. Artists at The Isabel Bader Centre for the Performing Arts in Kingston, Ontario are collaborating on a performance that includes improvised dinner conversations, monologues and scenes in 'digital space' where performers in Kingston act with live performers in Toronto, Montreal, and Vancouver.
This approach is made possible by a technology we have developed called CdnStudio, which combines green screen technology and live streaming to create a single screen and audio feed for performers to interact in across distance. Each satellite studio contains one actor and one coordinator who performs in an empty room. (Thanks for hosting us Boca del Lupo at Progress Lab in Vancouver, Playwrights' Workshop Montreal in their new home, and our AD's dining room in Toronto.) Each is communicating with stage management and each other over Slack.
An added digital element of our creative process is a series of three podcasts about making the show by Toronto CdnStudio Coordinator Camila Diaz Varela. We have always been challenged by process based blog posts about creation, but the audio medium seems better suited to a fulsome discussion of ideas and processes underpinning creation. Below is the first of three, please let us know what you think and if you have any ideas where we should go from here using #TheRevolutions.

The Revolutions is made possible by The Kingston Arts Council, The City of Kingston, Canada Council for the Arts, and The Dan School of Music and Drama at Queen's University.
Tablework in #cdnstudio for #TheRevolutions. @mo_horner & Kathryn MacKay top. @rhiann0n_ & Kathryn MacKay bottom. pic.twitter.com/r427sVgYbr

— SpiderWebShow (@SpiderWebShow) August 25, 2017
Notes post run #therevolutions @SpiderWebShow it is sometimes weird here. #cdncult pic.twitter.com/TubyzCOUbs

— sarahgartonstanley (@sarahgstanley) September 3, 2017
*Rehearsal*. #TheRevolutions pic.twitter.com/SGH7Y6wR5Q

— SpiderWebShow (@SpiderWebShow) September 2, 2017
First week of rehearsals for #therevolutions is complete! This is math, physics, feelings, peak communication skills at play. @spiderwebshow pic.twitter.com/zk5pFNWHix

— Christine Quintana (@christinequinty) August 27, 2017
There's a lot going on in this room. #therevolutions #rehearsals #cdncult pic.twitter.com/DBpd7bZ7Rj

— SpiderWebShow (@SpiderWebShow) August 27, 2017
Comments
comments