Podcast: Play in new window | Download
Subscribe: Apple Podcasts | RSS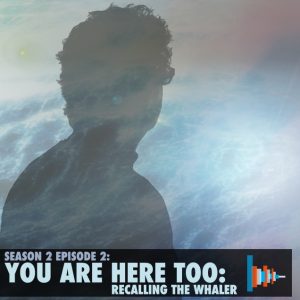 If you've ever seen Michael Green do 'The Whaler,' you have every naked detail etched in your mind. It was wild theatre at its hilarious best — wet, nude, and undeniable.
During the 30th Annual High Performance Rodeo – Calgary's International Festival of the Arts – The DFP Team were Listeners in Residence, recording on location, gathering your tall tales of Michael Green's 'The Whaler'. We borrowed your voices and built a chorus. A cacophony. A sea shanty.
At a Listening Party of this episode, held on January 29th 2016, we celebrated YOUR remembrances, YOUR belly laughs, and YOUR voices shouting out "I AM THE WHALER!" one or two – or a hundred – times more.
—
Featuring the voices of: Allan Baekland, Allison Lynch, Andrew Mosker, Ann Connors, Annie Wilson, Anton de Groot, Blake Brooker, Brad Walker, Chris Cran, Col Cseke, Deanna Jones,  Denise Clarke, Eric Ollivier, Grant Burns, Jason Markusoff, Jennica Greinke, Johnny Dunn, Ken Cameron, Kevin Jesuino, Kris Demeanor, Laurel Green, Michael Green, Maya Green, Michelle Kennedy, Mayor Naheed Nenshi, Natasha Sayer, Natasha Pedros, Nick Diochnos, Nico Brennan, Oliver Armstrong, Peter Moller, Rachel Blomfield, Rita Bozi, Sarah Troicuk, Simon Mallett, Susan Falkner, Tee Crane, Troy Emery Twigg, Ty Semaka, Tyler Longmire, Vicki Stroich, and the crowd at the Laycraft Lounge on January 29th.
With music by: Richard McDowell, Alex Fitch, Jason Shaw, Jon Luc Hefferman, Poddington Bear, Sun Brah. All music sourced from the Free Music Archive, except for the music by Richard McDowell: sourced from the One Yellow Rabbit Archives.
Comments
comments