Podcast: Play in new window | Download
Subscribe: Apple Podcasts | RSS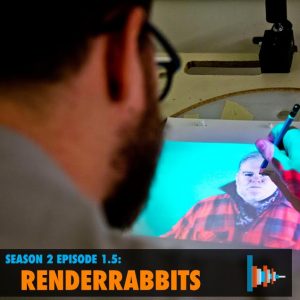 We heard some great stories in the first half of our recording sessions at the High Performance Rodeo in Calgary where we are Listeners in Residence.  We thought we'd share little something, just to whet your appetites. Enjoy this short preview episode with an interview we did with animator Tyler Klein Longmire about watching old VHS tapes and drawing The Whaler for his animated short film Renderrabbits. Check out more of the story behind Renderrabbits in the SWS Gallery. 
—
The Deep Field Podcast are Listeners in Residence at the One Yellow Rabbit High Performance Rodeo with You Are Here Too – Recalling The Whaler
January 15 & 16, 22 & 23 – 9:45pm – midnight, Listening Party January 29 @ 9:45pm (Laycraft Lounge, FREE)
If you've ever seen Michael Green do The Whaler,  you have every naked detail etched in your mind. It was wild theatre at its hilarious best — wet, nude, and undeniable.
During the Rodeo on Friday and Saturday nights, The Deep Field Podcast team will be looking for you with tape rolling, to record your tall tales of Michael Green's The Whaler . Share what The Whaler means to you, and celebrate what you remember.
As the High Performance Rodeo's official Listeners in Residence, we will borrow your voices to build a chorus. A cacophony. A sea shanty.
If you never caught the spectacle, you can find out all about it on January 29 (Listening Party). Join us for a Listening Party where we compose YOUR remembrances, YOUR belly laughs, and YOUR voices shouting out "I AM THE WHALER!" one or two – or a hundred – times more.
Comments
comments