Hi again. I'm still chipping away at this animation on my computer. I am installing it at the High Performance Rodeo in the first few days of 2016, so I am hustling to get it done! Today I will be writing about the first half of this project, which was all done on paper during an installation I did last year. The following is a condensed and reworked version of the original post I wrote about the project for my personal website.
***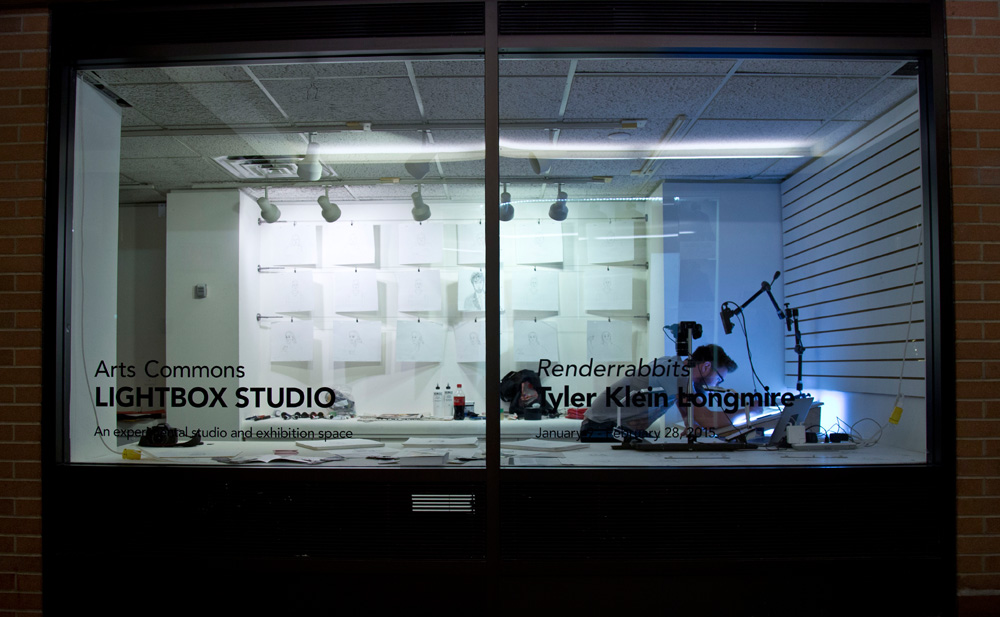 I was approached by Natasha Jensen at Arts Commons about a working studio exhibition in her new experimental gallery space, the Lightbox Studio. She asked if I wanted two months to use the space to work on a project in a public setting, where the people passing through the Arts Commons building downtown before shows, coming to and from work, etc. could watch me work through the windows of the studio. It was a great opportunity, and I liked the idea of a live drawing-performance over the course of two months. But what should I do?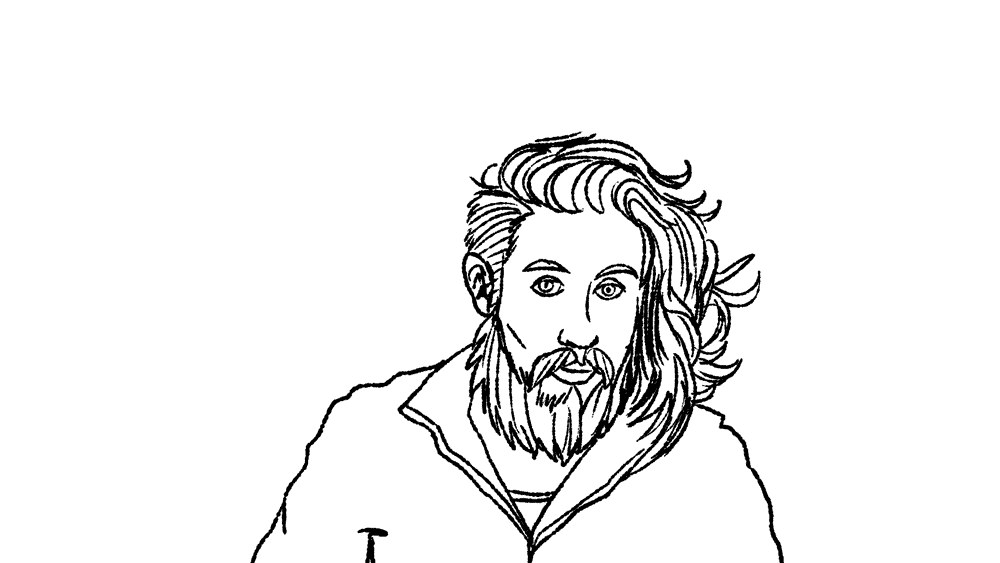 I made a short animated film called Renderfriends in the summer of 2014, it was these little looping animated portraits I made of my friends (this is my bud Rene Linares above.) I made it as a sort of experiment, and after the first film I was thinking about how to push it further. The idea was to animate portraits of strangers somehow, maybe inviting people off the street into the studio to film them, then present them with an animation once it was done… you get to know someone in a somewhat intimate way when you analyze and draw their facial expressions over a hundred tiny intervals.
Natasha and I were working this out when Richard McDowell of Calgary's One Yellow Rabbit Performance Ensemble passed away in November 2014. It was a shocking loss to the community – Rico (as he was known) along with the other 'Rabbits' are much-loved and well-respected in Calgary and beyond. I didn't know Rico very well, only having partied with him at the High Performance Rodeo or at various openings or closing events, but I was very much hoping to work with him someday and pick up a few tricks.
The Rabbits held a memorial for Rico in the Big Secret Theatre that he helped to build. I attended the memorial: the theatre was packed; the tributes were moving and impressive. It was strange to be on the periphery of such immense grief. Something I noticed was a communal reaffirmation that the Rabbits as a whole were Important – Rico's loss was felt to extend to the Rabbits as a collective, that OYR needed to be mourned for as well. The Ensemble was just getting started rehearsals on a new show, 'What The Thunder Said', for the upcoming Rodeo – how would they manage without Rico's music, his contribution, his presence, his friendship?
Watching the memorial, seeing the old video clips and pictures pop up on the screen in the Big Secret, I realized that the One Yellow Rabbit Ensemble should be my subject, the strangers for my animated portraits. It was perfect. They have very interesting faces to draw, and lot of character (or characters) to express. I wish I had the idea without it being prompted by Rico's funeral, but there it was. It fit the exhibition, the Rabbits were on board, it was also the 30th Anniversary of the High Performance Rodeo coming up the next year and Michael Green encouraged me to finish it to be included in the festival.
So, the project: I'd film some screen tests of Denise, Andy, Blake and Michael a la Andy Warhol, pick some choice seconds and animate their portraits; dig thru their archives and home movies for some footage of Rico and animate that too; maybe find some bits from their performances to play with and rotoscope; and juxtapose it all together for a short film. I'd draw this all out during my Lightbox Studio exhibition in January and February 2015, finish it up in the spring, get it into the 2016 Rodeo. Perfect. Everyone's on board. Contract signed. Let's go!
***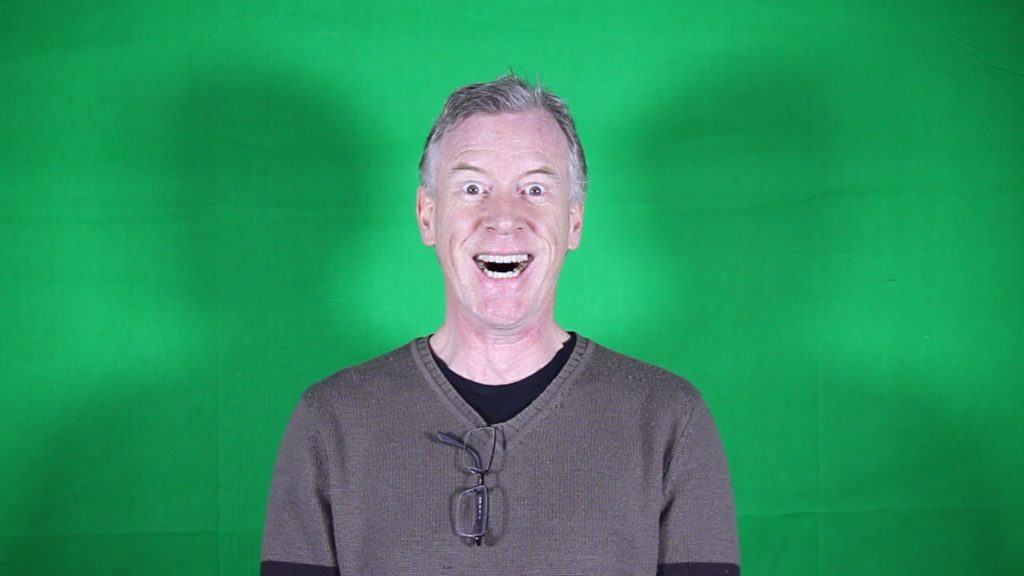 I set up a camera and green screen at the Arts Commons one afternoon in December and shot some screen tests of the Rabbits, a couple takes each. 15 minutes, 20 tops. I could only book Denise, Andy and Blake for that session – Michael Green wasn't available that day, could we reschedule? Of course, of course, not a problem.
I got two takes from each of them: a 'regular' take, 5 minutes or so, where I was in the room with them, behind the camera; and a 'secret' take, another 5 minutes, where I let the camera run and left the room, just to see what happens. Schrodinger's camera box. I didn't look at the secret footage until I got home.
The takes where I was in the room were interesting. Usable footage for sure. Denise danced and moved around; Andy made jokes and funny faces; Blake talked.
The takes where I left the room were heartbreaking.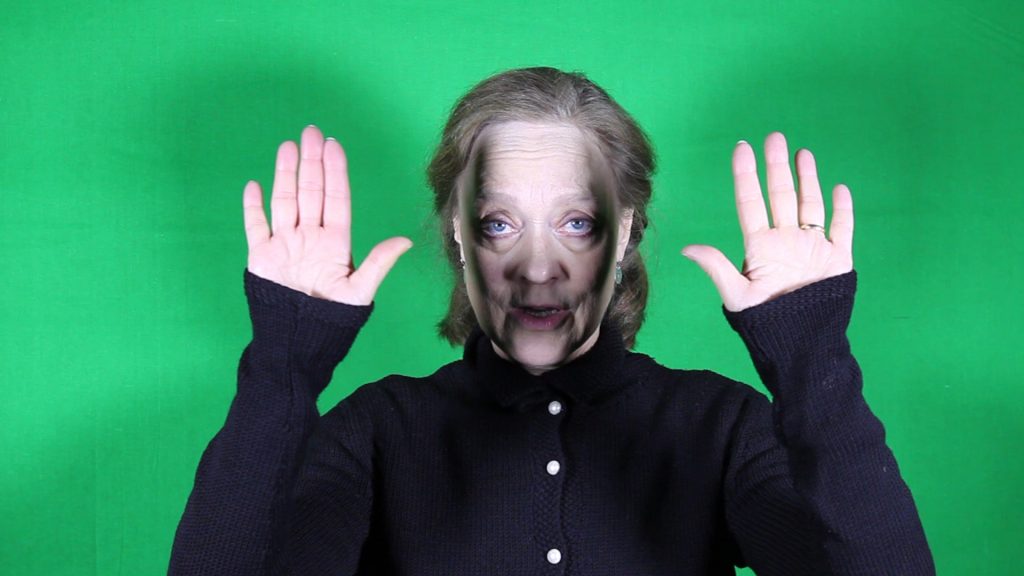 I think I caught them at a very particular moment, a little while after the passing of Rico, but not long enough since that they have had time to deal with his loss. I sort of forced them to take 5 minutes to themselves and contemplate. A camera test by yourself is a sort of meditation, and whatever you are thinking about will quickly come out. In their own ways, and to varying degrees, they all dropped the mask and became very emotional to the camera, it acting as a confessor of sorts. Or on the flip side, that they performed for me in a more raw, intimate, confidential way. I am not sure what the difference is anymore. The camera nullifies those sorts of distinctions.
Furthermore: I haven't yet drawn a frame from these secret tests. To be honest, I am not sure what to do with it. It's great, but… The footage was freely given, but it feels very special. At the time I was like "ayyy this project is getting heavy ima start slow", and I am only now finishing up the first round of portraits, so maybe by the next post I will have figured it out.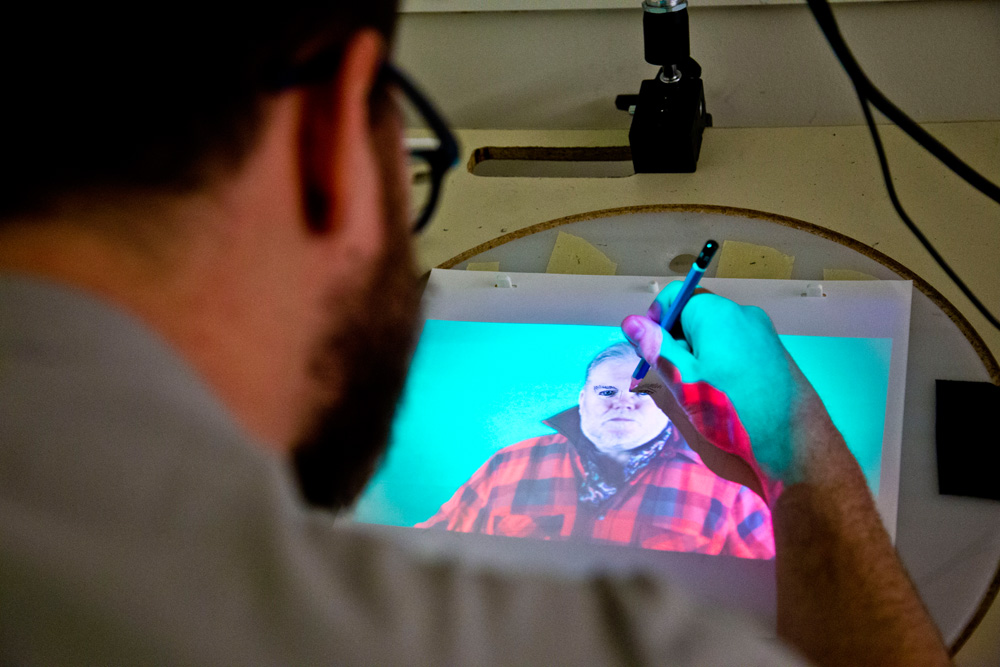 So my studio time rolls around. January 2015. I begin the project by finding 10 second clips of each happy shot to test the rotoscope process. I am working on paper, not digitally, so I had to rig up an animation table, a projector and camera station first. The process is an experiment too, so I wanted to start with some nice, cheerful, smiling Rabbits to get me going. I still had to get footage of Michael Green, but the High Performance Rodeo was on so I figured I would wait until February to bug him.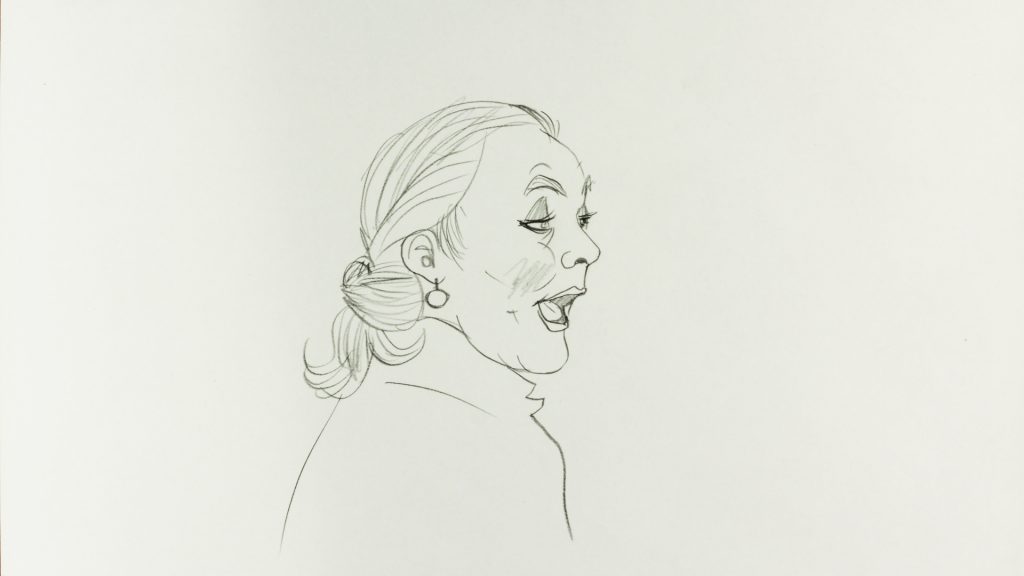 During this phase of the process I experimented with how exactly the projector and digital files should be calibrated, and how to render the drawings, and how consistent or inconsistent I wanted to be. Doing this on paper is a bit of a trip because I tend to work digitally, but I was really into physical materials in 2014 when this was coming together. I wanted to display the individual frames in a gallery context, so people walking by could see the animation creep along day-by-day as I hung up new drawings on the walls or by the windows.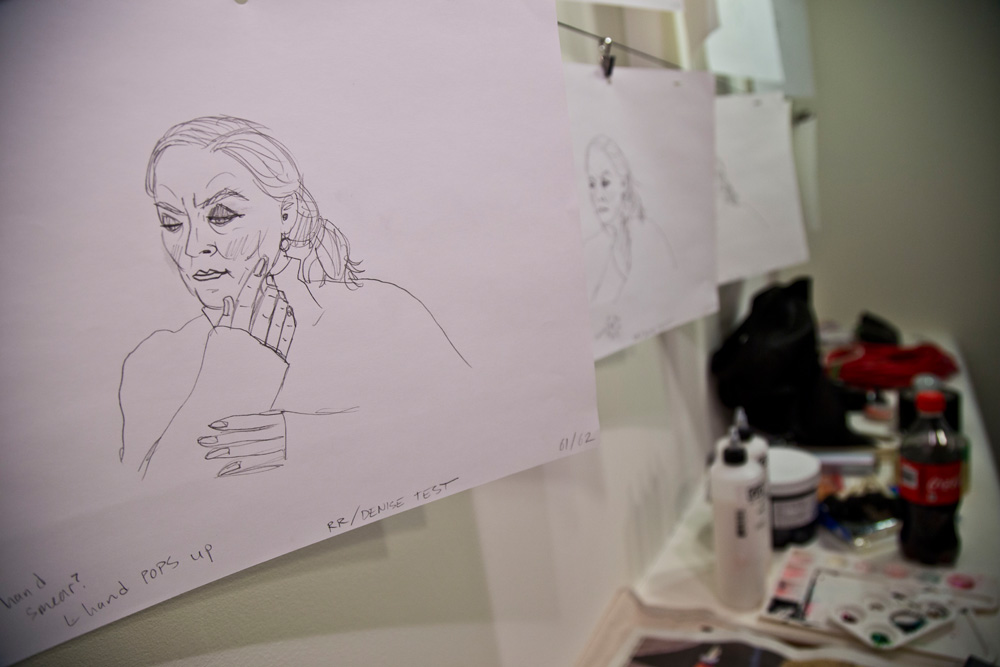 Doing it more in a traditional animation technique – 2D on paper – seems the best way to go, even if it was a bit clunkier from a process point of view. It looked better. Part of the installation was a sort of performance. I'm the Artist on Display: Watch a Live Animator make a Cartoon! See His Astounding Drawings of Your Local Favourites! etc. I had to embrace that side of it. Drawing these on the computer would be faster, but it wouldn't be an installation, and it would be way boring. Paper, dude! So January was mostly setting up and figuring my workflow and process out. By February I had Denise and Andy's tests mostly done. Just gotta catch Michael now that the Rodeo is finished and draw draw draw!
But then, another tragedy: on February 11 2015, Michael Green, alongside Blackfoot elder Narcisse Blood and artists Michele Sereda and Lacy Morin-Desjarlais, were killed in a car accident in northern Saskatchewan. It was a big deal.
I had a session booked with him for the following Tuesday.
God damn it.
We mourned; the city went all yellow, the obits came in from the Mayor, the Premier, the national and international press; there was a beautiful, gigantic memorial at the Jack Singer Concert Hall with attendance rumoured to outstrip the memorial of the late Alberta Premier Ralph Klein. His wake at the Legion after the service was a who's-who of the Canadian arts scene. The outpouring of grief for Michael, who was truly a widely-loved, respected, and accomplished human, was incredible to see.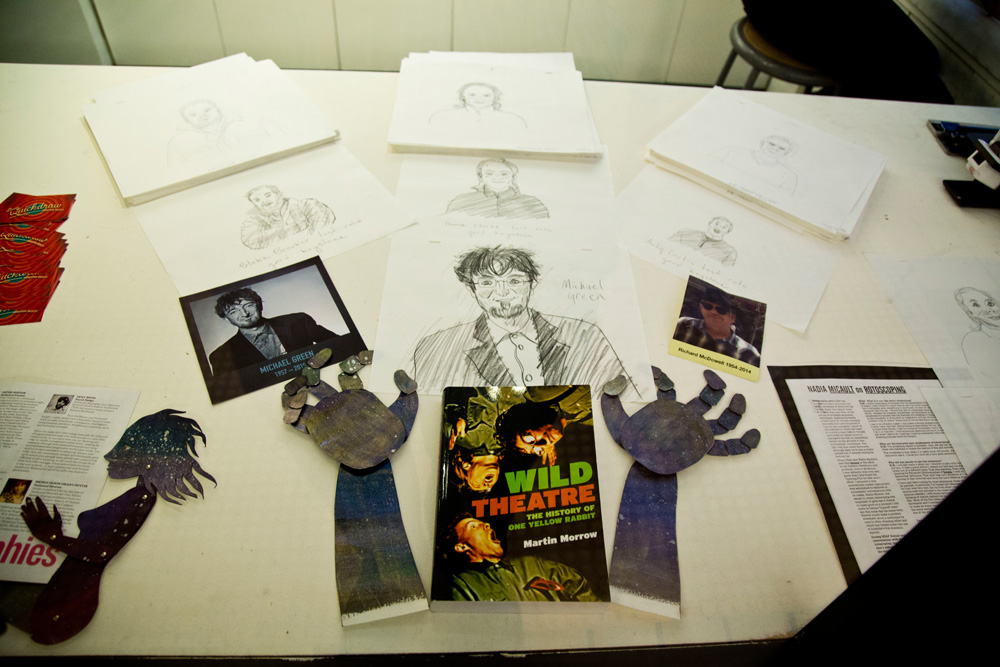 I had just finished the test of Andy when Michael passed. The studio was in the middle of Arts Commons, right by OYR HQ and along the way to the Jack Singer where Michael's memorial was held. I drew a quick Michael or two to include in the installation, but I couldn't turn my whole studio into a memorial (farther than it already was – oddly enough, I only have footage and only made paper drawings of the remaining Rabbits. The exhibition was more of a tribute to the living.) Even before Michael's passing I was working to be respectful of their grief for Rico, so trying to Play The Artist drawing some soppy reactionary portrait while I'd get more IRL pageviews due to funeral #2 seemed really sleazy upon discussion with my friends. So I put down my pencil and watched. I went to the memorial; paid my respects to the rest of the ensemble; went to the wake; and re-watched my footage.
That's the weird thing about this project – even though I have very little to do with the Rabbits on a day-to-day basis, through drawing them like this I feel like I get to know them exceptionally well. Only by drawing #50 do I feel introduced. I break down the tiniest movements of their faces – how do they blink, and how fast? Where are their cheekbones? What gesture do they repeatedly use? What 10 second chunk is really them – and in what aspect? I am appropriating their image – how vulnerable do I let them be? How sympathetic are these portraits? Is this just an intense visual hagiography? How much death am I going to acknowledge here?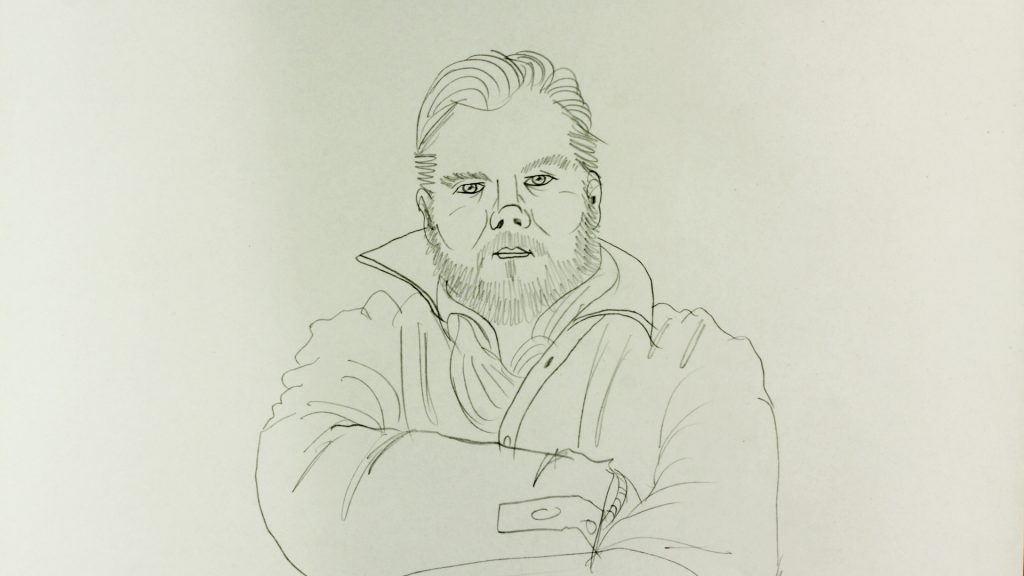 I was (and still am) thinking about all of this as I finished up in the studio with a test portrait of Blake. I watched him perform his duties through the funerals, media calls and public displays with grace and sincerity. I think I took more care with his portrait, chose a more contemplative, serious clip to rotoscope than I would have chosen before Michael passed. Context is really everything. The context for this project keeps changing. The whole shape of it constantly shifts around in my mind. The benefit to animation is that it is slow to make, so I have a lot of time to think about it before I have to make the next artistic decision.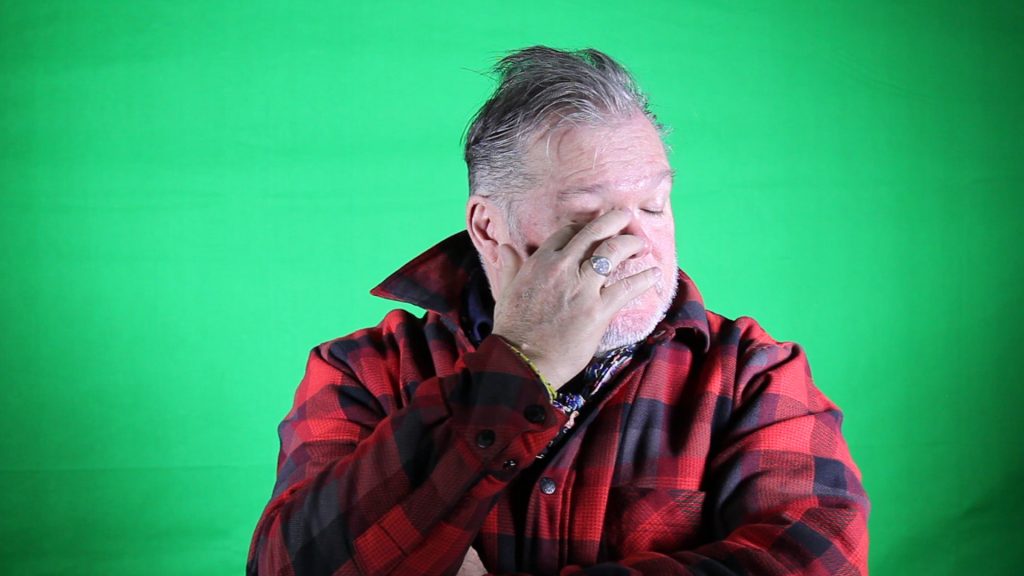 The installation ended and I packed up everything. I intended to keep working on it, but just after a short break. Unfortunately my grandmother got real bad around this time too, and was starting to slip away from my family; at Quickdraw we were finishing up another animated tribute to the deceased Calgary musician Chris Reimer, so I switched into animating another project about a dead guy; it was a heavy brainspace. Once I was out of the studio this project just bummed me out. Then my grandma passed in July, and that took the wind out of my sails for dealing with any more grief/homage projects for the summer and fall, not until I handled my own. (Why am I putting the Rabbit's grief on display, and not mine?) Some traveling and a couple fun light projects later, I've picked up the pencil again. Or rather, the digital stylus for my Wacom tablet. I think the material and my feelings towards it have breathed enough to start working again. Plus, hey, deadlines are a terrific motivator.
***
The thing about animating on paper is that you have to capture it with a camera somehow. I did some really rough captures during my installation, but the lighting was wonky and it wasn't that great of quality. Luckily my work, Quickdraw Animation Society, has an awesome old animation stand we have converted to capture digitally that I used last week to finally get high quality, well lit, consistent pictures. I use this stand all the time, it's great. There is even a glass platten to press down your drawings so they don't get all crinkly. :3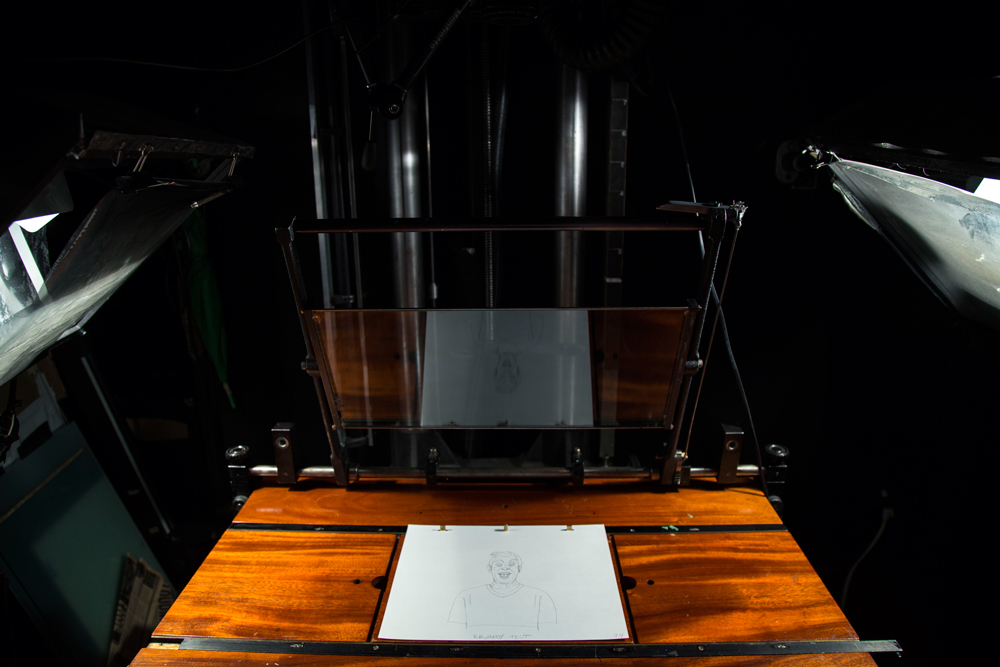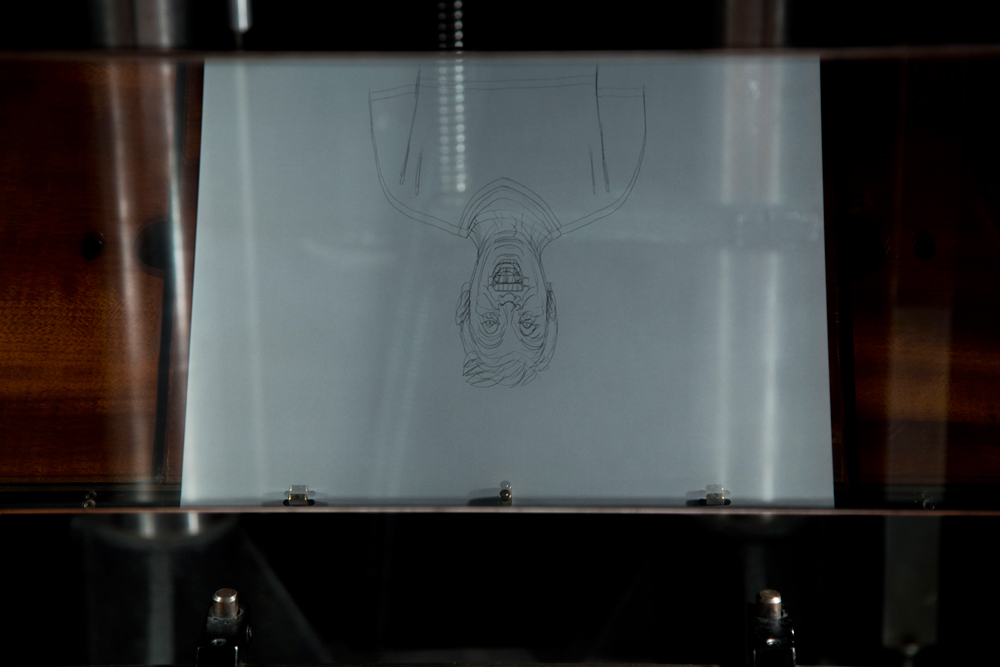 I will probably have to return to paper to finish these up, but I might just cheat and do it on the computer. I don't know how the real pencil and the Photoshop pencil will match up, guess I'll find out!
All told I have about 400 drawings from the first half of this project, or about 30 seconds of material. :s
Anyway, back to it! I'm gonna finish up the installation version of this project by the New Year, so the next post will be about putting this all together and installing it at the Rodeo. Thanks for reading.
Comments
comments