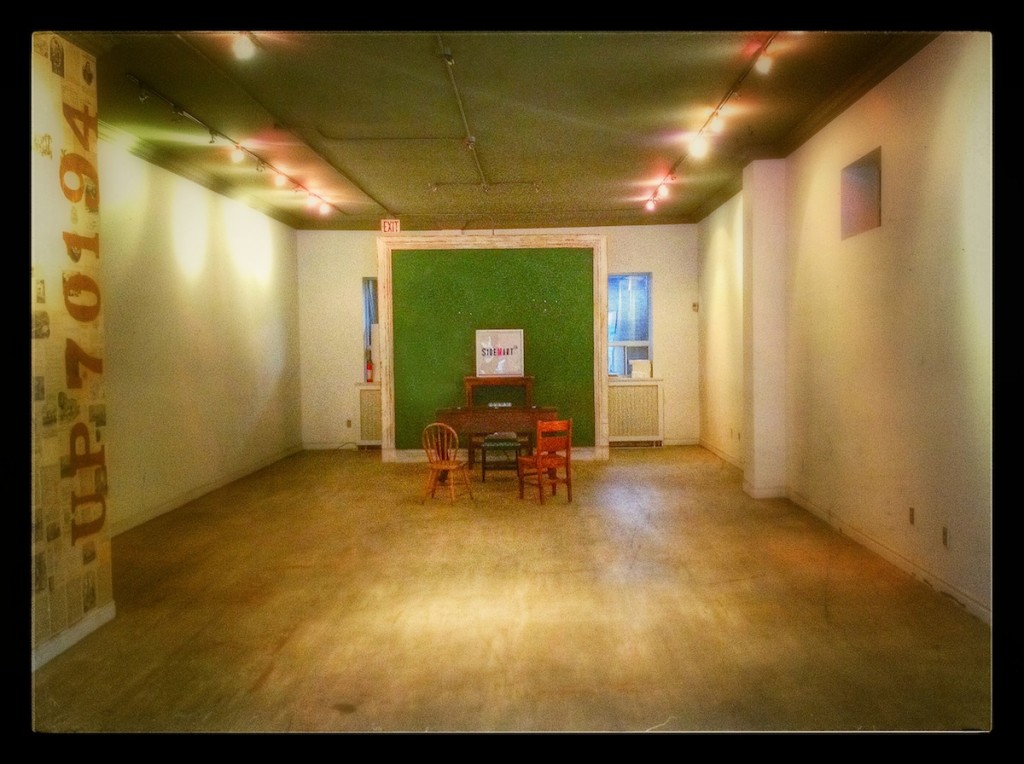 Every 7 years, it seems, an itch presents itself that is either a minor inconvenience or what, in the end, is an insurmountable major hurdle. My last professional itch led to the dissolution of a theatre company, SaBooge, which had been my entire focus through most of my twenties. SaBooge made great theatre and we liked each other while doing it until the very end.
The ensemble was split between 3 cities in 2 different countries and as we all inched closer to the precipice of turning 30, so too did the itch to start families. Our geographic scattering proved a major hurdle. We divvied up the bank account, and most of the gang set about creating their brood.
Not ready for the responsibility beyond keeping a dog alive, I set about starting another theatre company based squarely in one city – Montreal. I've been the Artistic Director of Montreal's SideMart Theatrical Grocery since its conception in the winter of 2006.
SideMart started as an ensemble focused on immersive and site specific work; American Buffalo in the shadowy backstage corners and stairwell of Mainline Theatre, The Dishwashers in the basement of a St. Laurent Wine Bar, and a series of plays in the apartment above Theatre Ste. Catherine, appropriately titled The Apartment Plays.
The success of these productions earned SideMart an invitation to become the inaugural resident company in the Segal Centre for the Performing Arts' newly minted Studio Theatre. We made the Studio home for 4 years. Highlights of that period include our original musical Haunted Hillbilly and the premiere Morris Panych's Gordon.
In the last few years our productions of Scientific Americans, Haunted Hillbilly and Trad, have been included in the subscription seasons at the Segal Centre and the Centaur Theatre.
Clearly a successful, not-to-be-taken-for-granted, enviable 7 year arc.
And yet, we itched – individually, for the stimulus of new environs and collectively for that elusive sense of recognition outside of Montreal.
It manifested itself over several months as one by one we lost members of our ranks to destinations west down the 401. First temporarily: a season at the Stratford Festival, or a summer in Toronto – manageable enough obstacles that were expected and, frankly, welcomed. But, as success is wont to do, it fed into itself again and again, until that single season at Stratford had turned into 4 more and that summer in Toronto turned into a couple west end mortgages. This made it very difficult for the centre to hold in Montreal.
Of SideMart's founding 5, Trent Pardy, fIew the coup first. In 2008 he went to act at the Stratford Festival. In 2009 after significant debate, I followed him, with the intention of staying the season and then bringing him home with me – we had work to do in Montreal. Instead, I stayed for another season. And then another.
Although I came back to Montreal to work in the winters, I had stayed away long enough to begin to question whether Montreal was, in fact, truly home anymore. Opportunities elsewhere were, of course, presenting themselves to the rest of the company as well, and gradually weekends in Toronto, became weeks in Toronto,  became months, became changes of address and OHIP cards.
I woke up late last fall in Montreal wondering where all my friends had gone.
I'd been warned it would happen. That it was inevitable. That the anglophone communities in Montreal were temporary and transient. I'd been based there for 11 years resisting that notion, but that morning when I realized almost my entire posse had packed up for Toronto, I put down my weapon and gave myself a year to make the shift.
I was given opportunity and responsibility in Montreal that I may never been given elsewhere. I recognize that Montreal shaped the artist that I am now. I also recognize the importance of shaking things up, turning them inside out and making sure you still have the reflexes and the hunger to sort it all out.
On November 1, 2013 I took possession of a little storefront in Leslieville at 1362 Queen East. It is my flag on the moon. It is SideMart's new Theatrical Grocery.
It is an alternately terrifying and thrilling endeavour. It echoes, the floors creak, the streetcars rumble, it desperately needs soundproofing. And proper lights. And chairs. And pipes for the lights. And riser for those chairs…but it's already perfect. It's a noisy, little, empty east end box that is ours. It's never been a theatre, and that makes it all the more appealing. We get to write the entire story.
Soon the space will be filled with artists and friends, new and old, making funny, making music, making art. At a time when the east end of my new city is poised to explode with creativity, I can clearly see the opportunity that I have in hand to play a significant part in it. It reminds me of Montreal a decade ago.
It's a great feeling to be at a precipice again. It's an even better feeling to know that, this time, the gang I was with getting to it, is jumping over it with me.
Dec 11-14 at 8pm, come see The Grocery's first offering, Out of the Woods, featuring Justin Rutledge, Matthew Barber, Amy Rutherford and Andrew Shaver. And while it's more than likely devoid of any content at the moment, go ahead and bookmark www.thegrocery.ca. 
Comments
comments