Design in Canadian theatre is often incredibly rewarding: full of joy and fun, powerfully moving, collaborative and rewarding, frustrating, stressful, time destroying, damaging to your savings, your home, your lifestyle, your relationship … no wait that's being a parent…no wait…what was the question again?!
The greatest production of my and my wife Beth's lives is our son Aaron. He is an amazing soul who nurtures every aspect of our life and our creativity. He also makes it impossible to get anything done…I am not the first parent or artist to feel this way and I can guarantee I will not be the last.
As an artist I used to define myself through my work. I do video for theatre and therefore that's who I am; Ben the video guy. However two and half years ago all that changed. I am now Aaron's dad Ben; I sometimes do video for theatre.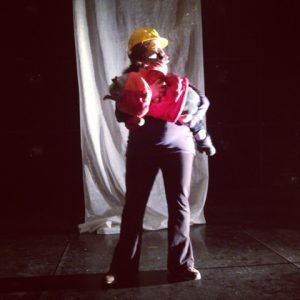 I stay at home with my son while Beth works on shows and hopefully that doesn't overlap with Shows that I may be doing. We also are a team design firm so we work together on projects, which sounds great and collaborative and it is. However design in Canadian theatre isn't a part time job. It doesn't work in shifts. Tech weeks are 16 hours a day or more. Designing takes more time than is ever put on paper and time is a commodity an artist and a parent do not have enough of. As a freelancer you have to take on as much work as you can, and as a parent you feel that sting harder if you over book or don't book enough. Don't even get me started on out of town gigs.
How do we do it? With volatile schedules and 16 hour day work days, 'Daycare' in the traditional sense doesn't work for us. So we do our best not to double book gigs. We try not to have overlapping projects and we use Babysitters! Lots and lots of baby sitters. We hire, mostly, young actors to watch Aaron as well as some help from my in-laws. We spend as much time looking for sitters as we do conceiving ideas for shows, at least that's how it feels.
We also bring Aaron to theatre. There is nothing better on a long tech day than seeing your child's smiling face at the dinner break. It's even better when they run and hug you. It puts into perspective your time and what it really means. Maybe you can't fix that cue on dinner break. Maybe you need to nurture someone who in turn will nurture you. Aaron has been in theatre since he was 4 months old. We feel it's important for him to understand what it is we do. There is no particular agenda with bringing him, we just wish to share with him our appreciation for art and the creative process.
Aaron loves it too. He plays with model maquette pieces at home. He makes stages out of everything. He has toy music instruments and plays them and dances on "Stage". He then does curtain calls and says "Thank You. Thank You very much" as he bows. He recently has taken to using the voice of god mic to give direction. Hilarious when it happens but terrifying to think he might, "gasp " go into the theatre. Our on going joke is he can be the best director, drummer, dancer, actor he wants to be … at the hospital talent show when he is head of Cardiology at Mt. Sinai. His parents need him to have a good job because lord knows we don't have a retirement plan.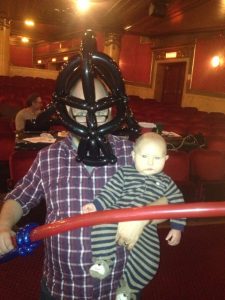 Beth and I founded the Facebook group Class of 2030 as we found ourselves in a huge cohort of artists all in the same age range with kids all in the same age range. (These kids will graduate High School in the 2030's, which is a number I cannot even wrap my head around.) This group was created to share tips and tricks, babysitter information, things to do in cities where you are working etc. It's a great resource and has helped many people out. It has helped build community for us as parents and as artists.
Community was in part what brought us into the theatre in first place. Misfits, Artsy types and drama queens from High school drama class grew up and got jobs in the professional theatre. Drama classes were, for many of us, the place where we felt part of something and putting on a show was as much for our souls as it was for the audience's souls. That feeling was nurtured by theatre school, college or university and by our first Fringe and similar festivals.
The Drama classroom was replaced by the beer tent or local theatre bar. Now its the local playground, museum, playgroup and, music class. Communities grow from shared experience. As in all communities there are a variety of opinions and experiences to learn from and we encourage all members to be open minded and non judgmental of each other and to pass on what they feel will help someone else.
The old adage "it takes a village to raise a child" applies to arts communities as well. I highly encourage theatres to continue to provide childcare during matinees or even evening shows. Crying rooms in some theatres are a fantastic idea. It works for faith based communities, and encourages more participation, so why not use it to sell tickets? It's better to provide options for audience members than roadblocks. Theatres could assist artists with young families to continue to work. Longer rehearsal periods, tech with shorter days and childcare during tech and previews are all possible. Better incorporation of our families into our creative practice will only grow and encourage our community not harm it.
Comments
comments