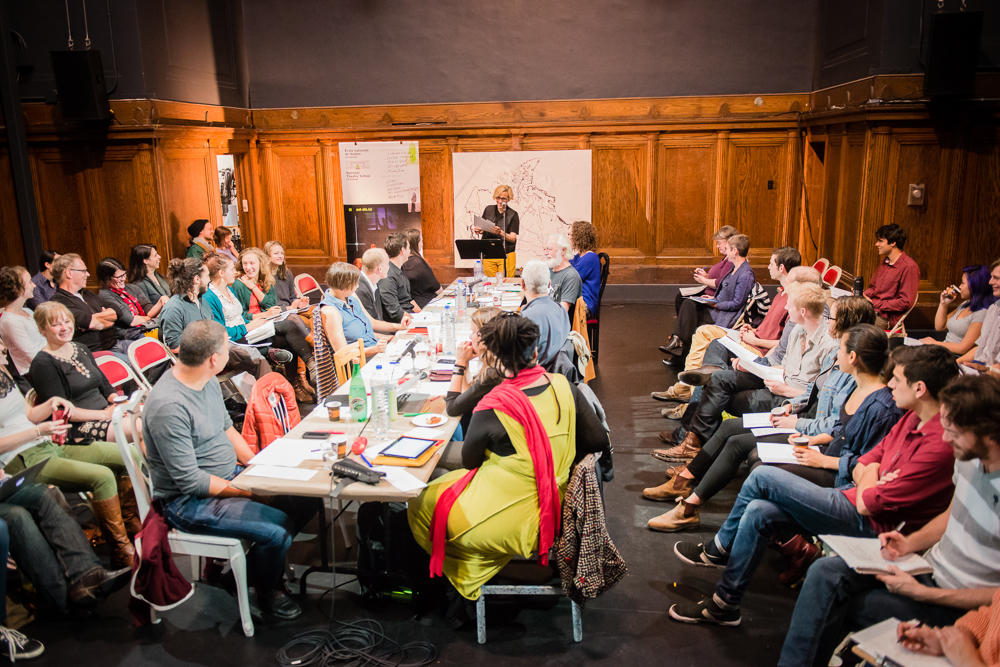 The following is an excerpt from the last half of my Keynote Address, delivered at NTS as part of the "From Where I Stand" symposium held in Montreal on October 3rd and 4th, 2014.
I believe that we are living in a time of Citizen Story Theatre. I think it's a good idea to take a citizen's stance when contending with the problems of living in this country today and choosing to make theatre about it.
In my mind Citizen Story Theatre is an action that began for us: "us" meaning all of us here in this room, with our shared culture of apology.
There is this thing called a social or national imaginary that is held in tact by the establishment. In our imaginary, the one the media and Google guides us towards, we are told that we are not living in a culture that is knowingly transgressing in the present, instead our collective imaginary tells us that we are living in a culture where past transgressions are constantly and rightfully being apologized for, and as well, a culture where the older generation, my generation for sure, spend a lot of time talking about the end of days.
In my humble opinion this notion, this imaginary, is breaking down or is already broken but…
But for now, it goes something like this: "Nothing is happening now, a lot of bad stuff was happening then, and it looks like a lot of bad stuff is for going to happen in the future."
And for this: the older, established, generation are just so very sorry.
Depressing sounding stuff. This does not, by the way, reflect the perspective of a lot of the younger artists that I meet. I mean just take a look at Mitchell Cushman and Simon Bloom at Outside The March (Toronto/Edmonton), or Mel Hague at Rhubarb Festival and Obsidian (Toronto) or Ryan Cunningham now at Native Earth (Formerly of Alberta Aboriginal Arts) or Daniel Thau-Eleff at Moving Target Theatre (Winnipeg ) or Cole Alvis ED of IPAA and co-conspirator with Mel at Rhubarb and Lemon Tree Creations (Toronto).
Or what about Jajube Mandiela and Alison Wong, at bcurrent in Toronto and Ravi Jain and Why Not Theatre in Toronto and everywhere else… or Chris Gatchalian at the Frank Theatre (formerly known as Screaming Weanie Productions) in Vancouver…
Hell, while in Vancouver you can see what Christine Quintana at Neworld (among others) is cooking up or the audacious dramaturg Fannina Waubert de P (Who for a time was in residence at The Arts Club just by spending a few seconds on Twitter) And why stop there when you can head to Yellowknife to catch up with Renaltta Arluk and her Akpik Theatre. And this does not even begin to take into account Jordan Tanahill and Erin Brubacher and others at Videofag and Suburban Beast in Toronto or Stewart Legere and his various collaborators in Halifax. Oh yeah, and at NAC Corey Payette is our artist in residence and he was recently named artistic director of Urban Ink in Vancouver! And while older than a lot of you, you have some serious youth at the helm of the school in Gideon. And total young at heart-ness everywhere else. So it is important to note that most young people are not locked into the state of sorry.
And while the sounds of dour forecasting sit well with Debajemujig Storytellers on Manitoulin Island, they are after all the second oldest professional Indigenous Theatre Company in Canada (founded in 1984)… so they have their aged card… it does not represent the buzz of positivity, activity and performance behaviours enacted by this company. They are touring the world (but only when invited and based on a developing and developed relationship with other companies who share their vision). They spent this past summer, for example, offering their show The Global Savages to audiences at Citizens Theatre, in Glasgow. Their show holds stories that are connected to the 6th teaching in Debaj's teaching bundle: 6th teaching is to preserve the human race. In fact all the choices this company now makes… are in pursuit of this 6th goal… and are held in place by the 5 other values. This weekend they are doing the Six-Foot festival – this event puts the performance of permaculture and intentional living at the heart of the Festival. Later this year they will hold The Festival of 1000 skills where essential life skills will be performed so that audience members can retain them for their future survival.
Difficult times …exciting response… artists acting citizens on fire.
This past summer I was sitting in on rehearsals for Watershed . This is s new work by Annabel Soutar of Porte Parole, directed by Chris Abraham of Crow's. I get to do this because I curate The Collaborations at NAC. This is an artistically led initiative to invest in work germinating on its own soil. Local builds a great national conversation – I say.
Anyway… Watershed is an extraordinary examination of what is happening to us as a nation; as seen through the lens of our diminishing access to fresh water. During a pause in rehearsals, I asked the actors how they were dealing with the anxiety of this examination and how, for the parents in the cast, – in particular – how they were negotiating the known impacts of their research on future generations and…. big name drop coming in… Eric Peterson said: "The thing is, kids don't see the loss, they only see the existence of what is."
Older people talk about what was. Children talk about what is. And young adults make the future. That's where you all come in.
Citizen Creators uniting for the future.
Getting old is extremely weird. I am 51 now, and when I look out across this country all I see is change. Not only has the actual National structure of 10 provinces plus 2 territories become a cool 10 + 3… but, as well, many of our varied historically hostile practices have come under review.
So I am not Jewish or Muslim but tonight is Yom Kippur and this is the night where atonement ends, and where, according to Jewish practice, we should ask to be forgiven by our fellow humans and we should also forgive. It is also the beginning of Eid al-Adhaan an Islamic holiday to remember and commemorate the trials and triumphs of the Prophet Abraham.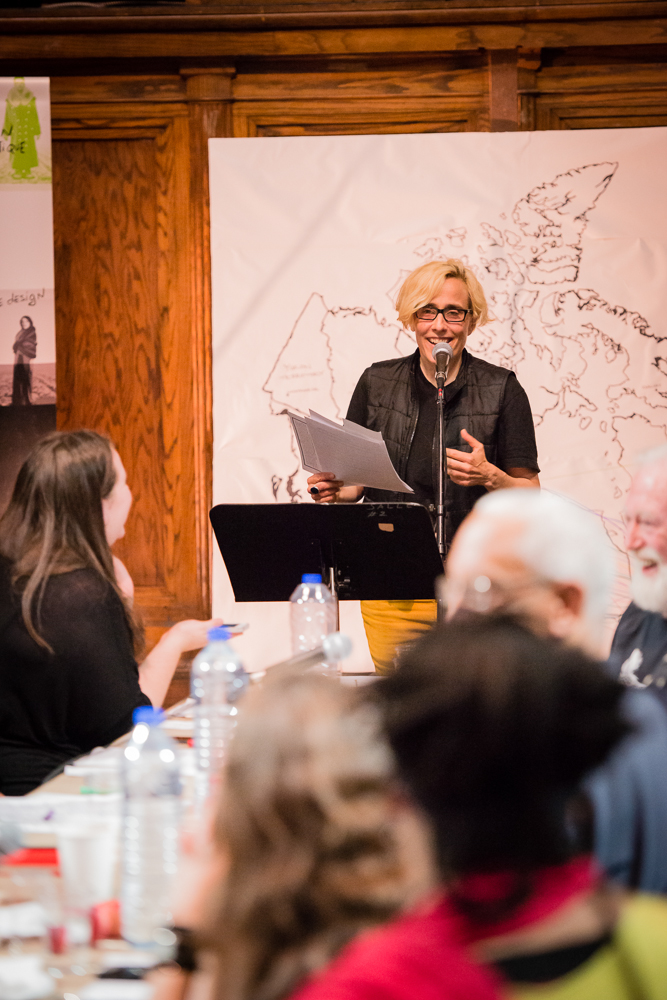 For the past year The Truth and Reconciliation Commission has been active in Canada. This work is being done to acknowledge and uncover the systematic and heart-ravaging costs of separating young Indigenous kids (First Nations, Métis and Inuit) from their parents and their culture. These kids were shipped off to residential school and the damage reverberates in every corner of this land. The last residential school to close was in 1996.
Now this might seem like deep history to some of you, after all, some of you were born that year, but I still cannot believe that this was happening while I was walking the streets of Toronto, dying my hair blue … or dying it exactly the same colour it is today… how embarrassing … I cannot believe this was happening while I was making a name for myself, making big works, becoming an associate artist at Buddies in Bad Times Theatre, hitting a bunch of cool career targets. I can't believe it. This knowledge of my ignorance has deeply affected me… and caused me to re-calibrate how I look at the world. From where I stand we have a lot of explaining to do and we have very, very different stories that we, as a country, need to hear, re-hear and tell and re-tell.
Some apologies and some stories.
6 years ago, on June 11, 2008, Prime Minister Harper stood up in the House of Commons and said: "… on behalf of the Government of Canada and all Canadians, I stand before you, in this Chamber so central to our life as a country, to apologize to Aboriginal peoples for Canada's role in the Indian Residential Schools system."
There are Canadian plays written about this. Corey Payette is working on one right now called Children of God – it is having a reading at The Arts Club as part of their RE-ACT series on November 8th
That same year… a few months later in BC…Harper apologized for the 1914 Komagata Maru incident in which hundreds of South Asians seeking a better life in Canada were turned away.
There are Canadian plays written about this. Sharon Pollock who wrote Doc, and Blood Relations also wrote a play called The Komagata Maru Incident way back in 1976 … but I believe that Ravi Jain (of Why Not Theatre and A Brimful of Asha fame) and Andrew Shaver (who just directed The Graduate at The Segal Centre and is AD of Sidemart Theatrical Grocery) are working together on a piece about this right now called Give Me Shelter.
8 years ago in June 2006, Prime Minister Stephen Harper: "offered a full apology to Chinese Canadians for the Head Tax and expressed his deepest sorrow for the subsequent exclusion of Chinese immigrants from 1923 until 1947"
There are Canadian plays written about this like (AD of FU-GEN Theatre in Toronto) David Yee's Governor General Award nominated Lady in the Red Dress
18 years before that, Prime Minister Mulroney apologized to Japanese Canadian for their internment during WW2. Roughly 22 thousand Japanese-Canadians were re-settled during this period in response to a national(ist) fear about their disloyalty to Canada. They lost all their property and businesses and were sent to BC from all corners of Canada.
There are plays written about this too. Mitch Miyagawa formerly of Whitehorse – for example – wrote the widely acclaimed The Plum Tree.
For every apology I bet you could find a play. That is what artists do. They respond. We feel as citizens and we respond as artists. We are citizens telling our stories in the theatre.
I am not sure if anyone has written a play for the 2004 Superbowl halftime nipplegate – and its famous apology – involving Justin Timberlake and Janet Jackson's nipple… but maybe it is just still too soon or maybe just too American. Or maybe the big news stories are simply there to distract us from the reality of our lives. And this, again, is where we, as artists and as citizens, do our daily work, on the ground, where it matters.
If I start with the 1988 apology, I see that my government saying it is sorry has shaped the bulk of my adulthood. The plays that were made throughout these years were often issue-driven and identity based. Some might contend that this led to a weakening of our dramaturgy. I think the opposite is true. I think it was the portal through which we began to see ourselves as a nation. I think we were on a path towards uncovering truths about what it means to live collectively, indeed collaboratively with one another on this land.
But now, if I drill down even further I find that something curious is happening… the apologies appear to be slowing. The language appears to be shifting.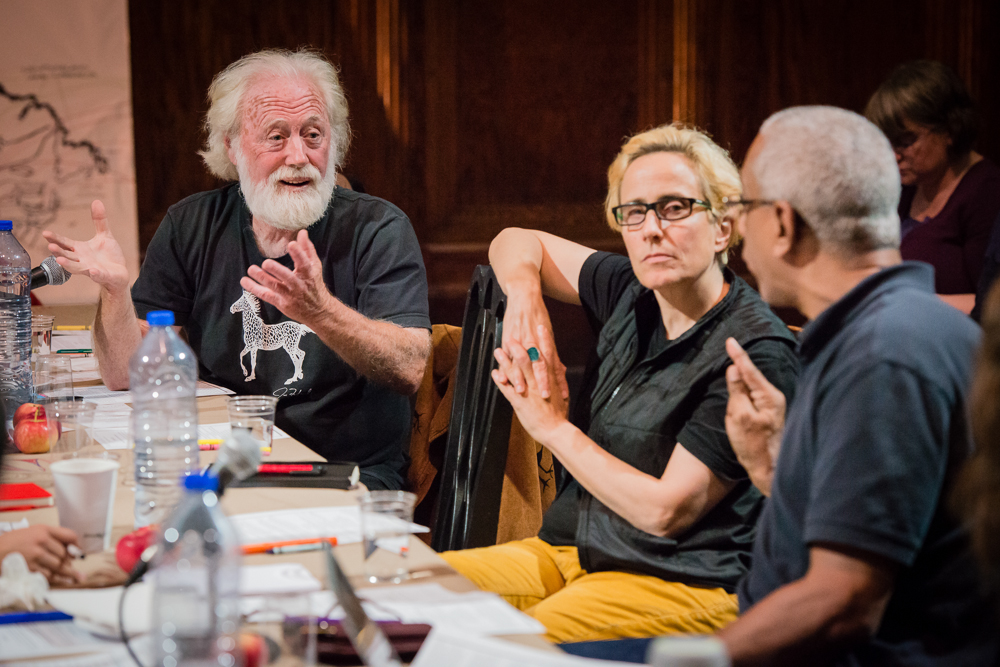 In your recent past we have been witness to the 2010 G20 horror show in Toronto. During this time basic civic rights were completely ignored. Tommy Taylor wrote a play about that called You should Have Stayed Home. We have, as well, faced the disappearance of literally countless Aboriginal women and are faced with Federal government who refuses to acknowledge this, or seriously look at what needs to change. Marie Clements wrote The Unnatural and Accidental Women and Keith Barker's The Hours That Remain. We have a government that is systematically stripping away our rights and privileges… Don't even get me started on immigration, but as salve and action both, I recently saw Body 13 by MTspace and through The Collaborations, we invested in Mary Vingoe's Refuge. These 2 plays – are among many – all created by citizens grappling with the ever-deepening immigration crisis.
Here is something that I believe about theatre in good and bad times: It is best envisioned by the young and is best enjoyed by the old.
Theatre gives older people the opportunity to live again. It gives older people the chance to revisit past loves, past mistakes, past victories and to revel anew. It also gives older generations an opportunity to see how they might redress an imbalance. Young people are closer to the ground. Your vision can lead us out of the murk. This is the gift and grace of the theatre.
But in more turbulent times, when the apologies stop and the transgressions begin anew, then the theatre becomes a place for change now. Its poetic impact – of necessity – alters, and therefore its form must too.
Traditionally, theatre about the young for the young remains marginalized, and undervalued. (Jordan Tanahill's Concord Floral is making a mockery of this notion) Traditionally, older generations have been needed to help pay for work, to critically praise the work, and if the older generations cannot gain entry, then the work dies under-resourced on the vine. But in moments of great need, such as now, traditions change. The theatre reconstructs itself. Today it becomes a civilizing square where true citizen engagement and discourse can occur. Troubling times breed Citizen Story Theatre.
You are here. Hopefully it is – in part – because you want to help the world. Or maybe you just want to make people laugh or cry. And this, my friends, is every bit as good. Laughter and tears on the square are as valuable as action.
IMHO we have to stop asking: "why theatre is important?" and instead accept the mission of our gift. Through our shared heritage we as Canadians have been bequeathed the desire to bring performer and spectator together; paratheatre; a form that Indigenous peoples had been practicing long before the first "play' was ever imported to these shores. A form that I will flippantly conjecture was loaned to Grotowski from the ancients. Nothing wrong with that. We have much to learn from what went before us. By listening to the stories of this land we get to make the world a little less crazy and a lot more forgiving. And if we are very lucky we get to participate in a really great show.
I cannot thank you enough for lending me your ears.
Citizen Stanley over and out.
Comments
comments