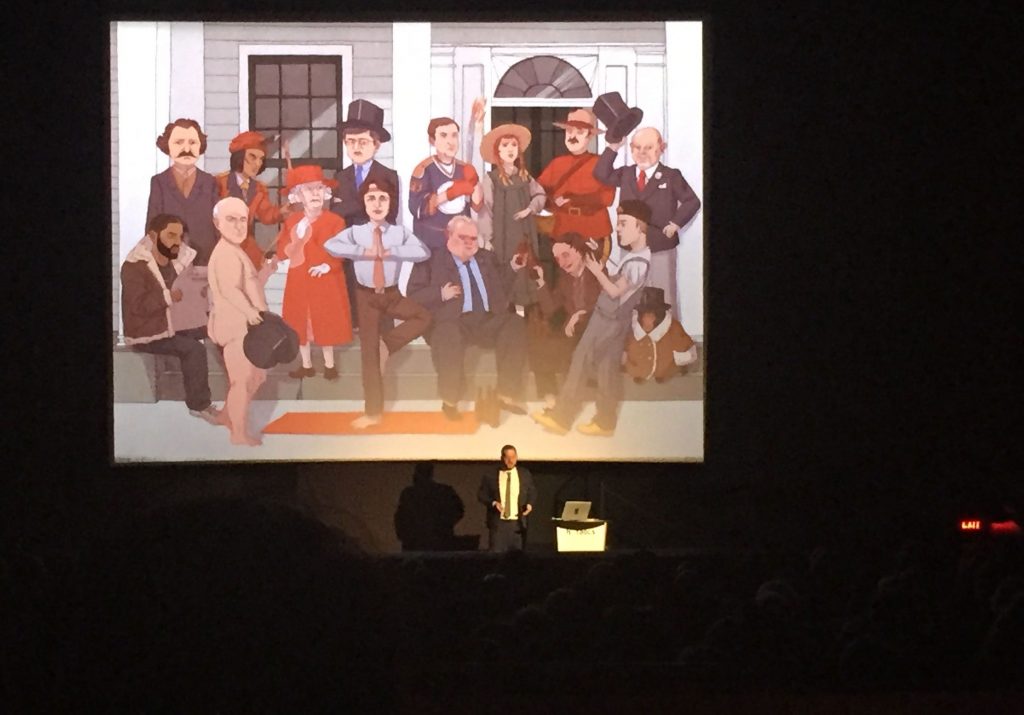 I did some math in my head as I counted the audience in roughly-full 700-seat Hot Docs cinema (still known in my head as The Bloor) for Canadaland Guide to Canada, World Tour of Canada. The last show I directed, Caryl Churchill's Objections to Sex and Violence, played to about 80% houses in a 2-week run at a 50-seat venue. More people were going to see this piece on its first performance than the entire run of the Churchill.
Huh.
As we started rehearsals I was struck immediately by the intermediality of the performance we were creating:
The material was coming from where?  The book, Canadaland Guide to Canada.
What is Canadaland? It's a series of podcasts.
Where would our work be viewed? At film festivals and music venues across Canada.
What were we making? We aspired to create a one-hour piece of theatre.  
What was the purpose of this theatrical World Tour of Canada? To sell copies of the book.
So you get back to the book eventually – but you travel through a few media to get there. This was a bit of an anomalous approach to both creation and producing live performance and I loved it for that right away.
Confirming @CANADALAND's Guide to Canada is great, kinda like our Daily Show "America" book & live show will be awesome. #canada150 #cdncult pic.twitter.com/IObxYiHfUC

— Michael Wheeler 💥 (@michaelcwheeler) April 25, 2017
On the producing side, Jesse brought in Frank and Oak as blatant paid content. They sponsored the tour, provided wardrobe and even had a section of the show about Frank and Oak that segued out of Jesse's family roots in the Montreal garment district. It honestly didn't fuck up the show, I think because it was on brand as the same ads the audience would have experienced while consuming Canadaland in podcast form. The novelty of experiencing unabashed paid content, in the form it existed legitimately elsewhere, made it almost normal.
On my end, I was not contracted as a director with a set fee. I was more like a consultant with a daily rate. Each day of me cost X number of dollars and we could pro-rate assuming an eight-hour day. This became the first revenue SpiderWebShow has generated working with online-based content creators on how to create live events with their material, and it's another possibility I'm really excited about as we build the business model.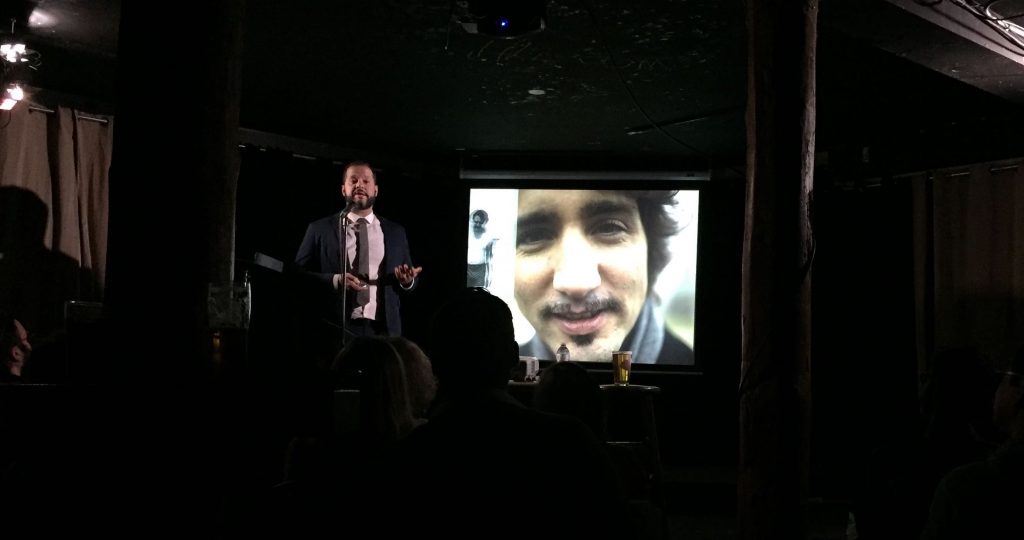 The night I saw the final show of the tour in Kingston, I congratulated Jesse on completing a National tour of a self-funded and created live performance piece. He was less-excited because he had just committed to one more, secret, invite-only performance for media-types in New York City (okay fine Brooklyn). The goal was to make a play for book sales in a market ten times our own. Which is when I had to give Jesse the bad news: In that case, we should probably take the show back into rehearsal.
There were two things that could be accomplished by re-looking at the show, knowing it would soon be playing to an audience that would experience it in the context of NYC cultural consumption. One, there was the simple benefit of the knowledge gained from a tour. The bits that worked, the bits that didn't, and the bits that need a little something different. Jesse knew these better than me, but I had a good sense too from watching the first and last show of the tour. It was just about implementing them and adjusting the cues. The other reason was a dramaturgical one related to the meaning of the show.
When you come to hear a guy do a show about Canada for an hour, you want to leave having a sense of what he thinks about Canada. This was a question addressed in the opening and closing monologues, but it seemed it wasn't coming through. So we worked it quite a bit and what we discovered was a clear narrative about pride in Canada, because of our collective disdain for celebrating it. *Nationalism as pride in the absence of it.* Armed with this refined version and a clear super-objective (maybe super-argument, or even super-contradiction), Jesse took off for NYC a week ahead of Soulpepper, but with no supportive tweets from the Prime Minister. The book now has a much higher rating on Amazon, so we're claiming success.
Secret show to end the book tour, last night at @UnionHallNY! Thank you @AllanaHarkin of @FullFrontalSamB & @patkiernan of @NY1 for coming! pic.twitter.com/1bKUGBc1XQ

— Jesse Brown (@JesseBrown) June 26, 2017
The experience has me enthused about doing more of this work with SpiderWebShow. Not just myself, but a number of the members of our national organisation are talented in many of the ways that could be useful realising digital work on stage. As an online live performance company, our work can go both ways – we can work to integrate live performance with online technologies – but we can also work with online content to create live performances.
This isn't a new idea – to stage works from the internet – but there are new opportunities in terms of a performing arts business model. The digitisation of culture has made almost everything online free, which is a big challenge to generating revenue.  Live performance that happens in physical space can still be monetized at the gate as flesh and blood human beings pass through checkpoints to access content. Some creators on the internet are going to add live in-person performances to their repertoire, and many already do. There are no successful bands that do not tour.
This is what I came back to at a sold out Hot Docs Theatre in Toronto contemplating the attendance of this work versus independently-produced Caryl Churchill. What Canadaland has, that most of us do not, is access to tens of thousands of minds. As online content becomes the dominant cultural force, popular players have the ability to drive an audience to the next wave of live performance. How can we work with them?  I think if you are not running a subscriber based theatre, online creators might be your best chance at finding an audience where you can look around a full large theatre and not know anyone who came to see your show.
Comments
comments