I haven't traveled much outside of North America, at least not since I was a teenager, when my father was posted abroad and we lived a gilded, expat business-class life. But in the last three months, we've taken the show Winner and Losers to seven countries in Europe.
One thing I've been struck by is my own desire to pronounce about other places. Three or four days in one city in a country of 5 or 10 million on continent of 750 million and suddenly I feel preternaturally qualified to tell everyone in Canada what it's like in Iceland or Italy or Denmark. Of course, I'm too much of an intelligentsia chardonnay-sipper to say, "And the people – they're just so nice!" but frankly it doesn't feel that far off.  So with that in mind here's a couple things I remember …
The economic collapse was real.
It's been shocking to travel to Euro-places where the economy is so clearly fucked. And to realize how insulated we've been from the great recession and its five year fallout. How many times have I been reading the news and thought, 'Come on, what economic collapse?' Though it's got its share of Filipino run, chi-chi Italian restaurants and 100-mile-diet cafes, Dublin's homeless/transient/really-fucking-drunk population was a surprise.
For generations, Vancouver's poverty and addiction has been quarantined in the Downtown East Side. Dublin's was spread much wider. And it didn't seem just like the really poor, either. Pretty much every single person we talked to has a cousin or sister or friend in their 20's whose living in Vancouver or Sydney. Our petro-fuelled economy is putting them to work in the trades and looking after our children. Vancouver's house prices are up 20% from their pre recession highs, which is why we're losing young middle-class people in their 30's who want to start families. Ireland (and Italy) are losing their young.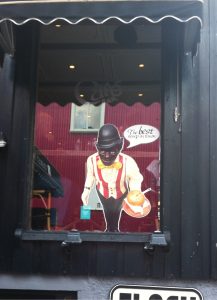 The North is the North.
Iceland and Denmark – and even the Netherlands – felt a whole lot like being in Canada, minus the brown people. Something about cold climates and being from a place where the climate is, historically at least, a real threat; the constant presence of geography, in conversation and in people's identity; an identification with the wild. Race, on the other hand, is a different story. Over and over again I'm reminded how, relative to Europe and with the exception of First Nations, Canada's way ahead on race. Here's a photo of a restaurant in downtown Rejkyavik. Feeling snacky? Head to the Dutch grocer store and purchase some Jew Cookies. How about the Negro Lips biscuit? You actually can't get those anymore but our lovely host insisted that the name was a compliment – apparently it's a pretty tasty cookie.
We're Maybe Not as Feminist as We Like to Think.
Canadians pride ourselves on gender equality. But we've got nothing on Iceland. 40% of Icelandic members of parliament are women. It has the highest female labour-market participation rate in the OECD (82%), and the most comprehensive anti-violence laws as well. What was interesting to us was how, in normal relationships, we felt like we could tell. I'm going to get myself in trouble here, but … as an artist in Canada I work with a lot of powerful women of various ages. Almost all of them, to some extent or other, do what I sometimes describe as the female thing … the automatic body-language apology (smile and laugh a lot in moments of direct negotiation, shrugging, looking down or away). Our female Icelandic colleagues just didn't, as much anyway, and it was interesting to become aware of the effect it had on me. I — shoot me now – treated them less gently, and talked to them more like I talk to my male colleagues. And I liked it. 
But we're definitely more feminist than Italy, or: If I was Italian, I'm not sure actress would be my first career choice.
On my first day in Terni, Italy (industrial, steel town northwest of Rome, home of the Terni Festival), I got a ticket for a show that had me jump on the back of a motorcycle and listen to an iPod piece while riding through the gorgeous, pastoral Umbrian hills. After 45 minutes, the driver stopped at the intersection of an empty country road. He gestured to me to get off, pointed down the road, and took off. In an awesome theatre moment, I walked down the road alone, wedged between large fields of dying, black-headed sunflowers.
At the end of the road: a cliché-beautiful 20-something Italian woman with almond eyes and an ocean of curly black hair, in her bra and underwear, kneeling and staring at me through a full-length mirror. As I got close, she gestured for me to sit on an old, rickety chair. She slowly stood up and put on a bright summer dress. Then she filled a wash-basin with water, dipped a white cloth in it and gently, hyper-erotically (for me, anyway), washed my hands, face and the really tingly back part of my neck, maintaining full eye-contact the whole time. The encounter finished with her draping her hair back and forth slowly across my head and face, and then handing me a 1 inch sliver of mirror so I could watch her gaze at me as I walked back up the country road. A couple of minutes later, Dude with the motorcycle pulled up and I climbed back on the back of his motorcycle. The iPod narrator said, "I knew her for only a short time …" (of course!).
And in some fundamental way it was once again proven to me that what we think we see in others always seems to say less about them, and a lot more about us. 
Comments
comments