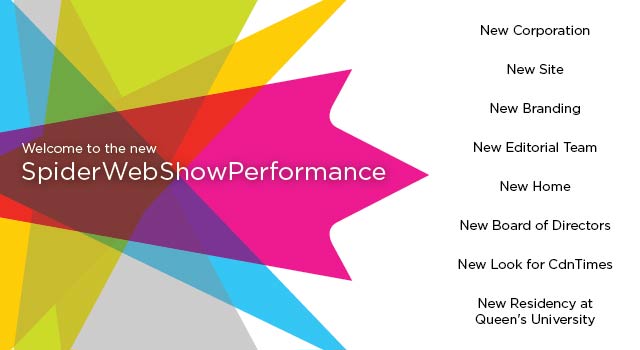 For Immediate Release:
SpiderWebShow Performance launches as Canada's first National digital performance company.
"Where Canada, the internet, and live performance connect"
October 25, 2016. Canada – Four years after SpiderWebShow.ca was born on a coffee-shop napkin, an angel investor has provided the initiative with the resources to evolve into a digital performance company. Led by Michael Wheeler as Artistic Director beginning in 2017, and Sarah Garton Stanley as Creative Catalyst, the company will develop new approaches to live performance that are ignited by online and digital technologies.
Originally a national collaboration powered by English Theatre at Canada's National Arts Centre, Neworld Theatre, Alberta Theatre Projects, and Praxis Theatre. Now SpiderWebShow Performance is a new not-for-profit performance corporation based in Kingston, Ontario and in residence at Queen's University's  Isabel Bader Centre for the Performing Arts, working within the Stage and Screen Department.
Stanley, Wheeler and technologist Joel Adria are currently working with rest of the team on a new iteration of CdnStudio – first presented at the LMDA Conference in at Portland State University in July 2016. The goal of this Canadian Internet Registration Authority(CIRA) and LMDA funded project, is to make is possible for artists across Canada to rehearse, and even perform live, with one another, while in different locations and all by leveraging accessible and available digital technologies. The results, so far, have already been amazing.
Other changes include both a new look and rebranding of SpiderWebShow Performance's website and renaming of the popular artist-driven magazine as CdnTimes. Over three years and 200 articles later, Calgary's Laurel Green joins Ottawa's Adrienne Wong as Co-Editor, curating writing from performance creators across four time zones. Moving forwards, the magazine seeks to play an essential role supporting and challenging the national discourse surrounding live performance in Canada.
"This is a historic turning point for many art forms learning to exist in and embrace the disruption of the digital revolution. Live performance has a part to play in that shift. Our mission is to use digital tools not only to discuss work, but to integrate with and create it," said incoming Artistic Director Michael Wheeler.
Current AD Sarah Garton Stanley, who shifts to a new role as Creative Catalyst,  is excited by the growing international reach of the company. "We are continuing to grow our joint collaborations with US-based Howlround and have recently begun a new venture with the UK's MAYK Theatre. Digital performance innovation like ours spreads fast, and we are ready to mix it up globally."
Other SpiderWebShow team members include Camila Diaz-Varela in Toronto, Alison Bowie in Montreal, Clayton Baraniuk in Ottawa, Kathryn MacKay in Kingston, Joel Adria in Edmonton and Christine Quintana in Vancouver. The Board of Directors is Yvette Nolan in Saskatoon, Brian Quirt in Toronto and Lois Dawson in Vancouver.
MEDIA CONTACT CAMILA DIAZ-VARELA: Website spiderwebshow.ca/ phone 416-939-2173/ e-mail thespiderwebshow@gmail.com
SpiderWebShow.ca
Comments
comments