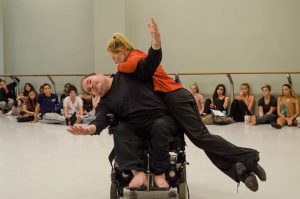 This winter, I sat down to talk with 3 artists about the concept of inclusive design for live performance:
Wanda Fitzgerald, theatre and visual artist, and accessibility specialist
Adam Pottle, author, poet and playwright who explores disability and deafness
Frank Hull, power wheelchair dancer and choreographer.
Inclusive design is defined by OCAD's Inclusive Design Research Centre as design that:
a) considers the full range of human diversity, with respect to ability, language, culture, gender, age and other forms of human difference,
b) has inclusive process and tools,
c) recognizes the interconnectedness of users and systems and therefore has a broader beneficial impact.
Of course, this is all language for concepts artists and accessibility advocates have known for a long time.
Here's what Wanda, Adam, and Frank had to say on the subject.
On the concept of inclusive design and accessibility: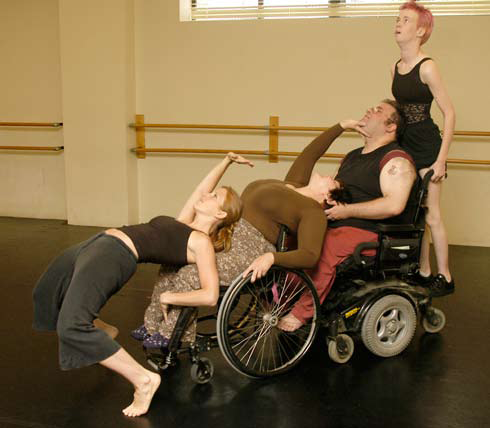 Wanda: Inclusive design, to me, means … well, okay, there's an audience perspective and a professional perspective. To the audience, it's being able to go to a show and get as much out of it as you can. You can have it ASL interpreted, or audio described, or have relaxed performances. Looking at it from the other side of the stage, it's having all that stuff built into the show from the beginning. Not having to go back and do it over, or having people who aren't aware of it thinking that you're messing with their work. It has to be a safe environment to work in. Like any other job there have to be certain accommodations for people with different issues.
Frank: Accessibility for Jane or Joe or whomever could be totally different than it is for me, because they're different. That's the magic of it though.
Putting it into action: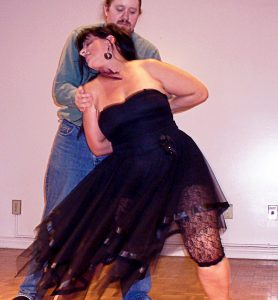 Adam: Well so far with Ultrasound, everyone's been fantastic. They've really taken the initiative to understand what deafness and deaf culture is all about. For example the AD, Marjorie Chan, has taken ASL classes. The box office staff at Theatre Passe Murailles are learning sign language so that audience members can come out and feel right at home. If you want to know where your seat is, where your tickets are, they can assist you.
Frank: However accessibility sometimes isn't just about ramps. Sometimes it's about, well, is this person willing to show up for rehearsal? I know how difficult it is sometimes just to get somebody out who is disabled, who has never been out on their own. Not like I have. I'm booking busses from Toronto to New York, rehearsing in New York… not everyone's like that.
On working within the current design of theatre: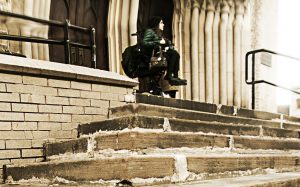 Adam: As a writer, everything takes place in my head and in my head there aren't any limits. However when the creation process goes to the next stage, of rehearsing and putting it on the stage, that's an entirely different story. Especially in the case of Ultrasound, both of the actors are deaf so we have to make sure there are interpreters in place, and that everyone has at least an idea of what deaf culture is about so we understand our boundaries. Without inclusivity things can crumble, and can stall.
Frank: There's your authentic body, and the imaginary body they put on you. In the able bodied realm of performing, that imaginary body gets put on them a lot. What happens if you're disabled, or paralyzed, and the imaginary body they want to put on you just isn't going to happen? Then a lot of times they'll hire able bodied people to "be disabled". But on the other end, from their perspective, where are the disabled people at? If they were to put out a call… I mean, we're kind of stretched out.
Wanda: The main reason for my preference to work independently is that I get things done. I would absolutely love to be able to take a project to an organization and have them produce it, since that would leave me free to do other things. At an organizational level, this can create a great deal of stress and wasted energy for an artist with a disability, because we have to come up with ways around our obstacles, or spend a lot of time convincing others that "inclusivity" and accessibility are not a perk, but a necessity.
Frank: Being on ODSP, I have to get a per diem or an honorarium. It's very hard to juggle a disability pension when you're an artist as well. I think very few artists with disabilities on ODSP get paid what they're worth. They'll cut me off like that if I get a grant – they count that as income. It's great to have a fiscal agent or a not-for-profit organization that'll get the grant for you. I do budget very carefully, but I'm doing what I love to do. That's the most important thing to me.
On acknowledging sameness and difference: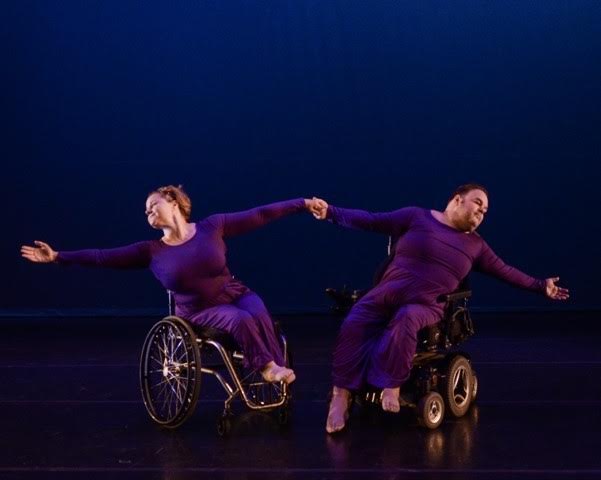 Frank: In the idealistic world, I would have loved for the choreographer to give me something challenging to do, where I wouldn't have to translate what she was doing, where she could say "hey, what does your chair do?". Why don't you explore in my wheelchair and based on what you're discovering, we can create something? That's not something most choreographers would even think of. But how else can you choreograph someone in a powerchair unless you get an idea of how that glide feels? How do you make it an extension of your body?
Adam: What with the #OscarsSoWhite movement, the discussion about diversity seems to be restricted mainly to race. While these conversations are important, they also tend to restrict the public perception of diversity, and in that way, disability is often left out. Diversity means everyone, and that is something we tend to forget.
On future possibilities: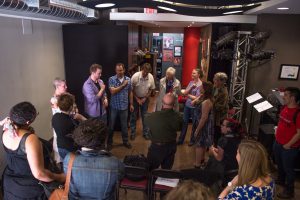 Frank: I thought "What you mean, you want me to dance in this body? Look at all you skinny people." They were all athletic, dancer looking, stand up dancers. But I got into it. I was like "Okay, I gotta be two beats behind people because this powerchair is different." And then I go to [the University of South] Florida and there's this power chair that's designed for dance, without a joystick. It's controlled with GPS and a smartphone. There's so many possibilities with this chair.
Adam: Dialogue and establishing common ground is the #1 priority. The more common accessibility campaigns become, then the less of a burden it becomes. And when it becomes less of a burden, it's less of a risk. And the less of a risk, the more it becomes part of our everyday lives. But it all starts with the discussion. Someone saying "what if we did this, what if we tried this?" It has to happen in all our theatres. Not just our theatres, everywhere. That's how they can work better to engage the disabled community, and the deaf community.
Wanda: Some companies are doing it, but they're always one off things. They'll do it for one special project, but there might not be funding to do it the next time. It's not something everyone's aware of… Inclusive design shouldn't look like anything out of the ordinary. In a perfect world, it would just be part of everyone's process. It would be taught from the start – to students with the intention of pursuing careers in the arts, whether that be as a performer or a tech. It would just be understood that that's what you do.
Adam: I'm glad that Theatre Passe Murailles and Cahoots Theatre – and other theatres by the way, Factory Theatre as well – have undertaken an accessibility campaign. It's expanding the discussion about accessibility, and it's showing the possibilities and saying it doesn't have to be a struggle. We don't have to worry about engaging different people, we can include them. And you know what? It's probably going to be fantastic. We can take that risk.
---
Wanda Fitzgerald is a theatre and visual artist, writer and accessibility professional specializing in Digital Content Accessibility and Arts Accessibility. She has also worked for many years in the theatre and film industries in a variety of administrative positions. Wanda provides services for arts organizations, including workshops on standard accessibility practices and event and performance accessibility, She currently works full time as a professional Audio Describer for film and television.
Frank Hull is an established, professional artist who proudly lives with cerebral palsy and madness, embraces his Mi'kmaq heritage, and celebrates his gay identity. Originally a choir vocalist, over the past fifteen years Hull has distinguished himself as one of Canada's most prominent power wheelchair choreographers and dancers. He more recently expanded his repertoire to include live and digital performance. Hull's artistic practice is multidisciplinary, consisting of varied, vibrant works in dance, theatre, music and media arts. His artistic vision is to reveal the impacts of trauma and oppression on the body while positioning "deviant" bodies as a source of aesthetic appreciation, beauty and enrichment.
Adam Pottle is an author, poet, and playwright. His writing explores the social, political, and philosophical aspects of Deafness and disability. His first book, a poetry volume called Beautiful Mutants, came out in 2011 and was shortlisted for two Saskatchewan Book Awards and the Acorn-Plantos Prize. His first novel, Mantis Dreams: The Journal of Dr. Dexter Ripley, won the 2014 Saskatoon Book Award. His first play, Ultrasound, produced in partnership with Theatre Passe Muraille and Cahoots Theatre, debuted on April 28th and runs till May 18th. He lives in Saskatoon, where he is completing his PhD in English literature.
Comments
comments