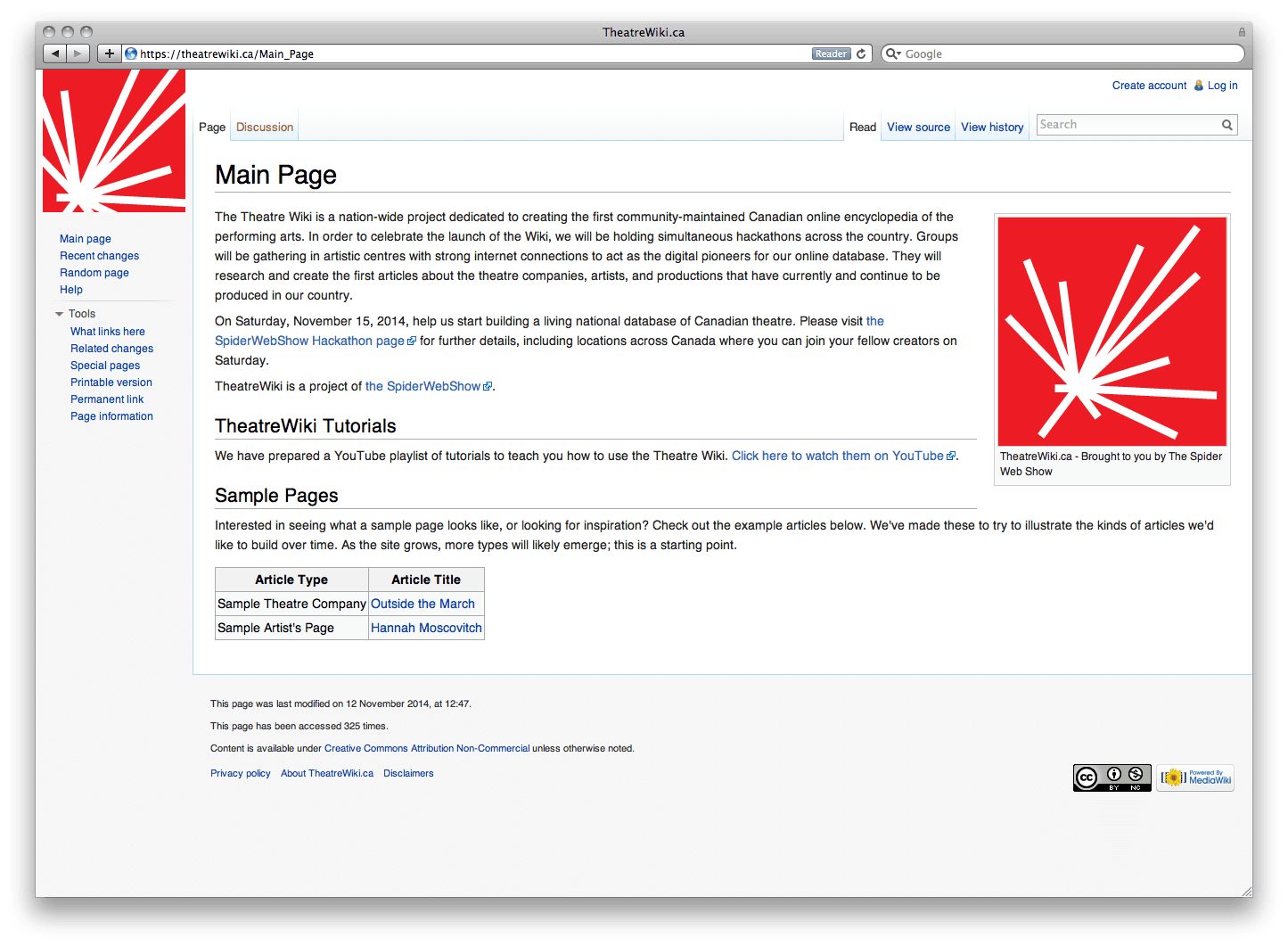 The Theatre Wiki Hackathon will take place on November 15th from 1pm – 4pm EST. 
About
The Theatre Wiki is a nation-wide project dedicated to creating the first community-maintained Canadian online encyclopedia. In order to celebrate the launch of the Wiki, we will be holding simultaneous hackathons across the country. Groups will be gathering in artistic centres with strong internet connections to act as the digital pioneers for our online database. They will research and create the first articles about the theatre companies, artists, and productions that have currently and continue to be produced in our country.
Confirmed Venues
Currently, we have confirmed venues in Victoria (Intrepid Theatre), Vancouver (Meeting Room at PTC), Edmonton (The Citadel), Red Deer (TBD), Calgary (Epcor Center), Regina (Queen City Hub), Saskatoon (TBD), Winnipeg (TBD), Sudbury (TBD), Toronto (Theatre Centre Incubator), Ottawa (Arts Court), Montreal (Mainline), Sackville (Mount Allison), Charlottetown (TBD), Halifax (2b Theatre Board Room), and St John's (TBD).
Don't see your city listed here, and interested in participating? Contact us.
Bite-sized Lessons on using the Theatre Wiki:
Follow the instructions in the step-by-step videos below to learn how to access and update the Theatre Wiki. Or if you'd prefer to watch the videos on YouTube, click here.
If you'd like to skip from lesson to lesson, please click any of the individual links below:
Lesson 0: Welcome to the Theatre Wiki!
Lesson 0.5: Updates to the Theatre Wiki
Lesson 1: Accessing the Theatre Wiki
Lesson 2: Creating an Account on the TheatreWiki
Lesson 3: Creating your first page
Lesson 4: Editing an Article
Lesson 5: Formatting an Article pt1. Bold/Italics/Links
Lesson 6: Formatting an Article pt 2. Headers
Lesson 7: What makes a good article?
Lesson 8: The Discussion Page
Lesson 9: Ordered and Unordered Lists
Lesson 10: Creating References
Lesson 11: Creating a Sample Theatre Company Page
Lesson 12: Creating a Sample Author Page
Lesson 13: Adding Photos to your Articles
Comments
comments