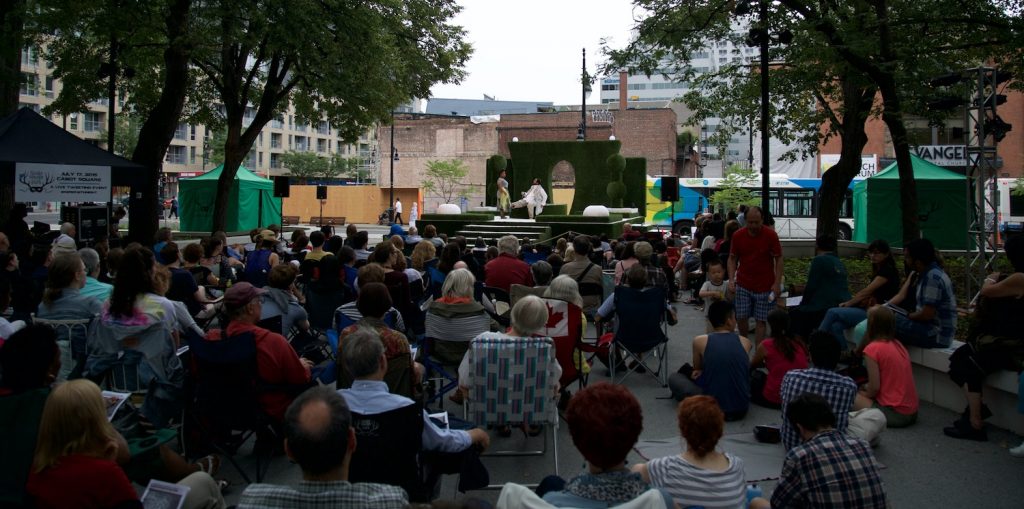 An audience member at a performance of Hand to God climbed on stage to plug their cellphone into a fake outlet. During a performance of Shows for Days the seasoned Patti LuPone took a cell phone away from a texting audience member (without breaking character).
We've all read these stories. And we (probably) all find them troubling. The question is: why??
We are used to audiences sitting in the dark in a theatre space, expecting them to sit in silence and just watch. But it wasn't always that way, was it? Audiences during Shakespeare's time were certainly full of boisterous rabble-rousers. Today at Shakespearean productions we seem to want an audience full of "seen-and-not-heard" spectators.
So, what is it that is really bothering us? Is it that our audiences want to talk? They want to communicate with one another? Is it that they want to bring electronics into the theatre? No.
The real problem we are facing is not that our audiences want to bring technology into the theatrical space – it's that by doing so, they are disengaging with the performance that is happening right in front of them. They are no longer a part of the show. And that's not a problem with them – that's a problem with us. That means we are not holding their attention; we are not keeping them engaged.
It is a shift in the way we as theatre artists need to relate to audiences by reassessing the power dynamics in this tenuous relationship. Today's audiences want to have more control, affect change, and be a co-creator (or co-conspirator). And they want to be able to choose their level of engagement with what is being presented to them.
This may make us uncomfortable because it requires us to let go, just a little. But it is necessary.
I currently work for Repercussion Theatre, which produces Shakespeare-in-the-Park, a touring production (this year we are doing Twelfth Night: or What You Will) in parks across the island of Montréal and the surrounding towns. Since the initial design meetings I have been developing campaign to get the audience engaged and invested in the creation process from the beginning.
There are two major elements to our ongoing campaign.
First, three times a week I post a cast or crew bio and headshot on Facebook, with a link to the post on our website on Twitter. By the end of the summer, even the office staff will be featured.
The second initiative was to create a video series called Twelfth Night Tidbits. This began with a conversation with our new artistic director, Amanda Kellock, after she decided to film the meeting of three dramaturgs and a director talking about Twelfth Night. When the first video was to be released, I realized that this could be an opportunity to give the audience the "inside scoop". You can see all of our Tidbits here.
Both of these elements were designed to create a personal relationship between the audience and the individuals working on our team and to get the audience invested in the production even before the actors stepped foot in the rehearsal studio. The featured cast/crew posts on average reach about 500 people on Facebook, are liked by a minimum of 200 and are shared several times each. The videos have been viewed by up to 900 people and shared up to a dozen times. These were low-stakes activities for the audience; the entry participation level was anonymous reading or viewing.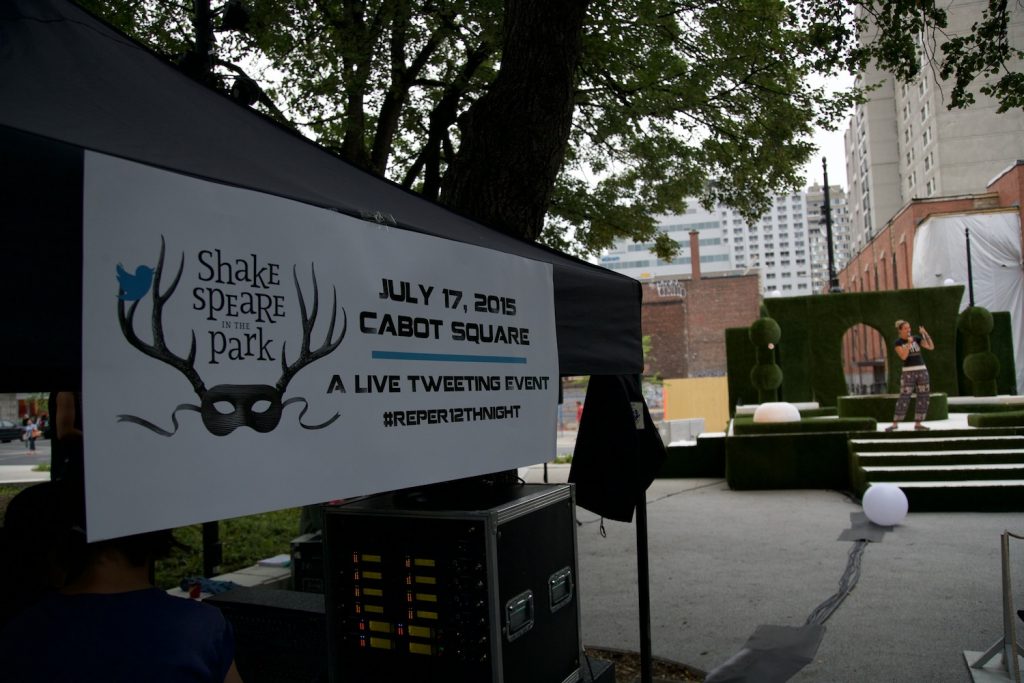 These two initiatives were lead-ups to Twelfth Night Tweets, our first-ever live tweeting theatrical experience on Friday, July 17 in Cabot Square, Montréal. Over the course of the rehearsal period, actors created tweets as their characters. During the performance, Amanda and I posted the tweets following along with the script as the characters as if the characters were tweeting backstage. I also created on-the-fly tweets based on audience comments and also little slip-ups or technical difficulties that happened during the show.
This was a higher stakes event because we were directly asking the audience to participate. In her welcome speech, Amanda explained to the audience that they could follow along using #Reper12thNight (you can still take a look at all of our tweets!) and urged them to tweet back at the cast as the show progressed.
We didn't know what to expect. We were hoping that people would jump on board, would start tweeting at the characters, and that they would create things like #teamMalvolio and #teamTobyBelch. Well, that didn't happen. There were only a few people who actually tweeted back at us.
From looking around the audience during the performance, it was clear that there were a lot of people following along during the performance. Several people also favourited or retweeted what we posted. And even three days later, we are still having people following us at a much higher rate than we did before the event. We also received positive feedback from audience comments on our Twitter feed and in person.
Our first two activities didn't push our audience to engage; they put the power in the hands of the audience by allowing them to engage with us in their own personal space. These activities allowed us to start earning the trust of our audience. Our live tweeting event already push the boundaries by asking them to participate in front of us and others, even if it was just following the twitter feed. Because we only wanted content-creating interaction, we lost sight of the fact that by participating in the event at the park, they were letting us know they trusted us, that they were willing to become more engaged and take that next step.
Our original expectations were unrealistic because we wanted more from our audiences than they were willing to give at that time. We should have seen this event as another stepping-stone towards a positive and meaningful relationship with our audience. For that reason, our measures of success should have been based on the number of followers we received and the number of people in the audience on the night of the event anonymously following our feed.
People are attached to their technological devices because they allow individuals a personal and unique experience with the world. They can choose their level of engagement with every post, every Like, every share, every tag – everything. People want that same personal experience in real life, too.
They also want to be able to choose how close they get to someone or something. We found ways to begin to build trust with our audiences through technology by letting them in, by letting them affect us. We tried not to push back; we tried not to demand a response. And when we did, they let us know they weren't ready.
But it's okay. We know that when they are ready, they will Like us.
Comments
comments