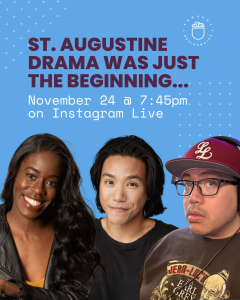 Join Marcel Stewart, Miquelon Rodriguez, Allison Edwards-Crewe, and Anthony Perpuse as they recollect their time at St Augustine High School in Brampton, Ontario and the paths their creative careers have taken since then.
Coming to you LIVE on November 24th at 7:45pm EST on our Instagram: @spiderwebshow.
About the Residents:
Raised in Brampton Allison Edward-Crewe began singing and dancing at a young age. During her time at St. Augustine S.S. she continued to surround herself with the arts, playing Trumpet, singing in the Choir and performing in annual theatre productions. She was accepted into Sheridan College's Musical Theatre Performance Program and graduated early to be part of Dreamgirls at The Grand Theatre and since then has been performing on stage and screen across North America.
Miquelon Rodriguez is a sound designer, composer, digital content creator, actor, and an emerging director and arts leader based in T'karonto. He was an Apprentice Artistic Director at Factory Theatre under the mentorship of Nina Lee Aquino, and co-curated Pan-Asian works over two seasons at Soulpepper. He is a graduate of the Artistic Leadership Residency at the National Theatre School of Canada and has worked with a multitude of artists and companies across Turtle Island.
Tony Perpuse is a Dora nominated Toronto-based Filipino Canadian actor, proudly born and raised in Brampton.  He just finished the run of The Waltz at Factory Theatre and is excited for more!
Marcel Stewart is a father, artist, facilitator, dope wordsmith, and arts administrator who loves vacuuming the house while listening to the soundtrack to Waiting to Exhale. Marcel serves as Artistic Director of bcurrent Performing Arts Company and as an Artistic Associate for SpiderWebShow Performance. He is the curator for the 2023 Thought Residencies. Artistically, Marcel's curiosity about history and lineage – beyond the context of colonialism – is at the basis of his work.
Comments
comments