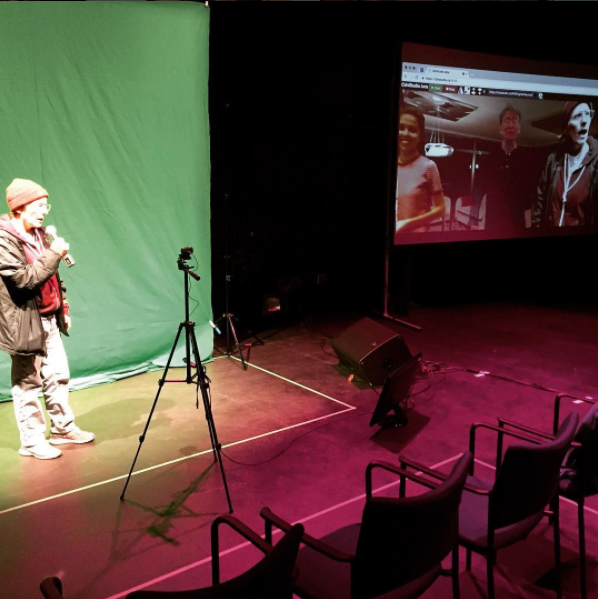 This year, with the support of the Canada Council for the Arts, SWS Performance underwent a process to better understand who we are, what we do, and how we imagine our organization in the future. We're ecstatic to share some of these findings with you.
Since its inception, SWS Performance was established as an organization with skills to distil, synthesize, and/or analyze the social interaction embedded at the intersection of live performance and the digital realm. We started with an urgent wish to capture a state only to discover that all the states are changing. We have come to understand that what we are really compelled by is the "liveness" of now and of tomorrow: we are working to build a theatre for the future.
This report focuses on the organizational strategies we will use to cement our values in the fabric of the company. This report aims to distill the findings of three consultative processes that took place over the spring and summer of 2018 in Montreal, Toronto and Ottawa.
The first process was a set of parallel conversation between 

Publicis Marketing, 

Stanley and Wheeler.

The second was comprised of several in-depth facilitated conversations between Stanley, Wheeler and Wong with consultant Brendan Healy.  

The third was a series of three experiments with artists and technologists exploring strategies for digital performance innovation.
This report's intent is to focus on our discovered values, how we plan to embed these values in a newly considered organizational structure, and how the products and services we provide act as an outcropping of our values.
Not unlike the reaction caused by Bob Dylan strumming his fingers on electrified strings at Newport in '65, SWS Performance challenges theatre makers to consider digital innovation even if it flies in the face of theatre defined as people gathered together in a room. Innovation jars some and thrills others. The disruption is real.
Videos made by Naseem Loloie featuring Lisa C. Ravensbergen, Kevin Kerr, Kim Collier, Nicolas Billon, Rosamund Small, Ahmad Meree, Erin Brandenburg, Michael Wheeler and the 2018 attendees of foldA. 
Read the Full Report SWS-OrgDev

Comments
comments