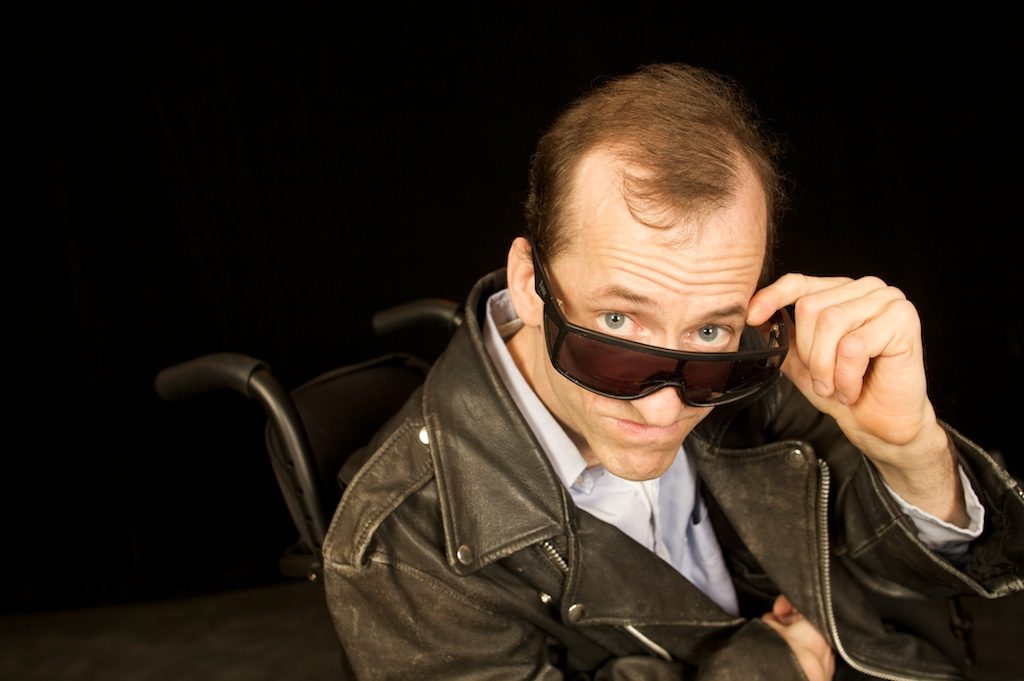 Disability is still most often understood as individual tragedy. Response to issues affecting disabled people overwhelmingly takes the form of charity.
Theatre has largely reinforced these types of narratives of disability. Playwright Victoria Ann Lewis argues that the problem is not in the lack of disabled characters, but that theatre over-represents disability as punishment for sin and evil, or as individual triumph. Little consideration is given to the systemic, institutionalized oppression which disabled people face.
Canada has a long, rich history of disability activism. This has led to being the first country in 1981 to include disability under the Human Rights Code, and to some of the strongest legislation around accessibility and employment. This activism reframed issues as rights rather than charity by making a fundamental distinction between impairment and disability. While impairment refers to differences in mental and physical functionality, disability refers to the institutional arrangements and practices which disadvantage people with impairments.
My theatre practice represents my contribution to both disability activism and to theatre and performance. I join the long line of Canadian disabled artists such as David Freeman, Persimmon Blackbridge, and Lyle Victor Albert, whose work frame impairment and disability in terms of identity and culture. Much of my work focuses on masculinity, disability, and sexual relationships. Through the use of dramatic narrative, comedy and movement aesthetics, I strive to present impairment and disability as valid parts of identity, as critical sources of artistic exploration, and to expose social barriers.
My performance career began in stand-up comedy touring with Yuk Yuks. My material deliberately chose many uncomfortable subjects related to disability such as finding employment or getting a date. The use of comedy allowed me to frame these needs and desires as normal expectations and the barriers and social responses as ludicrous and absurd. For example, I discussed being surprised by a job interview which was focused on my disability, on explaining why I was physically different from everybody else. I said it was because I was so good looking.
Literary theorist John Morreall discusses comedy as the playful exploration of inconsistencies in expectations for audience enjoyment. He notes the effect of using humour can promote bonding and critical thinking. The above narrative is constructed to force the audience to identify with my expectation to be treated fairly. The discrepancy of the actual experience is treated playfully. My ridiculous response frames the interviewer's focus on disability as being ridiculous.
Still Waiting for That Special Bus was my first solo theatre work. It explores disability, dating and relationships while waiting – not so patiently – for adapted transit. It debuted at the Ottawa Fringe festival in 1999 directed by Dawn Hannah. The show was quickly picked up by the Paralympic Arts Festival in Sydney, Australia and toured to Bermuda, Taiwan, England, and across Canada. I continue to tour it both nationally and internationally.
The narrative begins with a familiar premise. A disabled man, Mark is lacking love and romance within his life. Traditional narratives would frame this lack in terms of Mark's impairment. For example, Canadian playwright François Archambault's play 15 Secondes tells the story of Mathieu who is in love with Charlotte. He has cerebral palsy and is unable to attract her interest. His struggle is represented as his only chance at love. Yet, Charlotte's attitudes are never questioned. No room is given for the possibility that someone else might find Mathieu attractive. 15 Secondes won the 1998 Governor General's Award for French language theatre.
The narrative of Still Waiting…frames Mark's lack of love and romance in terms of inadequate public transit, the high costs of cabs, and the physical inaccessibility of most dance clubs. These barriers are more often the reasons why many disabled people have difficulty pursuing meaningful sexual relationships. My character Mark has met someone who is interested in him. The narrative focuses on his struggle to actually get to the date.
Scholar David Simpson describes the narrative structure of a dramatic comedy as involving the uphill struggle and eventual success of ordinary people in extraordinary but non-life-threatening predicaments. Mark's expectations for getting to his date are framed as typical and normal. It is the circumstances of adapted transit and inaccessible clubs which are extraordinary. This inconsistency is constructed as comedy to engage the audience into critical thinking around barriers to social inclusion and disability.
The play takes place in Mark's living room and opens with Mark staring out in mock disbelief. He states: "Picture this. It's Friday night and once again I'm stuck waiting – waiting for that Special Bus." These lines are delivered with sarcasm, disrupting the perception of disabled people as passive and accepting of the limitations they experience. Mark is already questioning the level of service that he is receiving.
In a series of flashbacks and flash-forwards, Mark tells us how he met Linda and his hopes for the evening. His excitement is overplayed and parodied for humour. He asserts: "They better pick me up because I've got an incredibly hot date to get to! It's our first time going out together, so I've gotta do EVERYTHING I can to impress her, because this woman may be the one – the one who falls completely and madly in love with me."
The narrative is driven by Mark's excitement and anticipation. It is in this way that barriers which isolate Mark are revealed. For example, as the bus gets later and later he contemplates calling a cab, but he rationalizes that the $80 round-trip is too costly for someone he barely knows. The focus is not on his particular impairment, but on the nature of these barriers and how it affects his social life. The play ends with Mark giving up on both the bus and the date just as the phone rings. It is Linda calling from the dance club. Mark runs out the door yelling for a cab. He makes it to the date, though not with the help of adapted transit.
Throughout my theatre career my practice has focused on complexifying rather than simplifying understandings of disability. This work both continues and is continued by a multitude of artists and performers who are stretching the form, content and aesthetics of theatre to include more accurate and interesting portrayals of impairment and disability. This is as much of a project around disability activism as it is around breaking and remaking conventions around theatre.
Comments
comments